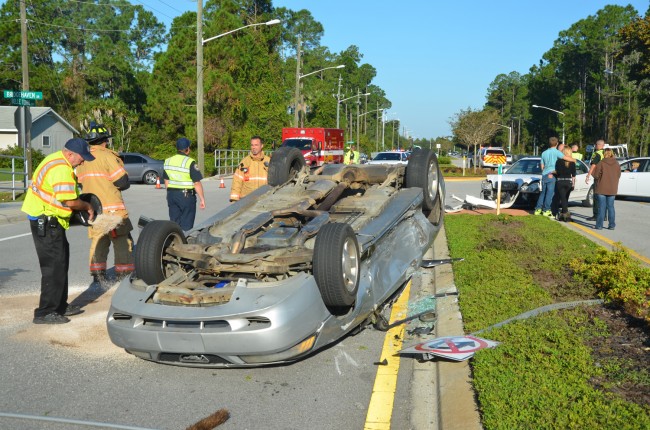 A two-car collision at Belle Terre Parkway and Bridgehaven Drive in Palm Coast at 9 this morning–three blocks north of St. Thomas Episcopal Church–sent a woman to the hospital after her car was T-boned and overturned by another car driven by a teen. The teen and his passenger, also a teen-ager, was unhurt.
But the southbound lanes of Belle Terre were closed to traffic for an hour, because the wreck triggered a gas leak from the Mustang.
Faith Morrison, a 25-year-old resident of Buffalo Bill Place in Palm Coast, was at the wheel of the Mustang was driving south on Belle Terre, the Flagler County Sheriff's Sgt. Chris Sepe said at the scene, when Nicholas Knight-Lashbrook, the 18-year-old driver at the wheel of the Hyundai, pulled out of Bridgehaven. According to witnesses, Sepe said, Knight-Lashbrook pulled out in front of the Mustang, violating its right of way. The Hyundai is registered to Leta Knight of Palm Coast.
Knight-Lashbrook was issued a citation for violating a stop sign. Nicole P. Breen of Palm Coast who the passenger with Knight-Lashbrook.
Struck on its flank, the Mustang careened over the median, taking down a no-U turn sign, then ended up on its roof, facing south, in the left lane of Belle Terre's two southbound lanes. Flagler County Fire Flight, the emergency helicopter, was briefly placed in stand-by. But a Flagler County Fire Rescue unit took the victim to Florida Hospital Flagler, suggesting that the injuries were less than traumatic.
In a comment to this story Monday afternoon, Knight wrote: "[O]nce I helped the women out of the car she was completely coherent and no bleeding ( did have a decent bruise on her forearm) but we were are okay god bless us, and as for the wreck I did not pull out infront of her or I would have been the one t bones but did stop and when I thought all the cars cleared pulled out and t boned her, watching that car flip almost in slow motion was traumatic but thanks that god was on our side and no one was injured."
The Palm Coast Fire Department also responded and cleaned up the scene's hazards. The Sheriff's Offfice is investigating the accident. Roger's Towing removed the vehicle at 9:30 a.m. The Palm Coast Fire Police diverted traffic onto Bridgehaven Drive until the road was reopened less than an hour after the wreck.