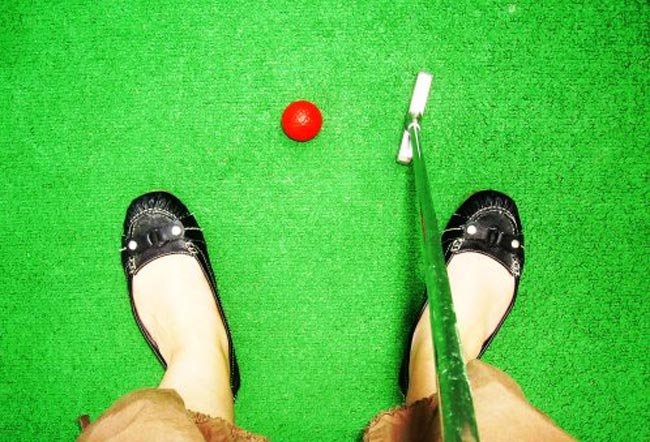 The principal of an A-rated school—as Belle Terre Elementary has been since it opened in 2004—has leverage to think up unusual ideas for his campus, as Stephen Hinson likes to do. A few weeks ago he proposed to open up the skating rink at the school to community uses, on a fee basis. The school board heard his proposal but had a lot of questions, shelving the idea for now.
Tuesday evening, Hinson was back with a new idea: putt-putt golf for the Belle Terre playground, paid for in part by $58,000 in capital dollars, sitting in an account for the past four years because the money can only be used for capital uses at the school. Again, the school board demurred.
Andy Dance, one of the school board members, cast doubt on the numbers and rationale Hinson presented. School board member Colleen Conklin worried about sending the wrong message—cutting budgets, laying off teachers and scaling back school time in middle and high schools while building a nine-hole putt-putt golf course on an elementary school campus, which would cost $30,000 to $35,000, before maintenance and equipment is included.
"If we're talking about putt-putt and we're talking about budget cuts, we need to be able to explain this" to taxpayers, Conklin said.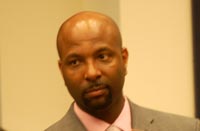 Hinson must have felt a bit shell-shocked. He'd spent the previous 30 minutes laying out his plan, and explaining its origins. Belle Terre Elementary is a high-performing school. Some parents there want a bit more freewheeling playground time for their children. But the school's playground is deteriorating. And Hinson showed that since 2008, half the serious playground injuries in the school district have taken place at Belle Terre—including seven fractured bones. (There are 1,500 students at Belle Terre Elementary.) Replacing some playground equipment with putt-putt would spread out playground choices, offer up a low-impact, less risky form of exercise, and play into children's wishes. "I felt it was my responsibility to try to make changes," Hinson said, referring to the incidence of injuries. "Spreading out the playground equipment will help where all the kids aren't in the same area" on the same equipment.
Hinson was also armed with a student survey, the result of 1,342 students marking off three choices: switching out old playground equipment for new, switching out old playground equipment for putt-putt, and removing playground equipment altogether and replacing it with "field space for organized games." The putt-putt option garnered 49 percent of the vote. Replacing old equipment with new got 36 percent. And removing all equipment came in at 15 percent.
Dance wasn't impressed. The higher incidence of injuries could just as well have to do with too many students using too few playground stations, he said, which argues for more, and more spread out, playground equipment, not less. Dance also thought the survey should include parents.
"I heard from some SAC parents that there is some resistance," Dance said, referring to the Belle Terre School Advisory Council, which is made up of a majority of parents. "As I understand, they didn't have a say in showing their enthusiasm one way or another."
Hinson, speaking before the full board, reminded Dance that the council has not objected to the putt-putt idea. Hinson went further, questioning whether Dance has actually been to one of those meetings (he has not). After the meeting Hinson, speaking of his student survey, noted that children use playground equipment, not adults.
Hinson didn't have more time to press his case. The board wanted to end the presentation and move on to an expulsion hearing. The putt-putt idea isn't dead. Nor is Hinson's earlier idea about opening up the rink to community rentals. "This playground and that equipment at that school has been an issue since that school opened," Superintendent Janet Valentine said. Whether it's putt-putt or other playground refurbishings, "we're headed in the right direction."
But for now, that direction is on hold pending more details from Hinson.