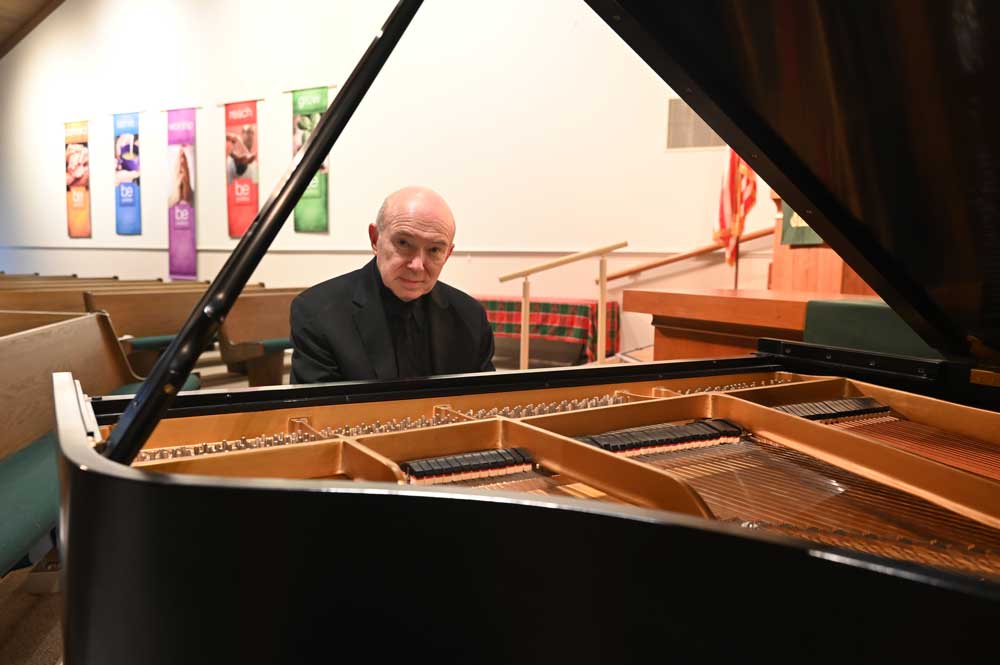 The Daytona Solisti Chamber Orchestra's annual Beethovenfest concert on March 26 will celebrate Ludwig van Beethoven with the first full-length orchestral piece the composer ever wrote: Piano Concerto No. 2 in B-flat Major, Op. 19, which he created primarily in 1789-1790 when he was 20 years old. This performance will feature a transcription of the original orchestral accompaniment for string chamber orchestra.
The work will feature pianist Dr. Michael Rickman, an internationally acclaimed pianist, Daytona Solisti Artist in Residence, a Steinway Artist (an honor bestowed by the piano maker), and Professor Emeritus at Stetson University, where he taught for 34 years before his retirement in 2017.
"Beethovenfest," which concludes Solisti's 2022-2023 concert season, also will include Beethoven's Allegro con brio from String Quintet in E-flat Major, Op. 4, plus Romance in G Major for Violin, Op. 40, and Romance in F Major for Violin, Op. 50, both featuring violinist Olga Kolpakova, Daytona Solisti's concertmaster.
The concert will take place at 3:30 p.m. Sunday March 26 in the sanctuary of Lighthouse Christ Presbyterian Church, 1035 W. Granada Blvd., Ormond Beach, where Solisti is in residence again this season. A $20 donation is requested at the door. For more information call 386-562-5423 or go online at daytonasolisti.com.
Beethoven (German, 1770-1827) bridged the Classical and Romantic eras in classical music, and many music scholars and fans esteem him as the greatest composer. Along with his nine symphonies and seven concertos, he wrote numerous compositions for piano as well as other works including string quartets. He is famously known for continuing to compose even after his gradually worsening hearing loss left him completely deaf in 1816.
"Don't only practice your art, but force your way into its secrets, for it and knowledge can raise men to the divine," Beethoven said.
Though Beethoven wrote his Piano Concerto No. 2 circa 1790, he continued to tinker with the final movement years later, rewriting it twice. When the work was finally published in 1801, it featured the concluding movement he composed in 1795, which is the version performed today. Music historians, while not 100 percent certain, believe the Piano Concerto No. 2 is the piece that Beethoven played when he made his public performance debut in March 1795, in Vienna. Prior to that time, he had performed only in the private residences of Viennese nobility.
Musicologist Roger Dettmer, writing in All Music Guide, said the concerto is "a work of substantial charm and considerable elegance, with several Haydn-like surprises including an abundance of themes." (Beethoven studied under Haydn for a brief time.)
Musicologist James M. Keller, writing for the San Francisco Symphony Orchestra, said that "even in this early work — the first full-length orchestral piece Beethoven ever wrote — we find the fingerprints of a distinct talent." He also says the final movement includes "a foray in the direction of what late-eighteenth-century listeners would have taken to be 'Gypsy' music."
While Beethoven favored the piano, he also had a fondness for the violin and received training on the instrument in his youth. The composer may have originally intended at least one of his two violin "romances" as part of a concerto. As for the curious term "romance," music historian Michael Clive said the term emerged near the end of the Classical period "as a catch-all term for certain works, but especially works like Beethoven's two romances for violin: relatively short, but long enough to make a serious statement — longer than the typical art song or concert aria." The "romance" form also has been described as "single-movement works in concerto settings."
Modern-day musicologist Wolfram Steinbeck claimed that "Beethoven created a new genre with these two works, the violin romance, which found a number of successors in the 19th century."
The Romance in G major for Violin, Op. 40, was composed in the early 1800s five years after the Romance in F major for Violin, Op. 50. But the Op. 40 was published first, and thus received the lower designation. Both romances "share a stately pace and singing quality," Clive wrote.




The Romance in G "stands as a fine work, . . . clearly demonstrating Beethoven's mastery of the high-Classical style of Mozart and Haydn," said music critic John Palmer.
Historians note that Beethoven's String Quintet in E-flat major, Op. 4, composed in 1795, was actually a reworking of one of his earlier works, the Octet in E-flat major, Op. 103 (although the latter was not published until 1837, ten years after Beethoven's death).
Ben Hogwood, writing on his website arcana.fm, said, "The neglect in which the Op. 4 string quintet is held is surprising, given its obvious quality. Pleasant though the material for the wind octet is, this feels like a real step up in terms of structural command and instrumental invention. The mood is much more purposeful, the dialogue between the strings containing music of deep substance and featuring impressive development of Beethoven's themes." The Allegro con brio, the opening of the quintet's four movements, "is tautly argued," he said.
Daytona Solisti was founded in 2005 by violinist and music director Susan Pitard Acree upon her move to Daytona Beach from Atlanta, where she performed in the Atlanta Symphony Orchestra for 22 years. Solisti members include professional musicians from throughout Central and Northeast Florida.