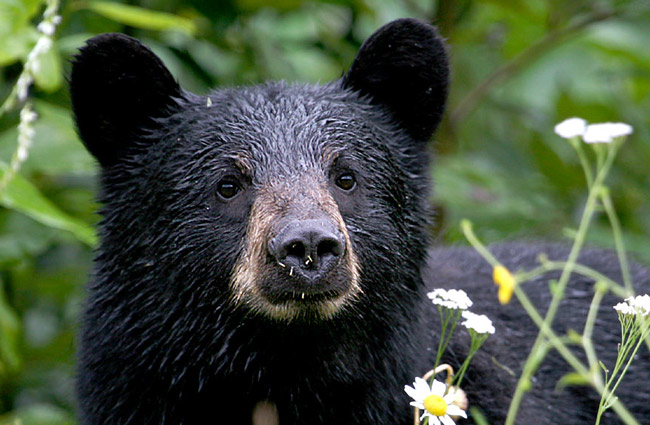 A black bear was spotted late this afternoon in the area of Belle Terre Parkway and Brookside Lane in northwestern Palm Coast. A short time later, it was seen in the area of Brownstone.
Sheriff's deputies headed to the area, including Agricultural and Ranch Deputy Steve Williams (of recent crane-rescue fame).
Sheriff's spokesman Bob Weber, who was also on his way to the B Section, said authorities will leave the bear alone and let him get on his way as long as he doesn't injure any individuals or destroy any private or public property. But if the bear does become in any way belligerent–even though, of course, it would be his or her right to be so, this being its grounds long before they were ITT's and Palm Coast's–then deputies have "tools" they can use to stop the bear.
This is a developing story. There are no images of the bear yet, but they will be published the moment one is available.
The Palm Coast Observer's Brian McMillan went to the scene and tweeted from there, with an eyewitness account describing the bear as "mid-sized."
Black bears are black to light blonde and weigh an average of 100 to 300 lbs. If you see something like a large toe arc, with toe imprints far apart, you're on its trail. But the claws leave no impression. Don't go chasing it though. If you encounter it, stay calm, make no sudden movements, give the bear room to maneuver, let it go about its business. "If it changes its behavior," the bear-safety tips on About.com tell us, "you're too close so back away. If you see a bear but the bear doesn't see you, detour quickly and quietly. If a bear spots you, try to get its attention while it is still farther away. You want it to know you're human so talk in a normal voice and waive your arms. Remember that a standing bear is not always a sign of aggression. Many times, bears will stand to get a better view. Throw something onto the ground (like your camera) if the bear pursues you, as it may be distracted by this and allow you to escape.
Never feed or throw food to a bear."
"It was apparently passing through the area," Weber said at 5:33 p.m., suggesting that the bear may have already skipped town. "There was nothing to be had."

There's always this: