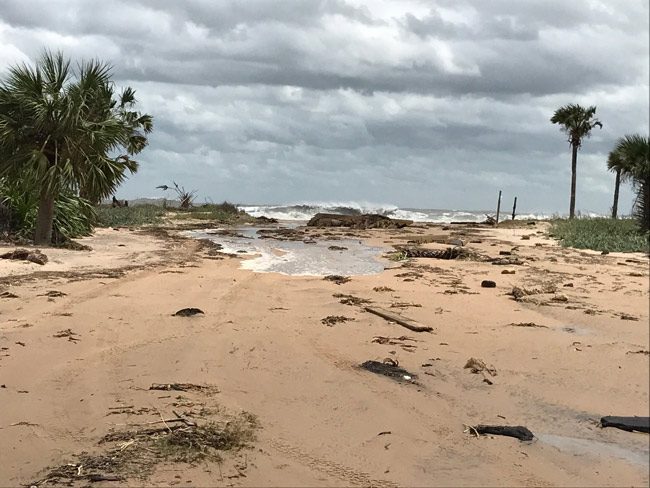 Three million dollars. That's the amount federal, state and local governments have wasted over the past dozen years, merely studying how to rebuild just a few miles of eroding beaches in Flagler County—mostly in Flagler Beach. It was supposed to be part of a long-term project to rebuild the beach, or renourish it, with dredged sand, a U.S. Army Corps of Engineer program that would stretch over decades, with the renourishment of just 2.5 miles of beach costing $39 million in the first round, at least double that over 50 years.
And it was less than a year ago, last Dec. 12, when Sen. Bill Nelson stood under the A-frame on the Flagler Beach pier, celebrating the fact that hours earlier, the U.S. Senate had approved a huge water bill that included a $31.6 million authorization to start renourishing the sands of Flagler Beach. Nelson was surrounded by Flagler Beach and county officials, including County Administrator Craig Coffey, who wore a bright red Christmassy tie featuring feasting and dancing penguins.
But all that—the more than $3 million already spent, the $31.6 million on the table, for a total of $35 million—might as well be like the rocks that wash out to sea in Flagler Beach every time a big storm hits. The whole effort has been wasted, the whole plan has been shelved. Coffey had been moving the county away from the plan even before Nelson's celebratory announcement, declaring in April 2016 that the county would sidestep federal authorities and conduct its own beach study. By last August, the county was officially turning away from federal money. On Monday, Coffey explained with more details why he did so.
"The reason we aren't going with the Army Corps is the money was authorized. It wasn't appropriated, even for the study, and the study would take another two years probably," he said. In Congress, an authorization merely states that money may be available for a project found to be worthy of attention. But it's not until the money is actually part of an appropriation bill that it is available for spending. The Army Corps, according to Coffey and two commissioners—Dave Sullivan and Greg Hansen—all but told county officials last spring that the money would not be forthcoming.
"Then you'd have to fight for construction dollars, which could take years and years, and that could be another five or six years before we'd get our first grain of sand on the beach," Coffey continued. "On top of that every 10 years you have renourishment, and we'd be fighting for that money as well." According to U.S. Army Corps plans, dumping sand on the beach isn't a one-time thing: it's a perpetual cycle, taking place roughly every 10 years, assuming no major storms wash out more sand in the meantime. Each batch of sand costs millions.
Then there's the matter of cost-benefit: in the U.S. Army Corps' calculation, a beach is worth renourishing if it protects very costly real estate values like high-rises and masses of population. That's just not the case in Flagler Beach, whose pretty beaches and lack of high rises is held against it in that cost-benefit calculus. "The cost-benefit ratio is below the fundable level now that they use in Washington," Coffey said. Serious storms could improve that cost-benefit ratio. But after two serious storms, Flagler is in no better position.
---
A rationale for the county to take over funding beach repairs, presuming the state will help.
---
"It's not a matter of us abandoning them, it's them abandoning us as far as funding," Coffey said. "But we're doing essentially what the army corps was recommending, and that is, sand on the beach, a healthy dune system, we'll protect the residents there. We've never had that. I know I've been here over a decade now, and we've never had dunes in front of rocks. It's just been rocks. Or dunes. Now we're going to have a sea wall in the north end, the type of sand we're going to be using is going to probably be an offshore sand that was approved part of the army corps analysis and private consultants and approved by DEP and U.S. Fish and Wildlife and all the environmental agencies. We have to do more permitting on that. It will meet the standard there. It may not necessarily ne coquina, but it'll be close to meet the natural environment that's already in place."
Sullivan, Hansen and Coffey jointly took part in rounds of meetings in Washington, D.C., ealier this year, meeting with Army Corps and Federal Emergency Management Administration officials and with Ron DeSantis, the congressman who represents this district, "and basically the answer we got at headquarters was, it ain't gonna happen. They just kind of shrugged it off," Sullivan said. (It is a violation of Florida's sunshine law when two or more commissioners actively take part in meetings that have not been noticed as public meetings and that deal with current county business. Hansen today said there was "no conflict" in those meetings because the matters weren't coming before the commission in the form of votes. But whether a commission votes or not on a current issue isn't the deciding factor.)
"Between us, DEP and the feds we spent almost $3 million," Coffey said. "And the fed funding started drifting off even during our study. It took us 12 years because the fed funding was unreliable. They never passed a budget. So there's programs out there that need renourishment funding, they can never get their federal cost share, and they have trouble getting their [Florida] cost share up until last year. They usually had $80 million worth of requests, and they'd only fund $30 million. Last year they funded $50 million to try and catch up at the state level. So the programs that are out there aren't really out there unless you're a very expensive, high-rise area that has a huge cost-benefit ratio."
That's why, he said, he shifted to a project that would now be paid for with county and state dollars, assuming those dollars are available. "Bottom line is," Coffey concluded, "do you get $12 million, $16 million with DOT and get money from DEP and put sand on the beach now, or do you wait five or six years and find out you're still in the same position when the next storm hit."
He was referring to the state transportation department, which is paying for a rebuilding of State Road A1A, with sea walls at the north end of Flagler Beach, and the state Department of Environmental Protection, which would make millions of dollars available for building new dunes and, presumably, dumping some sand on the beaches, though both those propositions are as vague today as were those of the U.S. Army Corps of Engineer's over the years. In other words, while there is certainty that the transportation department will spend the money to rebuild its road, there is much less certainty that the environmental agency will make the tens of millions of dollars necessary to ensure the rebuilding of the beaches to the scale necessary. That, Coffey left unsaid Monday.