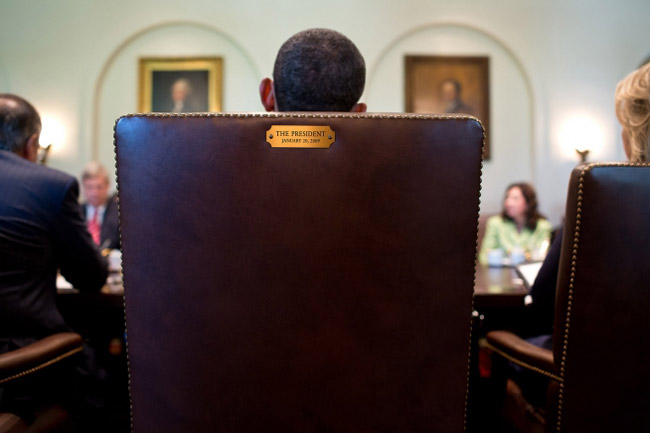 President Barack Obama's fortunes are improving in three battleground states, including Florida, with three months to go in the presidential campaign, according to the latest Quinnipiac-CBS-New York Times polls.
For the first time in the election cycle, Obama struck or exceeded the 50 percent favorability mark over Mitt Romney in all three states. In Florida, he was ahead 51-45 percent, a big improvement over a 46-42 lead in June. In Ohio, Obama is ahead 50-44 percent, compared to a 47-38 percent lead in June. And in Pennsylvania, Obama is ahead 53-42 percent.
Since the 1960s, no incumbent or candidate has won the presidency without winning at least two of those three battleground states. Given the leanings of voters in other states, it is unlikely that Romney can win the presidency if he loses Ohio and Pennsylvania, even if he manages to win Florida. There is a chance that Romney will pick Ohio Sen. Rob Portman or former Minnesota governor Tim Pawlenty, which could swing either state Romney's way, and with it the election's momentum.
"If today were November 6, President Barack Obama would sweep the key swing states of Florida, Ohio and Pennsylvania and – if history is any guide – into a second term in the Oval Office," said Peter Brown, assistant director of the Quinnipiac University Polling Institute. "The president is running better in the key swing states than he is nationally. Part of the reason may be that the unemployment rate in Ohio is well below the national average. In Florida it has been dropping over the past year, while nationally that has not been the case."
The unemployment rate in Florida has been dropping, but about 70 percent of the decrease is due to people dropping out of the employment rolls altogether, from being discouraged or because the state has made it difficult to qualify for unemployment. The rolls are not decreasing because of robust job creation.
But Florida's Hispanic voters as well as women overall are proving to be a significant strength behind Obama's numbers, as is the perception that he is doing more for the economy than Romney would.
"All this matters because half of all likely voters say the economy is the most important issue to their vote, far ahead of any other issue. The saving grace for Gov. Mitt Romney is that he roughly breaks even with the president on who is best on the economy," Brown said. "The president's strength among women is the dominant dynamic fueling his lead. It is this dynamic that argues for Romney to pick a female running mate. On the other hand, the president's lead in Ohio and Florida also argues for the selection by Romney of Sen. Rob Portman or Sen. Marco Rubio since he can't win the White House without the Buckeye and Sunshine states and presumably these home state senators would be the most helpful."
The prospect of a Rubio vice presidency had been dimming recently, however.
As always, the numbers remain fluid, but not by much: Among voters who pick Romney, only 10 percent each in Florida and Ohio and 9 percent in Pennsylvania say they might change their mind, a relatively low number for this point in the race. Among Obama supporters, 11 percent in Florida, 13 percent in Ohio and 15 percent in Pennsylvania say they might change their mind.
Looking at Florida's numbers more closely, Obama has a 50-46 percent lead among men, also a significant improvement. Both candidates run strong among their own party's voters while independent voters split with 47 percent for Obama and 46 percent for Romney, a notable decrease in Obama's previous lead among independents.
Among likely voters backing Obama, 65 percent strongly favor him while 24 percent like him with reservations and 10 percent say they pick Obama out of dislike for Romney.
The economy is the most important issue in the election for 52 percent of Florida voters, with 22 percent who pick health care and 9 percent who cite the budget deficit. Romney would do a better job on the economy, 47 percent of Florida likely voters say, while 45 percent pick Obama. Obama is better on health care, voters say 50 – 42 percent. And 38 percent of Florida voters say that if Obama is reelected, his economic policies will hurt rather than help their financial situation.
In Florida's U.S. Senate race, Democratic incumbent Sen. Bill Nelson leads U.S. Rep. Connie Mack, the Republican challenger 47 – 40 percent. Independent voters go 43 percent for Mack and 40 percent for Nelson. Florida voters disapprove 52 – 36 percent of the job Gov. Rick Scott is doing.
"One of the few positives for Romney in Florida is that voters are split on whether his election would help or hurt their pocketbook, but by 38 – 23 percent they say the president's re- election would leave their wallets thinner,' Brown said.
Quinnipiac University, in cooperation with CBS News and The New York Times, surveyed likely voters from July 24 – 30. In Florida, 1,177 Florida likely voters were surveyed, with a margin of error of +/- 2.9 percent; 1,193 Ohio likely voters were surveyed, with a margin of error of +/- 2.8 percent; and 1,168 Pennsylvania likely voters were surveyed, with a margin of error of +/- 2.9 percent.