At Rymfire Elementary this morning, it was a very different "Battle of the Books" from the kind that's been crumpling Flagler County's school libraries for the last couple of years: this battle was all about the love and joy of reading.
Eighty first and second graders split in 25 teams of three or four each (an advanced kindergartener would have participated, but was out sick). They then squared off in a nearly hour-long, timed competition to test the children's skills at matching no fewer than 75 blind quotes with any of the 15 books they'd been challenged to read this year.




After a raucous 3-2-1 countdown for each quote (the students chorused it every time), Rymfire Media Specialist Melanie Tahan, who organized and emceed the Battle, flashed the quotes on a huge overhead screen in the school cafeteria and on each team's iPad, along with a multiple choice of five book covers with which to match the line. The teams had 45 seconds to confer and make a choice. In most cases they took a lot less time, fingers confidently tapping screens often as soon as the quotes flashed.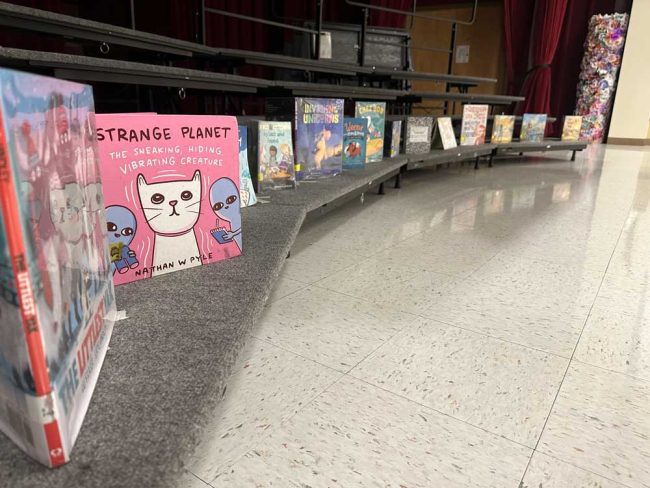 The atmosphere brimmed as if at a sports competition, with cheers and countdowns and hubbub that Tahan and a dozen attending teachers, in the spirit of the game, never once attempted to rein in anymore than they would the children's imaginations as they searched their memories in split seconds to match quote with title.
"The main goal here is to have fun. Everyone say let's have fun!" Tahan encouraged her audience from the cafeteria stage. The students responded in a loud cheer. "Everyone say we love reading!" Tahan urged, warming up the students. They screamed their approving reply. "And I want you to keep reading over the summer," she continued. "The public library has some of the books for next year, so if your parents take you to the public library, they have a book list that has some of these books for you."




And off they went with the first countdown and the first quote: "And then it happens–the song comes on," a line from Kelly J. Baptist's The Electric Slide and Kai. Fingers tapped. Then came the next quote, and the next.
It's all part of Florida's Sunshine State Young Readers Award program, which motivates students from kindergarten through eighth grade to read independently, whether for the fun of it or to improve reading skills. Every year the Florida Association for Media in Education selects 15 age-appropriate books for students in each garde category. The books have to have been published within the past five years, to keep introducing children to new books and new authors.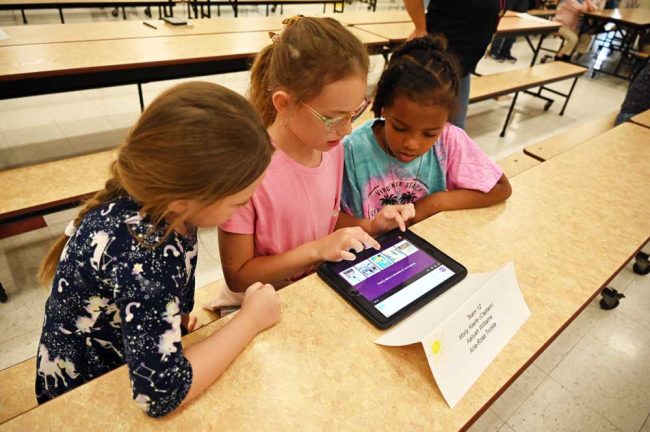 "This is to try to keep fresh, new books, new authors, books that kids can read with diversity and not read the same thing over and over again," said Tahan, an educator for over 20 years–many of those years teaching in international schools in four countries overseas–and a media specialist for 15. Teachers then challenge the students to read at least three of the titles on the list. Some schools promote the program, some don't.
Tahan does, with great success because of the end-of-year Battle of the Books, when the students get to revel in their skills. "I do it for K-2 and 3-5, but I only have a Battle for the K-2's. In grades 3-5, I have a celebration with them," she said, as the books get a bit more complicated and it's not feasible to extract a line from a chapter book and expect students to remember where it originated: not even adults could do too well on that. (Test yourself: who wrote of "the mirthful melancholy of eternity"?(*)
To qualify for today's battle, the students will have had to read at least 10 of the 15 titles. Each team this morning had a team captain who would have read all 15 books, with other members chosen for balance. "So we have kids from all the different classes that have qualified and we work together to build the teams that we think are well rounded, so they can do the best they can," Tahan said.




Some of the students conferred before answering, some were sure of themselves and just tapped the book cover they were just convinced was the right answer.
Tahan read out the quotes after each countdown, often in character ("When we try to do that, we sound ridiculous," went one of the lines from Nathan W. Pyle's Strange Planet). Clearly, she had chosen some of the lines for effect: "I love getting books from the library" (from Steven Weinberg's The Middle Kid) or "And she read lots of books to make her thoughts grow" (from Lu Fraser's The Littlest Yak). There were also the occasional head-scratchers, like "scritch scratch," from Strange Planet, or "None of this was easy," from Ten Beautiful Things.
The anticipation of the Battle of the Books encouraged the students to read more, some approaching Tahan in the weeks leading up to it to tell her of their excitement. The competitors even had an audience this morning as classroom teachers brought students to watch and encourage them to be part of it next year. Tahan emphasized that every reader was a winner, and every reader got a goodie bag. But there were team winners, too: first, second and third place, with three teams tying for third.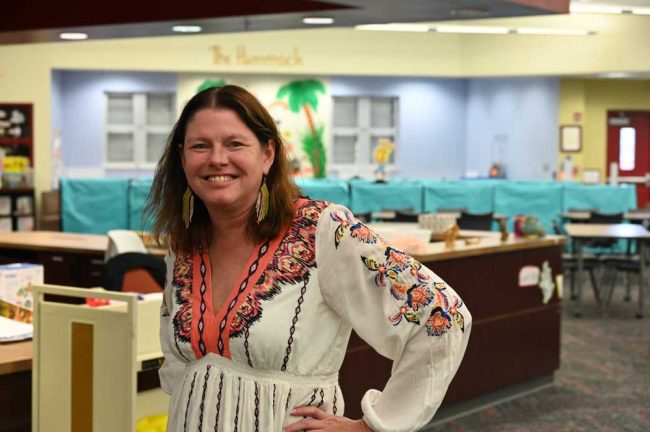 Team 1 took first place, with Captain Noelle Castello, Mason Herreid, Charlotte Ledezma and Lucca Decarvalho.
Noelle, in a brief interview afterward, had read all 15 books, and said she read them over and over, enabling her to recall the lines better. She especially liked Invasion of the Unicorns, the David Biedrzycki story of Special Agent Bubble07 who goes undercover on planet Earth–as a stuffed animal–to decide whether his team of unicorns should invade Earth. "It has an earthling family and says what it's like to have an earthly family," she said. Then Noelle started listing other favorite books as well, and though she said she's made to read them, she clearly seemed to love reading.
Team 4 took second place: Captain Layla Verdote, Avarie Lima and August Gilliam.




Teams 14, 2 and 23 all tied for third. Team 14: Cecelia Dorozsmay, Aaliyah Erlanger and Wade Mitchell. Team 2: Lucy Page, Emerson Domingos, Emma Gagliardo and Victoria Reyes. And Team 23: AJ Samaroo, Ayla Ulicki and Logan Collins. To A.J., the joy of reading came down to this: "Some stories are fun and some are crazy." He, too, mentioned Invasion of the Unicorns, but he reads a book just once through, reading "once in a while," he said–not necessarily every day.
"We're wrapping up the school year, and oftentimes people associate it with end-of-year assessments," Travis Lee, Rymfire Elementary's principal, said as he was overseeing the morning's set-up. "But there are a lot of different activities. The Battle of the Books has been great for our students to get them excited about reading, to get them to earn different recognitions throughout the year. We read a lot of books collectively as a school this year. So this is our culminating event, celebrating those students that say: I've reached the goal, I've read my 15 books."

(*) Thomas Mann, in The Magic Mountain.