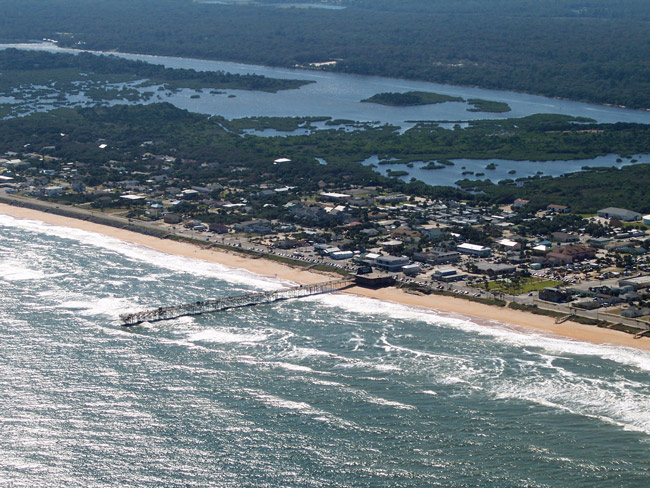 If you live west of the Intracoastal Waterway in Florida and don't know what a barrier island is, the easiest way to find out is to drive east on a bridge that crosses the Waterway. When you reach the far end of the bridge, you've just discovered a barrier island. But you've only begun your discovery. Questions linger: how was it formed, what does it do, what plants and animals live on it, and what are its unique challenges?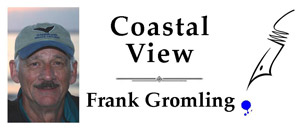 I live and work on Flagler County's barrier island, and I love every minute of it. About 10 percent of Flagler County's population lives on this barrier island, but I bet if you asked folks who live there to explain what a barrier island is and how it was formed, they'd be hard-pressed to get it right. So, in the spirit of helping out the barrier-challenged, here are some facts that will make Coastal View readers barrier island experts, or very boring party guests.
Generally, barrier islands are long and narrow, running parallel to the coastline, sometimes up to 100 miles at a stretch. In Flagler County for instance, the island extends from Marineland to the south end of Flagler Beach, and continues on to Ponce Inlet in Volusia County, a total distance of about 50 miles. Separated from the mainland by shallow water areas, such as the Intracoastal Waterway, bays and lagoons, barrier islands often are linked together by narrow tidal passes. A perfect example of this phenomenon is Matanzas Inlet in nearby St. Johns County.
Scientists are uncertain about the formation of barrier islands, but current thinking is that, as the Ice Age ended about 18,000 years ago, glaciers melted and receded. Sea levels rose and oceans flooded areas west of the beach ridges that existed then. Sediments from the beach ridges were brought inland and deposited in shallow waters off the new coast lines. Over time, as currents and waves brought additional sediments, and inland rivers washed sediments from the mainland, the barrier islands developed. Various plant seeds carried by water and birds settled into the sand and sediment, producing what would become the "native" plants and trees found today on barrier island dunes, higher ridges and western marshes.
Barrier islands serve two important functions. They protect coastlines from severe storm damage. And the harbor several wildlife habitats. Looking at them from the ocean on the east to the shallow water separating the mainland on the west, they typically have four distinct zones, or habitats, each with its own conditions and wildlife.
The beach zone lacks fresh water but most of it gets covered almost entirely with salt water twice a day by the ocean's salt water during high tides. Animals and plants in this environment, called the intertidal zone, must survive long periods of salt water followed by exposure to sun and air. Except for plants far up the beach close to the dunes, the only plant life in the beach zone may be algae that get washed ashore. Animals on the beach include clams, crabs and various shorebirds, such as sandpipers, terns, and gulls. Three species of sea turtles (loggerhead, green, leatherback) use the beach zone for nesting during the warm months of May through October.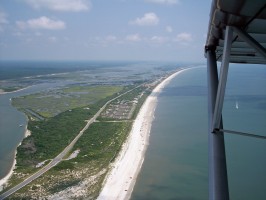 The raised dune zone, composed of sand and sediment deposited over thousands of years, is the area where most of housing occurs. It has a variety of plants ranging from grasses (bitter panic grass, muhley grass and sea oats), wildflowers (beach morning glory, dune sunflowers and prickly pear cactus), palms (cabbage palm, green saw palmetto and silver saw palmetto), shrubs (cat's claw, inkberry and Spanish bayonet), and trees (mahogany, southern red cedar and sea grape). All of these plants require fresh water, which they obtain from Florida's copious rainfall. Because of their location near the ocean, they are salt-tolerant and able to extend roots deep into the dune for stability and nutrient sourcing.
The dune zone also has a variety of interesting animal life, including crabs, ants, snakes, spiders, gopher tortoises, opossum, raccoons, and birds. Almost all of the residential and commercial construction on a barrier island is in the dune zone.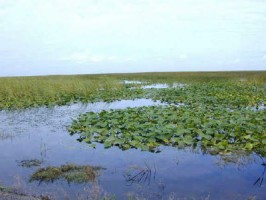 The next zone is the barrier-flat habitat, where the vegetation consists mostly of cordgrass and sawgrass, with some shrubs and small trees. Parts of these areas often flood daily during high tides, so the environment there is mud and sediment full of anaerobic bacteria which decompose organic material from dead plants and animals. Animals in this zone include clams, mussels, snails, crabs, birds, and fish. Gulls, pelicans and egrets are plentiful because of the abundance of food sources.
The fourth zone is the salt marsh habitat found along the shallow water which separates the island from the mainland. Because of tidal changes, this area is flooded with seawater during high tide, thus making it similar to the barrier flats in animals and plants. While this zone may have some residential development, it presents a challenging environment because of it wetness and unpleasant odors produced by decaying plant and animal matter.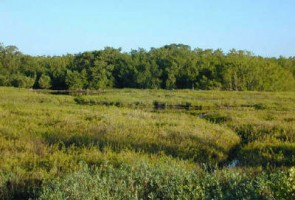 While barrier islands protect mainland Florida from the ravages of ocean winds and water, they remain extremely vulnerable to those very same natural forces, as shown by the dune erosion in south Flagler Beach and dune overwash by Tropical Storm Fay in 2008 at Summer Haven in St. Johns County. It is obvious to even the casual observer that, if the islands are vulnerable, then so is everything on them, including homes, businesses and government infrastructure. Because of this delicate balance, it is important for government leaders and residents to understand the dynamics of barrier islands in order to plan and manage effectively, thereby protecting both nature and society.
While barrier islands have existed for thousands of years, what exists today is far different that what may have existed years ago. As in all things in nature, there is a natural ebb and flow, a balance brought about by the powerful forces of oceans, winds, and rain. Historically, this has meant that barrier islands have increased and decreased in their size, shape and composition.
What the future holds for the islands is anyone's guess, including top scientists from a variety of related fields. As seen when tropical storms pass or nor'easters sit for days, pummeling the shoreline with relentless waves, higher tides, and torrential rains, barrier islands change in more than subtle ways. Beach heights and widths diminish, ocean-facing dunes retreat as the sand is devoured by ravaging seas and stormwater overflowing nearby roads, such as A1A. Flooding from high rain volumes of 18 inches or more, or from Intracoastal waters backing into salt marches and barrier-flats, makes travel for some difficult, if not impossible.
Will barrier islands succumb to the whims of nature? No one knows, nor can it be predicted with any sense of certainty. Does anyone care? Probably those, like my wife and I, who live along the coast on a barrier island. But do others? That's to be determined by decisions made in the future about how the barrier islands are respected for their unique character and natural wonder. I plan to be an influencing part in those life decisions, not just because those decisions will affect our lives, but because they will affect the lives of thousands, and the barrier islands I love.
Perhaps, as a result of reading this column, you'll visit a barrier island near where you live. If you do, take the time to enjoy all the natural wonders you'll find and then lend a hand to preserve and protect them.
Until next week, be well and take one step to help nature.

Frank Gromling is the owner of Ocean Publishing in Flagler Beach. Reach him by email here.