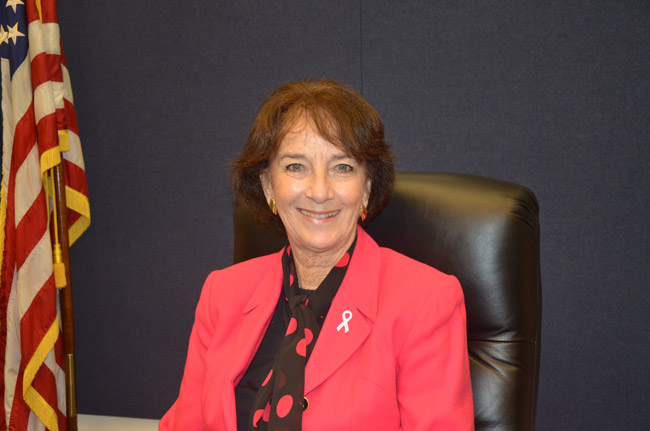 This week and next we'll run the Live Interviews of the candidates for local office in the Nov. 8 general election, with early voting beginning on Oct. 24. In the county commission races, the Democrats' interviews, as with Barbara Revels's below, are running for the first time. Other candidates' interviews were published ahead of the Aug. 30 primary, and will run again in the relevant races.
Barbara Revels is a two-term incumbent and the current chairman of the Flagler County Commission. A Democrat, she faces Dave Sullivan, a former chairman of the local Republican Executive Committee, in the Nov. 8 election to the commission's District 3 seat. Sullivan defeated Jason France in the Aug. 30 primary. Revels drew no opponent.
Revels is the owner of Coquina Real Estate and Construction in Flagler Beach, the successor to a real estate business she started when she was 24.
Three seats are up on the commission in this election cycle, and a fourth seat, that of the late Frank Meeker, will be filled by governor appointment. That means that potentially, all but one seat on the commission–the one currently held by Nate McLaughlin–could turn over.
All registered voters in Flagler County or any of its cities, regardless of party affiliation, including independents and members of minor parties, may cast a ballot in this race on Nov. 8 or in early voting, regardless of address or district.
Flagler County Commission members serve four years. They're paid $50,900 a year.
FlaglerLive submitted identical questions to all candidates, with the understanding that additional questions might be tailored to candidates individually and some follow-up questions may be asked, with all exchanges on the record. The Live Interview's aim is to elicit as much candor and transparency as possible. We have asked candidates to refrain from making campaign speeches or make lists of accomplishments. We have also asked candidates to reasonably document any claim or accusation. Undocumented claims are edited out. Answers are also edited for length, redundancy, relevance and, where possible, accuracy. If a candidate does not answer a question or appears to be evading a question, that's noted.
But it's ultimately up to the reader to judge the quality and sincerity of a candidate's answers.

The Questions in Summary: Quick Links

Place and Date of Birth: Tampa, Florida, February 5, 1952.
Current job: Owner of Coquina Real Estate & Construction, Inc. I am a Realtor and General Contractor.
Party Affiliation: Democrat.
Net Worth: $1,981,917 (See the financial disclosures: Form 6, and attachments: income, liabilities, assets.)
Resume: Revels submitted a short biography.
Website: barbararevels.com
1. What qualifies you to be a county commissioner?
•I am currently serving in my 8th year as a commissioner. I have completed the Certified County Commissioner courses by the Florida Association of Counties and the Advanced County Commissioner education series. I have immersed myself into most areas of Flagler County government to gain knowledge and understanding of the services the county provides. I have been attentive to citizen requests and understanding their needs and how those needs and County services meet and are funded. I have served on and Chaired numerous committees and traveled the state to learn and reach out to other agencies to find better ways to address Flagler County Citizens' needs. I continue to operate a business and make a payroll, which differentiates me from my fellow commissioners and many of the candidates. I believe being active in the business community opens doors to understanding a very important segment of our population. I am a fiscal conservative in both my personal life and in business. This philosophy carries over to my work in county government. Frequently I am the only commissioner who questions expenses. I strive for the lowest taxes that we can have with a balanced budget and still meet our citizens' needs. My 60 years or more in this community have given me a perspective that others can't match. This perspective includes the history of how this county developed and many issues previously dealt with.
You note your ongoing business to differentiate yourself from fellow commissioners and many candidates, a common presumptive slight from the currently employed against the formerly employed. It's as if to suggest that, as with Dave Sullivan, your opponent, who has a long military and business career, he retired not only from the workforce but also retired his memory and experience. So how is your statement fair or, immediate circumstances aside, accurate?
My response in no way diminishes others who have served our country, those who have had successful careers or those who have owned and operated their own businesses. My life-long experience is both local and current. I have worked and served in this community for decades and continue interacting with businesses, employees and the unemployed on a daily basis. I believe this is experience that cannot be matched by my opponent.
Jump to Dave Sullivan's answer.

2. Tell us who you are as a person—what human qualities and shortcomings you'll bring to the board, what your temperament is like: what would your enemies say is your best quality, and what would your friends say is your worst fault? Give us real-life examples to illustrate your answer.
I am a good listener, I try to bring consensus to any issue, I like efficiently run meetings, I am available to constituents and I like innovation and new approaches to doing things. I will try too hard sometimes to help a citizen's issue with County Government even though regulations say their issue is not acceptable. I don't always believe in "new is better." As a general contractor I see value in working with existing structures or equipment, (saving the old courthouse and the old hospital, for example) but conversely I can let go of a property, building or equipment when it has gone past its useful life. While I am not a glad-hander with hugs, kisses and those types of affectionate public displays I do care deeply for my fellow citizens and feel their hurt. I have worked on numerous initiatives to bring a slightly better life to those most in need. My friends say I don't say no enough and take on too much. I don't like accolades, attention or photos.
Jump to Dave Sullivan's answer.

3. What are the three most critical issues facing the county, and where do you stand on each?
1) Funding continued emergency services, including new communication towers, 800 Mhz communication system (upgrades) and how that infrastructure is shared with cities. See below where this question is addressed more fully.
2) Funding continued capital projects i.e. New South Library; parks development, other building maintenance and upkeep and drainage issues affecting Malacompra Road in the Hammock and on the west side. We must live within our means, however far our collected revenues will take us, along with a focused capital needs list. We should obtain grants wherever possible with the least match or in-kind match requirements.
3) Dealing with rapid development, i.e. how not to repeat the housing bubble that started in 2004 and the resulting consequences of the Great Recession of 2008. How to continue diversification of our tax and employment base. We need to proceed with the redrafting of our land development regulations previously started.
4) Continue to enhance and bring together our existing social service agencies, Health Department, Hospital, and free clinic to create a network of care not only for a healthier community but other social services affecting health and well being. I am working the "Flagler Cares" organization and others to bring about a well-organized information system to accomplish this.

Absent grants, what is your preferred source of new revenue to address capital needs? How can county government prevent the sort of housing bubble we had, when local county and city governments, through the major developments they have approved, are themselves encouraging development, whatever the market will bear? What specific policy, or change in policy, would you favor that would in your view help prevent a local boom-and-bust cycle?
Each year the county budgets for capital projects based on the long-range planning of the counties departments needs. A combination of local tax dollars are used as little as possible with the preferred source of non-tax funding of these projects being grants. These grants provide the opportunity to fast-track projects while reducing expenditure of county revenues.
The "housing bubble" had its genesis well outside of Flagler County but its local impact is well remembered. There is no mechanism for halting developments once approval has been given. However, some developers resubmit the approved plans in response to changing market conditions. When this occurs the county can once again impact the size and densities of the project. It should be noted that the municipalities approve Developments of Regional Impact (DRI's) without approval or input from the county. Finally, the county needs to re-write our Land Development Regulations to be more reflective of economic conditions, current and future development cycles, with good planning, and stewardship.
Jump to Dave Sullivan's answer.

4. What do you think county government is doing well, and how will you build on that? What do you think county government is doing poorly, and what will you do to improve matters?
I believe Flagler County has done a good job of recovering from the great recession in not speedily raising taxes and expanding services and payroll quickly. I recognize many segments of our community are still economically stressed. However, we are faced with a good many needs in hiring, salaries and capital improvements. It all just takes time and I believe we are doing a fairly good job of tackling these areas of need. Examples: a lot of differed maintenance on equipment and buildings (i.e. IT equipment). We are becoming un-competitive when compared to surrounding communities and private sector business in our salary range and are seeing the loss of well trained and quality employees. I would like to continue to improve our equipment and structure maintenance in a well-defined program. What we do poorly – as in most governments we can't react quickly to an issue like private business can, our structure of committees, meetings, public hearings naturally means things take time which frustrates the public and was hard for me to grasp when newly elected. Also our communications and outreach to other elected officials and governments sometimes is not as high a priority as it should be. I believe our County government leaders for the most part have the same vision and commitment to our citizens of a better quality of life and a well-organized transparent cost effective government that serves their citizens. We just approach that delivery differently in some cases.
The issue of government moving more slowly than the private sector is not particular to Flagler, and is indeed part of the nature of the beast wherever there is government. Aside from that though, and the issue of communication you do mention, can you site another couple of issues specific to county government, that have been poorly handled, and what you would do to fix the matter. It would also help if you explained why those matters were not well handled on your watch.
First to clarify, my statements about the slowness of our communications are attributable to our systemic resistance to adoption of newer modes of communication. The introduction of new communication forms must be closely monitored and forms that are widely adopted by the population need to be considered for inclusion in the county's communications program. This lack was illustrated by the county's diminished ability to provide information to the citizens during Hurricane Matthew. This is under current review and recommendations are forthcoming.
Another issue that could be better handled is the lack of identification of funding sources for the county's long-term road, bridge and drainage projects in the unincorporated areas. As Flagler County continues to gain population we will no longer qualify to participate in some state and federal programs designated for small counties. Also, the anticipated ongoing budget cuts in both Tallahassee and Washington, D.C., will further limit available funds even while our need (and population) continue to grow. Efforts must be redoubled to identify how these infrastructure maintenance and upgrades will be funded.
Jump to Dave Sullivan's answer.

5. What would you change about the EMS, or ambulance, system in the county and in Palm Coast, if anything? Where do you stand on consolidation of fire services with cities, understanding that cities would be resistant: would consolidation save money? To what extent do you think turf and pride as opposed to bottom lines prevent consolidation?
My initial response would be "what if we had all planned together from the beginning" as if we were consolidated. Unfortunately, the cities have placed their emergency service locations based on their boundaries and traffic patterns. When you add the County supplying ambulances interacting with those City facilities (all cities), sometimes efficiencies fall or redundancy happens. Now it is up to our elected officials to work together to find the lowest cost arrangement to meet the needs the public is demanding. One must ask though, is the public demanding higher levels of service? We certainly don't hear that in our commission meetings at public comment.
At this time, we have adjusted our proposed budget in our last meeting to allow for the hiring of another ambulance crew to add to the station locations in Palm Coast and adjust outward in our other rotations. If this passes it will be the beginning of the solution to the Palm Coast issue of ambulance locations. It will not solve the use of the Palm Coast fire trucks rolling on every 911 call when more than 80 percent of calls are medical. Palm Coast must solve their issue of equipment size to roll out to these events. I firmly believe consolidation of fire services would work and save the tax payers a fairly good sum. Turf and pride is always a deterrent in good planning. These are complex services that sometimes don't have easy black and white answers and are seen from each entity's perspective. I hope the Citizens will make their wishes known to their elected officials for the best results as we move forward with any new EMS arrangements.
Having followed you many years, this seems to be your clearest statement yet of support for consolidation. Yet as the commissioner whose district includes Flagler Beach, it seems your voice might have mattered a great deal when Flagler Beach debated the issue of fire services and consolidation with the county, eventually rejecting the idea about two years ago. Bunnell also rejected the idea after one of its commissioners brought up the proposal a month ago. Why, as a proponent of consolidation, would you not have appeared before those city governments to make your case, or, given your proven and effective skills at leading work committees that almost always produce results, would you not have led such a consolidation committee, with cities, at least to fully explore the matter pragmatically and empirically?
When you speak of consolidation, first you must recognize, the county will always have and is required to have both fire/emergency services and police/sheriff's departments. Therefore, if there is a consolidation each city would need to have the county take over their functions on those services. The cities are entrenched in their investments in both equipment and manpower; Bunnell and Flagler Beach less so than Palm Coast. I did try to convince the City of Flagler Beach to allow the county to take over fire and emergency services in my first term. It was not well received. I have continued this discussion with each successive city manager and several of the City Commissioners. I am consistently told "The citizens of Flagler Beach want their own fire and police departments and are willing to pay more for that service." Absent a Citizen's outcry to lower costs through embracing consolidation of these services only a change in the makeup of the local elected councils and commission as well as the respective managers will to move this initiative forward. As elected representatives we can identify and propose alternatives to the status quo but when those proposals are rejected by the citizens we must respond to their will.
Jump to Dave Sullivan's answer.

6. Explain where we are as a county with our 800 mhz emergency communications system and evaluate the county's approach in updating the system, explaining where you see flaws or strengths in that approach. Palm Coast and the sheriff consider the county's approach to be laggard. Do you agree?
The county's 800 mhz system is aging and at capacity, has a short future left in our service contract for support and it is not fully paid for. Other counties that are running this same system are taking this out much further. The county has held numerous meetings with users of the system and workshops with the Commission to determine the next steps of upgrading the equipment. This will need to be a comprehensive plan involving tower locations and equipment for best triangulation and good communication. It will be expensive and we are expecting this cost to come about in the next couple of years. I don't consider the county's approach laggard, but instead feel we are living within our means. If Palm Coast, the citizens and the Sheriff all demand new equipment now, then the Citizens' tax bill will reflect that.
Jump to Dave Sullivan's answer.

7. Palm Coast and the county have a sniping, at times competitive, at times antagonistic relationship, as if between fiefs. To what extent are the two elected bodies responsible? To what extent are the two government's managers responsible? How will you help foster a less medieval relationship?
I would agree that in relationships between Palm Coast and the County, both officials and staff appear to be sniping and competitive. But I also feel that the differences in what services the County must provide and the services a City needs to provide can in some instances create competitiveness and outright disagreement; i.e. annexations, Community Redevelopment Agencies (such as Town Center) and utilities. Each time a developer wants utilities they get their development reviews done with the county, then annex into a City for services. Each time a City creates a CRA those tax dollars inside the boundaries of the CRA freeze for the County in the future. (Palm Coast';s Town Center CRA is a $1 million annual loss to county tax revenue.) This leaves the development of those lands and the services required for that growth to be paid for by stagnant revenue or by the other citizens of the county. This is frustrating to County government to compete for funds to carry out services anticipated by our residents that have been limited by a city. I am sure the respective government officials could have made stronger demands of their Manager/Administrator and staffs, presuming the elected officials all agree on the path ahead and the causes of the strife behind. This has not been the case. I will continue if re-elected to insist we meet in the middle, do more joint projects together (we do several now) and be more proactive in those contacts. As Chairman this past year I have met with Mayor Netts on a few issues and felt we had good dialogue, which allowed me to seek more answers from county staff furthering my understanding of the differences on issues.
Other than your meetings with Netts, what have you done in those eight years, which have paralleled much of the strife, to reduce tensions, or to better direct your administration to behave?
I have had numerous interactions with every local government in the County on a variety of issues that never rise to the attention of the press but are areas of agreement and assistance. In some cases, I am rebuffed or denied what I am seeking but generally in an acceptable way – which might lead to an altered plan. Each of those interactions lead me and those other officials to better understanding of each other's needs. It also allows me or fellow commissioners to give more educated direction or our Administrator in order to facilitate cooperation with other city managers/administrators.
I have had numerous occasions to interact with the representatives of the local municipal governments. We have met on a wide range of topics and issues but the occasional session where no agreement is achieved is the meeting that receives the greatest coverage. Consensus is not always achieved but the negotiations are most often amicable and sincere effort is made to find common ground. Every interaction increases the level of understanding their priorities. This increased understanding frequently contributes to achieving a meeting of the minds.
Jump to Dave Sullivan's answer.

8. Where do you stand on a civil citation program for first-time offenders caught with small amounts of pot, and other minor crimes?
As has been reported extensively by FlaglerLive and other media sources, I am pressing for adoption of a county wide Adult Civil Citation program. This will save court system dollars and hopefully give a first time offender the opportunity to not re-offend and keep their record clean. We will need buy-in from the Cities as well to make it most effective.
Jump to Dave Sullivan's answer.

9. Between March 2010 and March 2016, Flagler County residents holding jobs increased by 52 percent (or by 15,000). Only a few dozen of those jobs can be attributed to the county's $500,000-a-year economic development department, keeping in mind that the department's most touted job coup—the 300-job promise of Aveo Engineering at the airport—was a bust. Is that department still necessary? Can you point to substantial reasons and examples that make its expense worth the price to taxpayers?
Supporting an economic development office and staff is not a quick fix nor is its success totally measured by just new jobs. It is so much more and I am proud to be a part of the initial Department development, Council and staff selection. The department creates linkages between existing businesses or infrastructure to new industry, attends trade shows, site selector education conferences, conducts FAM tours, property showcases, developed incentive packages and works diligently on Business retention and expansion. Flagler's office has assisted in keeping business from relocating such as Designs for Health. This is one of our success stories where they started small, now have 31- hiring seven more and grew from 10,000 sq.ft. to 40,000 sq. ft. Each of our new businesses has grown nicely since being recruited. Coastal Cloud has 100 employees and purchased their building, Beutlich 20 and now hiring four and have purchased their building; Gioia Sails 35 and hiring 15, Aveo five employees currently while waiting on FAA permitting to grow; WP Rawls 15 and building more space, Delta Engineering four, Moving Minds 30 and projecting another 15 this year. There are more jobs that can be attributed to business growth from the assistance we have provided along with other local providers like the Cities, CareerSource, the schools and colleges, the Chamber, and other experts. I believe this department is vital and without it we would have our workforce grow based on new construction and restaurants. Many of those positions don't handle the ups and downs of bad economic times and in many cases do not pay a living wage. We must continue to diversify our economic engine and strive for higher wages and jobs that will keep our graduates here.
There's no question that the department can and has facilitated some jobs. But your answer, despite its copious numbers, remains unconvincing: how do all the numbers you cite, compared to the 15,000 jobs that have been created without the department–or its costs–argue for the department as more than just that–a facilitator, and a very expensive one? Would every one of those jobs you cited been non-existent locally had the department not existed? The county airport has been proportionately more successful to create economic activity there, with its own staff. How is the economic department not more than a good-to-have luxury, rather than an essential operation?
I will relate this back to your question above in #2: How we manage to stop rapid boom town economics that happened in the great recession is to have numerous good quality job opportunities in a variety of industries. The Flagler County Department of Economic Development brings together schools, colleges, industry leaders, entrepreneurs, land owners and many others with the goal of developing and retaining a diversified work force. Absent this effort, we will continue to see little else other than construction jobs working in residential development and the continued development of strip malls, gas stations and restaurants. Although this growth is valued and welcomed if this remains the sole focus of the local economy our median income in the county will continue to slide and our graduating high school and college seniors will depart and not return. Admittedly it is a challenge to measure this department's success but I firmly believe the pursuit of this broader based economy is a worthwhile goal and that this department is a must have.
Jump to Dave Sullivan's answer.

10. The past four years were dominated by major capital projects: a new sheriff's operations center, an expanded jail, the taxpayer-subsidized transformation of the old courthouse into a parochial school, and the acquisition of the Plantation bay utility. What, on your watch, will be the next batch of major projects? Rate, in order of importance, the following projects: a senior center, a new library, a west-side fire station.
I believe the west side fire station and the library are of the greatest importance to our citizens. The Plantation Bay utility upgrades on the sewer side are moving ahead and funding for the water system still to be obtained.
Jump to Dave Sullivan's answer.

11. Evaluate the performance of County Administrator Craig Coffee, listing strengths, weaknesses and areas of concern.
Craig Coffey is a competent administrator with his greatest strength being the clear grip on our budget and how to work within those guidelines and be creative with obtaining other sources of funding. Craig has developed a strong team of management but will be faced with a few challenges as several of his leadership team will be retiring over the next couple of years. As to areas to work on, I believe our relationships with employees could be improved as we finally are able to see some signs of relief in the budget and can offer small cost of living raises even though the benefit package took a small hit. These issues affect morale and retention which we must worked on. Lastly I believe we are all guilty of furthering development of an issue or project that is something we know of or participate in. I stress to Craig Coffey that we must continue to press for all areas of our community to have equal attention when possible.
Jump to Dave Sullivan's answer.

12. In this election, all three county commissioners are facing challengers. If you're one of those challengers, and understanding there is inherent value in the experience of an incumbent and the institutional continuity, history and understanding that the incumbent represents, what are three reasons that justify removing him or her? If you are the incumbent, what are three reasons that justify keeping you beyond institutional advantages?
1) As the incumbent my history of service in this community, living here for more than 60 years, knowing the causes of how things have happened are invaluable to the future progress. I feel it is important to continue to have one County Commissioner that resides in different geographic locations such as the beachside communities. 2). I am an active business operator making a payroll. This distinguishes me from other commissioners and most of the challengers and allows me to relate to many of our citizenry in business and earning a living. 3) As a Realtor and General Contractor I have a unique insight and strong past in the development side of our community. This perspective gives me a sound background for land use decisions, management of our assets and when contracting for services as a County. 4) and lastly my history and love for this community keep me grounded to try to maintain many of our fantastic natural amenities and protect them whenever possible.
Jump to Dave Sullivan's answer.

13. Who, on the current commission, would you most closely model yourself after and why? If you're an incumbent, please choose from the remaining four commissioners.
None of them. I am a very independent thinker. I wouldn't try to model myself after any sitting commissioner.
That's avoiding the purpose of the question, which is to candidly allow voters a sense of why you would more closely align yourself with, temperamentally and philosophically, among your colleagues. You champion consensus building and your record shows you're not an island of one on the commission. After eight years, surely you can tell us where your affinities are.
Your question as stated was "Who, on the current commission do you most closely model yourself…". I do not believe that I have modeled myself after any sitting member of this commission. I have agreed and disagreed, supported and objected to positions taken by all my colleagues. If your question is to whom I am most comparable stylistically I suppose my closest comparison would have been to Frank Meeker. As with Frank, I do not seek attention for my work, I endeavor to be well studied, facilitate dialogue and strive to achieve consensus where possible.
Jump to Dave Sullivan's answer.

14. Have you ever been charged with a felony or a misdemeanor anywhere in Flagler, Florida or the United States (other than a speeding ticket), or faced a civil action other than a divorce, but including bankruptcies? If so, please explain, including cases where charges did not lead to conviction.
No.
Jump to Dave Sullivan's answer.

15. Question customized for Barbara Revels: You point out your ongoing involvement in business as one of your strengths. It has also been a vulnerability: the biggest stain on your record in the past four years–the only stain, in fact–is the ethics commission's $2,500 fine you had to pay as a result of incomplete financial disclosures and conflict of interest recusals (or lack thereof) over the issues involving the old hospital. How can voters trust that your work in the private sector and your work on the commission do not improperly crisscross, or that further conflicts won't be uncovered?
You are correct it is a strength and also a huge vulnerability. Over the past eight years I have refocused and reduced the scope of my business. I am doubly cautious not to engage in business with customers or projects that call for interaction with the County beyond the level of building permits. I have and will continue to turn away business that poses potential conflicts.
Since the question posed begs for at least a summary of what constituted the violation and the resulting fine: The fine was for failure to disclose a conflict of interest based on the ethics commission's position that being a minority shareholder in a privately held corporation results in every other shareholder and corporate officer becoming a "business associate." I did not know this at the time of the vote on the county's purchase of the old hospital. I have acknowledged that error, did not contest the charge and paid the fine. To clarify, the fine had nothing to do with lack of financial disclosure.
Jump to Dave Sullivan's answer.