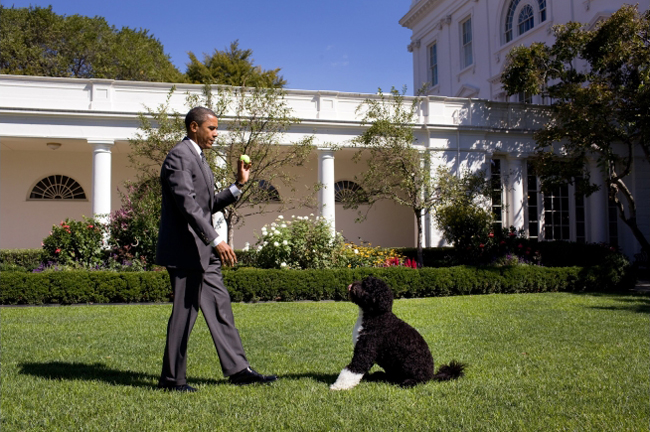 FlaglerLive Editor Pierre Tristam's weekly commentaries are broadcast on WNZF on Fridays just after 9 a.m. Here's this week's.
Barack Obama could learn something from Rick Scott, the man attempting to be Florida's governor. When Scott's poll numbers showed him to be the least-liked governor in America, he did what any politician with no clue and worse policies will naturally do in the same situation. He took up cosmetology. He started smiling a lot more in public. He decided that the press was no longer the Florida Taliban. He's been holding media interviews almost daily for the past three weeks, some of them in Florida. On his Twitter account he wrote about the "beautiful grouper" he caught in the Keys.
The other day he took up for a few hours the sort of job that have been created on his watch: he pretended to be a sales clerk making poverty wages at a doughnut shop, then delivered donuts to a television anchor in the middle of a broadcast. What a guy. And this week he sent a new photo of himself to news outlets around the state, all smiles, without a tie, begging editors to use that one "rather," he wrote, "than any others you may have on file." No more bug-eyed portraits, no more deer-in-headlight mug shots, please. It's working. Scott's approval rose from below freezing to the low 30s.
Obama needs to do the reverse. He's been way too likable. Most Floridians don't like his policies, but 70 percent like him personally. That's the problem. He's been too nice, too conciliatory, too compromising, and with who? With Republicans who've thought nothing of putting political dogfighting over the 2012 election ahead of any sensible solutions to the nation's debt, let alone its jobs crisis, damaging the country's credit along the way. Obama merely stood by, taking beating after beating and getting nothing in return but well-deserved disapproval from all sides.
He put on a good show of traveling the country as an angry man this week, only to begin today yet another 10-day vacation on Martha's Vineyard, one of the planet's most expensive resorts, while 25 million Americans are still unemployed or under employed. No wonder they call him Slacker in Chief. I've been having memories of Herbert Hoover or George W. Bush, and missing them both.
Obama's routines could use a makeover. Fewer interviews, fewer smiles, fewer vacations, fewer anecdotes about Sasha and Malia, who are beginning to sound like the Amy Carters of the decade, and less compromising with the party of sabotage. The country desperately needs a president, not a moderator.