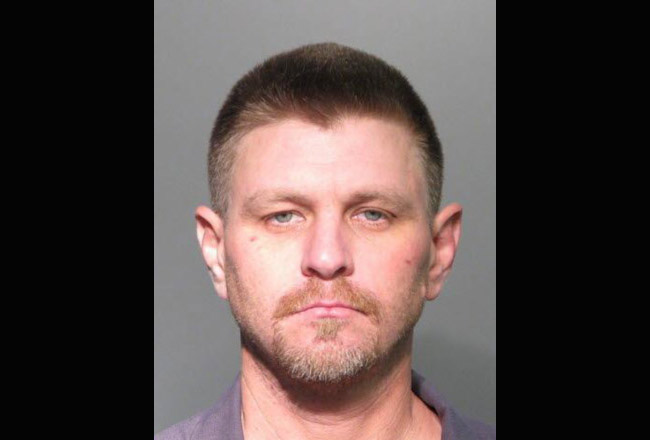 Kevin Cotterman, the 42-year-old serial bank robber who stole $805 from the Palm Coast Bank of America branch on Palm Coast Parkway in May 2012, was sentenced today (Oct. 8) to 15 years in prison, with no possibility of parole, by Flagler County Circuit Judge J. David Walsh.
Cotterman pleaded no contest in January. He tried to withdraw his plea today. Walsh refuted the attempt. Because he is a repeat offender (he served three years in prison for bank robberies in 2008), Cotterman is ineligible for early release.
He owes the $805 in restitution to Bank of America.
See previous stories below.

Bank of America Robber Caught and Held on $750,000 Bail on 4 Counties' Charges
June 21, 2012–On May 17, Kevin Lee Cotterman, not finding it necessary to cover his face, walked into the Bank of America Branch on Palm Coast Parkway near Belle Terre Parkway, and handed a note to the teller that read: "Put all the money from your top drawer in an envelope, I have a gun."
The 36-year-old teller complied, placing money in denominations of $20, $10, $5 and $1 bills in an envelope. No $50 or $100. The teller handed the envelope to Cotterman, who was, all the while videotaped by the bank's surveillance cameras. He walked away. She pressed the hold-up button and informed the bank manager.
On Tuesday, the Seminole County Sheriff's Office arrested Cotterman–it's not clear why or how, though the charges against him from four counties are quite clear. Beside the robbery and grand theft charge he faces in Flagler, he is charged with strong-arm robbery with a firearm and a strong-arm robbery without firearm on warrants from Duval County. He's charged with grand theft, robbery and possession of ammunition by a convicted felon by Orange County. And he's charged with two counts of attempted robbery in Volusia County.
Seminole authorities are familiar with Cotterman. He served two and a half years in prison for a succession of three robberies he carried out on Oct. 7, Sept. 3 and Sept. 17, 2008, in Seminole, and was convicted to three years, which he served concurrently. He was released the day after this past Christmas.
He's unlikely to leave jail any time soon: his combined bail was set at $750,000, including $400,000 bail set by Flagler County Circuit Judge Raul Zambrano.
A tip received by Crimestoppers tip line in Deland identified Cotterman as the suspect in two Deland bank robberies, the Flagler County Sheriff's Office said in a release. Flagler detectives said they were able to match Cotterman to security photos taken in the Palm Coast robbery. The detectives traveled to Seminole County Thursday to serve the arrest warrant on Cotterman, who confessed to the crime, according to the detectives.
Below is the May 17 story on the Palm Coast bank robbery.

Bank of America on Belle Terre in Palm Coast Robbed; Fire Flight Scrambles for Search
May 17–The Bank of America on Palm Coast Parkway near Belle Terre Parkway was robbed just before 11:30 this morning. The bank robber, or robbers, got away, triggering a search by ground and air. Fire Flight, the county's helicopter, has been circling the area above the bank, in large, concentric circles, since shortly after the robbery.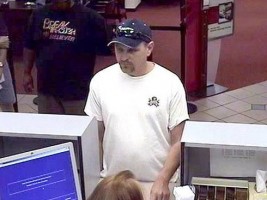 A dozen or more Flagler County Sheriff's units are at the scene. The bank parking lot has been sealed of, but bank officials and cops are walking in and out of the bank, suggesting that there is no further danger inside the bank. A little over two years ago, the Bank of America in Bunnell was robbed by a man claiming to have a bomb. The block around the bank was sealed for hours and was not reopened until the bomb squad from the St. Johns County Sheriff's Office removed the object–which turned out not to be a bomb.
No Flagler County Fire Rescue or Palm Coast Fire Department units were called to the scene, suggesting that there were no injuries.
Just after noon, the Flagler County Sheriff's Office said that the robbery was carried out by one man who fled on foot. The suspect is described as a white male, approximately 35 years of age, six-feet tall, wearing a beige cap, white t-shirt and khaki shorts. He has short, light brown hair.
Anyone with information on this incident is asked to contact the Sheriff's Office at (386) 313-4911.
Traffic on Palm Coast Parkway is unimpeded.
This is a developing story. More when it becomes available.