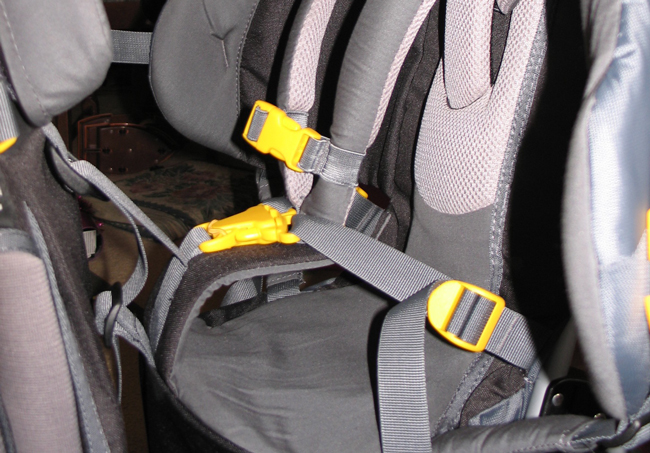 The father of a Bunnell Elementary School kindergartener had a startling story for the school board.
"The reason I'm here to speak with you," Chance Hancock told the board members in late January, "is about the use of Baker Acting elementary-age students."
The Baker Act is a section of Florida law that enables police to detain an individual and forcibly transport him or her to a psychiatric facility, where the individual can be held against his or her will, typically for 72 hours. For the Baker Act to be invoked, the individual must be engaged in acts that may be harmful to others or to that individual—and the threshold for that determination is quite high: the harm must be "serious."
Flagler County Sheriff Jim Manfre, in a recent appearance before the Palm Coast City Council, said his deputies are Baker Acting some 40 people a month, though those are overwhelmingly adults.
The Threat of a Baker Act
"On Dec. 11, I was contacted by Mr. Dupont, principal of Bunnell Elementary school, that my kindergartener was having a tantrum," Hancock continued. "On the phone, I was able to talk with my student, my kindergartener, and calm him down. Shortly after the phone was transferred back, he got upset again. Mr. DuPont then told me, if I didn't get there promptly, he would Baker Act my kindergartener." Hancock paused for a long time. "Of course by the time I got there, my kindergartener was calmed down, had full control of himself." In fact, the kindergartener was in the board room, having sat through two hours of board—and quite dull—business until the public participation segment.
"Now, of course when he did contact me," the parent said, "my student was in his office, in a room full of adults. Now, the basis for a Baker Act is that that person has reason to believe that that person has a mental illness, or has substantial likelihood that without treatment, that they will cause serious bodily harm. Now this is going to be used on a kindergartener. This was a simple tantrum. I've never experienced it in my home. The only time I've heard of this tantrum is when he is in school."
Hancock described the use of Baker Acts on a kindergartener as "an overly extreme choice," and requested that the "incident" involving his kindergartener review the case and ban the Baker Acting of elementary age students. He tried to have discussions with the school board attorney and the district's student services—unsuccessfully, he said.
Verification Shielded By Privacy Laws
The school district will not discuss disciplinary or mental health issues involving students. Those matters are protected by privacy laws, which makes it impossible to verify the parent's claims (there are always many sides to such stories), but also makes it just as difficult to verify whether the school followed the correct procedures: a principal threatening to invoke the Baker Act is not among those procedures. Nor is it in a principal's power to invoke the Baker Act: school officials can present evidence to police or to a certified mental health therapist, and only police or the therapist may sign off on a Baker Act, says Katrina Townsend, the district's director of student services. (The judicial system may also Baker Act an individual, but that represents only a fraction of cases.)
And before seeking to Baker Act a child, normal protocol entails following a series of steps, Townsend said, including filling out checklists (one that analyzes the threat to self, one that analyzes a threat to others). A guidance counselor normally fills out the checklist and comes up with a "moderate" or "high" rating for the severity of the threat. If the behavior continues, "we don't have a choice," Townsend said. The Bake Act must be the next step.
---
Threatening a parent with Baker Acting a child is not protocol.
---
Just as clearly, if the child exhibiting the behavior does not meet the criteria for a Baker Act, it cannot be either invoked, and certainly not threatened.
Hancock's child was not Baker Acted. But last week (on Feb. 25), a 7-year-old girl who attends Belle Terre Elementary was.
The incident unfolded after noon as Julie Menéndez, the dean of students at Belle Terre, told a deputy that a student in her office had been "harming her teachers and fellow students," according to a sheriff's incident report. Menendez told the deputy that while the 7 year old was in the office, she " started to throw a temper tantrum, throwing items and disorganizing her office. Ms. Menendez further advised at one point the student threw thumb tacks on the ground and while picking them up she began to stab Ms. Menendez's knee causing a small laceration." Menendez declined medical attention (she was treated by the school nurse) and said she didn't want to press charges, but wanted to get the student help.
The 7-Year-Old's Story
The student told the deputy that she was upset because the teacher had taken away her recess for misbehaving, and that when other students who had something she wanted would not give it away, she grabbed it anyway, the report states. When she was disciplined, she started "striking and kicking the teacher." The child said she'd thrown the thumb tacks, but had thrown them near the dean, not at her. Only then was the parent contacted, in the narrative sequence of the report. The child's mother told the deputy that there had been issues before, but that her daughter had never "escalated" the situation before to the point of using such things as thumb tacks. The child is bipolar, the mother told the deputy, but medical help has been scarce for lack of money.
The child was then Baker Acted, and taken to Halifax Behavioral Service in Daytona Beach.
It's not uncommon: of 150,000 involuntary Baker Acts in 2011, the last year for which complete numbers are available, 18,000, or 12 percent, were children, according to the Department of Children and Families. In Flagler County, about three or four Baker Acts occur every month involving students, Townsend said, though those tend to be older, high school students. Baker Acts involving children as young as Tuesday's case are very rare.
James Miley, the sheriff's deputy who investigated the case and drove the child to Daytona Beach in his cruiser, subsequently explained the process in an email, in response to a question about the details of the transportation: "The female's mother was on scene at the school and present throughout my investigation," Miley wrote. "Both school administration and I held a lengthy conversation with the females mother as to what would happen next and the full baker act process, the females mother agreed with me as this was the best course of action for her daughter to obtain help. The juvenile was transported to my vehicle accompanied by a few personal items to keep her calm throughout the transport. The juvenile was also given stuffed animals that I carry in my vehicle to keep her calm and so she can have a sense of comfort. Due to the females age and calm demeanor at the time she was not secured, only seat belted in the back seat of my cruiser. The juvenile was transported to Halifax behavior services in Daytona a service that deals with juveniles only for further evaluation."
"It's Not an Arbitrary Decision"
Sheriff Jim Manfre had recently spoken of his agency winning a grant to keep Baker Acted individuals from having to be driven to Daytona Beach, and to minimize deputies' responsibilities to make certain calls that mental health professionals can make better. But the grant was not of use in this particular case.
"We were not able to take advantage of the provisions contained in the new grant," Sheriff's Spokesman Bob Weber said. "It is my understanding that some minor construction needs to occur prior to the facility being put in to use. Halifax Behavioral Services (HBS) where the child was taken is different than Halifax Hospital where we take most adults. HBS deals just with juveniles from Pre-K through 12th grade."
Townsend could not discuss Tuesday's incident because of privacy laws. Nevertheless, Townsend, who strongly believes in the purpose of the Baker Act, stressed that Baker Acting a child must not be seen as punishment.
---
The school district's responsibility to legally and ethically keep a child safe.
---
"Sometimes with the younger students it is difficult to imagine putting them through a Baker Act, but a Baker Act is not a punishment," Townsend said. "Our responsibility and our legal responsibility not just our ethical responsibility, is to keep a kid safe."
Along the way, the school tries—or must try—to do everything possible to diffuse a situation, including enlisting the help of parents or family. But when a parent or family member cannot respond, or refuses to do so, "then we have to move forward," Townsend said, noting that in many cases there are mental health factors that need to be addressed. A Baker Ac t may well be the way to effectively address the issues. That's why parents are at times the district's strongest allies in going that route, Townsend said.
Townsend has visited some 20 times the facility where students are involuntarily taken and held, and where, typically, they are evaluated and either released to their parents or guardian the same day, or held for several days. The average Baker Act stay in psychiatric wards is between four and five days, but that's for adults and children combined.
"It's not an arbitrary decision," Townsend said. "If they meet the criteria we have to keep them safe."
Weber said that sheriff's deputies in general receive some training on mental illness and Baker Acts during their police academy. "Many of our people have also attended the 40 hour Crisis Intervention Training (CIT) program that gets a lot more in depth on a variety of topic," Weber said. "We are actually hosting a class for 1st responders in May at the Sheriff's Office."
That training notice is below.