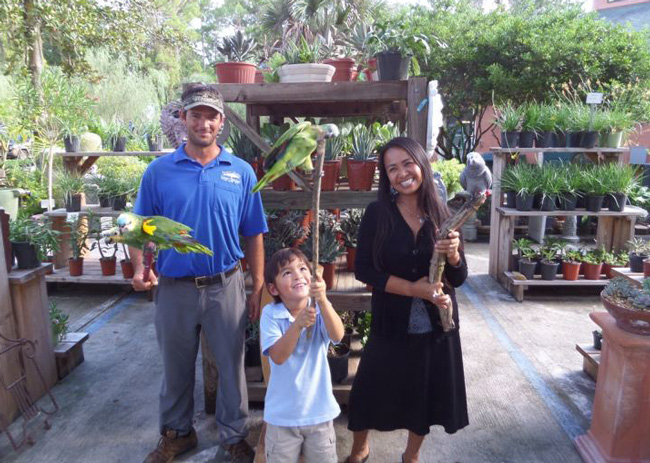 Nature Scapes, the Bunnell lamndscape and garden center off of State Road 100 in Bunnell, is now home to the Baiata Bird Sanctuary in memory of Marylou Baiata, the long-time owner of Nature Scapes who died of cancer in in July.
"Since my mom's funeral last month, we have been overwhelmed with support from the community," said owner Chris Baiata. "My mom always cared for rescue animals on property, including tropical birds."
Local bird expert Trudy Tappan helped started the Baiata Bird Sanctuary, and donations started coming in. The first check was for $1,000 with a letter from someone that wanted to donate in Marylou Baiata's name. Several more have been received since then, totaling $3,900 so far. (See the sanctuary's website here.)
The sanctuary is currently home to six exotic birds. Donations are being accepted for food, supplies, cages and other incidentals necessary to keep the sanctuary in good shape. Nature Scapes has nine volunteers to help care for the birds, but needs many more. Training will be provided.
Volunteers have already screened-in the porch of the sanctuary recently because raccoons and squirrels were stealing the birds' food. The public is welcomed to view the birds, who create a handsome addition to the retreat-like grounds of the garden center. Seminars at the location teach about bird behavior and what type of plants attract different birds.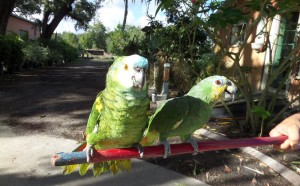 Hollingsworth Gallery, which just moved in at the Nature Scapes ground from its old location at City Marketplace, is settling in at its new home. Visitors will have the opportunity to view bird paintings and recreate their preferred birds in painting classes.
Opened by Marylou Baiata in 1984 and now managed and owned by her son Chris and his wife Pasang, Nature Scapes has been designing, installing and maintaining landscaping for local homeowners and private communities for 30 years. The garden center includes a florist and a gift shop on property. The center offers a variety of native plants, flowers, garden supplies, pottery, trees and shrubs. Its staff is well versed on local city tree requirements. They consider themselves shepherds for the environment through the practice of native and sustainable Florida friendly landscaping, using organic techniques and the best quality of plants and garden amendments.
Nature Scapes added an Ecological Farm last year, focusing on education, organic growing practices and sustainable living for the local community. The garden center's goal is to grow edible and ornamental plant varieties for sale using organic growing techniques. Baiata and his crew recently revamped their company logo and are working on re-branding themselves.