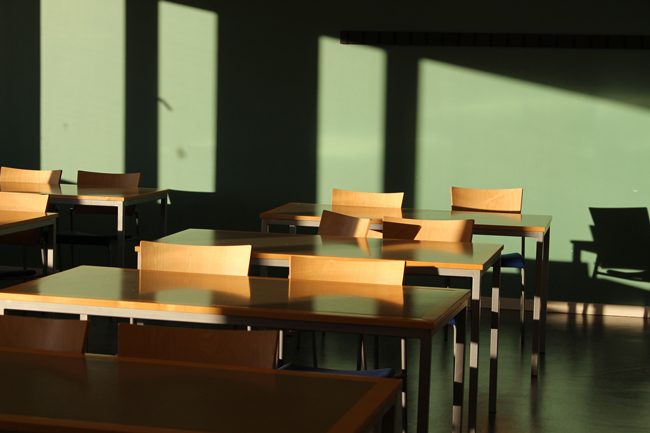 By Nancy Smith
Rick Scott will veto House Bill 7069. I feel it. He might even veto the Florida Education Finance Program, or FEFP, which is the majority of funding for K-12 public schools. The only thing he's waiting for is assurance leaders in the Legislature don't have the votes to override him.
And I don't think they do. Nor should they want to.

If Democratic leaders in both chambers — who claim not to like this jumbled, jumbo $419 million education policy bill — can muster all their troops to ride the governor's veto train, HB 7069 is unlikely to survive a vote of confidence. Certainly, I saw this session how powerful the Party of Few could be in the Florida Legislature. Remember, all Dems but Miami Rep. Roy Hardemon opposed the bill when it passed the first time.
Democrats need to unite one more time with a governor they can agree to disagree with another day.
Gov. Scott has said he wants to sign only bills that are good for Florida families. This one is not. Its process was particularly dishonest — something even committed conservatives should disown when they look at it up close.
Most Floridians have heard about the funding program for "schools of hope" and the charter schools in areas where traditional schools are under-performing. And they've heard about the new "Best and Brightest" version — the "bigger and better" teacher bonus system. But they don't understand the whole picture because they were unable to follow along with a leadership contingent that cobbled it together out of the sunshine.
Sure, we conservatives like school choice. But do you honestly think the majority of Floridians want their lawmakers making "transformational" policy like this? By turning a simple, six-page bill into a 274-page monster, loading it up with everything from school uniforms to sunscreen — sandwiching in two controversial bills — then adding a pretty wrapping of teacher bonuses? All done behind closed doors, not to emerge until the next-to-last business day of the 2017 session?
Even lawmakers who voted for it admitted they hadn't read it.
Look at what PolitiFact had to say Wednesday about House Speaker Richard Corcoran's assertion on May 12 that it's a myth Florida's education legislation was "negotiated in secret:"
"… the final version of the bill and important details were negotiated out of the public eye."
"That final version of HB 7069 was made public for the first time on Friday evening May 5. Several newspapers — including the Herald and Times, the Tallahassee Democrat, the Gainesville Sun, the Orlando Sentinel — wrote that final legislation was hammered out behind closed doors. 'State lawmakers flushed promises of transparency down the toilet,' wrote the Gainesville Sun editorial board."
"Corcoran and Negron publicly discussed HB 7069 for 10 minutes May 5 without any substantive debate of the contents before formally accepting it."
"Corcoran omits that the final dealmaking between the House and Senate was largely done behind closed doors. We rate [Corcoran's] claim False."
When you hear proponents like Corcoran — who made the bill one of his top priorities — talk about how much money this Legislature is spending on education, don't be fooled. The $14.7 billion K-12 schools budget doesn't include the additional funding earmarked for special programs under HB 7069.
We're spending more money than we ever have before on education, but less of the money is going to benefit students.
As the News Service of Florida reported, "Some of the members of the State Board of Education, which is appointed by Scott, suggested Tuesday that they were troubled by aspects of the budget, which defenders say sets aside an all-time high in overall spending on education. Because of enrollment growth and spending outside of the FEFP, the total funding for K-12 education would be at an all-time high even as per-student spending rises only slightly."
We're talking about 2.8 million students in Florida's K-12 public schools.
Said Andy Tuck, vice chairman of the board, "What concerns me (is), if this is a record budget and most of our rural counties are losing money, I'm scared to death of what may happen if we ever have a down year."
Bill critics have a point. If the governor were to veto both HB 7069 and the FEFP, legislators could do a better job of spreading around the $419 million tucked inside 7069. And this time, the process would be transparent. Isn't that what House Speaker Richard Corcoran promised it would be?
On the other hand, vetoing the education budget along with 7069 would give Corcoran a chance to renegotiate some of his K-12 priorities — charter school incentives, for instance. And it's doubtful Scott will want to do any favors for Corcoran, his chief antagonist in a struggle he lost to keep Enterprise Florida afloat and Visit Florida fiscally viable.
If I'm wrong, it wouldn't be the first time. But I really do smell veto in the air. It's just a matter of whether the governor's pen takes out just the conforming bill or the K-12 budget with it.
To overturn a veto, the Legislature needs a two-thirds vote in both chambers. Does anybody really think lawmakers will go to the wall for HB 7069?


Nancy Smith is the editor of Sunshine State News. She started her career at the Daily Mirror and The Observer in London before spending 28 years at The Stuart News/Port St. Lucie News as managing editor and associate editor. She was president of the Florida Society of Newspaper Editors in the mid-1990s. Reach her by email here, or follow her on twitter at @NancyLBSmith.