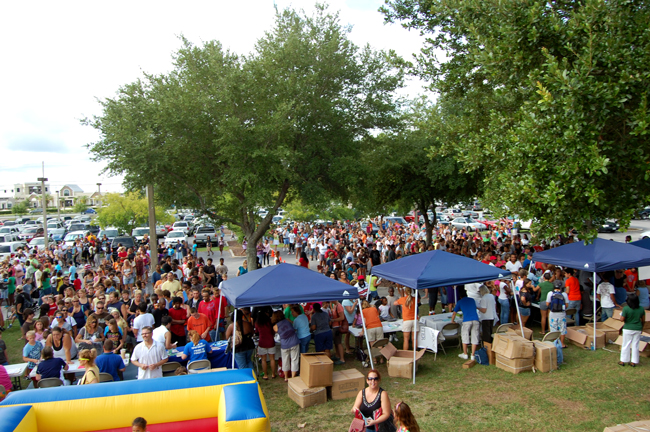 If you're reading this before 2 p.m. Saturday, you still have a chance: the Back-to-School Jam is still on at Flagler Palm Coast High School, with free backpacks, school supplies and immunization shots.
Some 150 volunteers also registered and worked at the event, including 50 Walmart employees volunteering their time. Walmart, the Flagler County school district and the Flagler County Education Foundation were the principal sponsor of the event. Flagler Volunteer Services also provided about 50 volunteers, and about 50 more registered at the high school's front desk, enabling the event to unfold with remarkable calm and organization despite heat that became more stifling by the minute.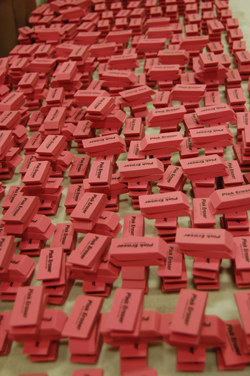 Parents and students began lining up for the give-away well before 10 o'clock this morning. By 10:45, by the time between 1,000 and 2,000 back-packs were handed out at school-by-school tents, a line snaked through several hundred feet of the parking lot–the kind of long line you'd see at the opening of a summer smash or for the latest Harry Potter installment–as parents and children waited to get into the gymnasium. There, along tables line up around the gymnasium's walls and through its center, students filled their backpacks with erasers, glue, rulers, ruled paper, notebooks, crayons, colored pencils, binders, highlighters, cap erasers and markers.
The jam wasn't just metaphorical: DjBizzi was jamming it up with music, too.
In a corridor off of the gym floor, students lined up for something a little less fun but equally necessary: immunization shots, provided free by the Flagler County Health Department. Those shots will still be provided through 2 p.m., though the Health Department will continue providing free shots at various schools. (See here for details; scroll to the bottom of the article.)
Other contributors to the Jam included the county's homebuilders and Realtors associations and the Flagler County Chamber of Commerce and affiliates.

Back 2 School Jam Photo Gallery
[nggallery id=25]