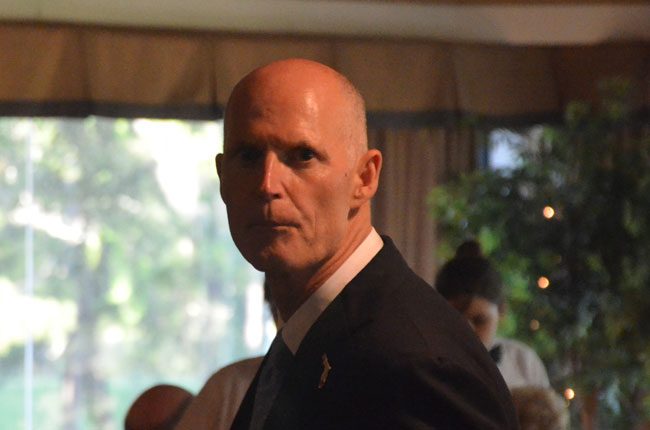 Lawyers for the state maintain that Gov. Rick Scott had the power to reassign 23 death-penalty cases to a different prosecutor after Central Florida State Attorney Aramis Ayala announced she would not seek capital punishment for defendants charged with capital crimes.
Scott's lawyers made the arguments Wednesday in response to a lawsuit filed by Ayala, who accuses the governor of usurping the Orange-Osceola prosecutor's authority by stripping her of the cases, including a high-profile case involving accused cop-killer Markeith Loyd. Scott reassigned the cases to Ocala-area State Attorney Brad King, also a defendant in Ayala's lawsuit.
Ayala, who unseated former State Attorney Jeff Ashton last year, argued that she based her decision on research that shows the death penalty is not a deterrent to crime, is discriminatory, is costly, leaves the families of victims in limbo for too long, and is imposed on innocent people too often.
Ayala and her lawyers — along with civil rights groups, ex-prosecutors and former justices from across the state and the country — maintain that prosecutors have broad discretion in charging decisions, including whether to seek capital punishment.
But, in a 65-page joint response filed in the Florida Supreme Court late Wednesday, lawyers for Scott and Attorney General Pam Bondi argued that Ayala's "proclaimed policy" of never seeking the death penalty during her time in office "does not embody a traditional exercise in prosecutorial discretion."
Instead, "it is a promise not to exercise discretion — i.e., a commitment never to undertake a case-specific analysis to determine whether any particular set of facts and circumstances calls for application of a legislatively authorized punishment," Scott and Bondi's lawyers wrote.
In her petition, Ayala's lawyers asserted that she was "not categorically refusing to apply the death penalty" regardless of the circumstances, the state's lawyers noted.
"The relevant practical question, however, is whether the governor reasonably could have believed that Ayala was not open to applying the state's existing death penalty statute to the 23 currently pending capital cases at issue here," they wrote.
The "practical effect" of Ayala's policy decision "is to effectively nullify state law providing for the death penalty in the Ninth Judicial Circuit," the lawyers argued.
Lawyers for Scott and Bondi asked the Supreme Court to dismiss the case, pointing to thousands of other instances in which governors have reassigned cases from one state attorney to another — with the court's blessing.
More than a half-dozen groups — including ex-prosecutors, former Supreme Court justices and civil rights groups — have filed friend-of-the-court briefs supporting Ayala, the state's first black elected state attorney.
The briefs came after the Florida House of Representatives, the Florida Prosecuting Attorneys Association and other families of victims notified the court they intend to also file briefs in the case backing Scott.
Scott's handling of Ayala sparked outrage from her backers and heightened racial tensions over the administration of the death penalty. Meanwhile, Ayala's refusal to seek capital punishment for Loyd — accused of killing his pregnant ex-girlfriend, Sade Dixon, and the execution-style killing of Orlando Police Lt. Debra Clayton — infuriated some GOP House members from Central Florida, prompting them to demand that Scott remove the prosecutor from office.
In Thursday's filing, the state's lawyers also rejected Ayala's argument that the separation of powers guaranteed by the state Constitution must preclude the governor from second-guessing an elected prosecutor's decisions.
Under Florida law, the governor may assign a case if, for "any … good and sufficient reason," he "determines that the ends of justice would be best served" by such a transfer, the state's lawyers argued.
Barring the governor from transferring cases would mean "that locally elected prosecutors — many of whom may not have policy views with which petitioner and her amici agree — enjoy sole, absolute, and constitutionally preclusive discretion to make certain policy-related decisions that touch on criminal prosecutions within their jurisdictions," the state's lawyers argued.
But, backing Ayala, ex-prosecutors, former Supreme Court justices and families of homicide victims from across the country argued that the independence of the judicial system is at stake.
"The correct decision in this case may be an unpopular one in some political circles. Yet, if the criminal justice system in Florida is to remain a fair, equitable and decentralized system, as envisioned by the Florida Constitution, it is up to this court to support and protect it," lawyers for the former prosecutors, justices and others wrote in an amicus brief filed Friday
–Dara Kam, News Service of Florida