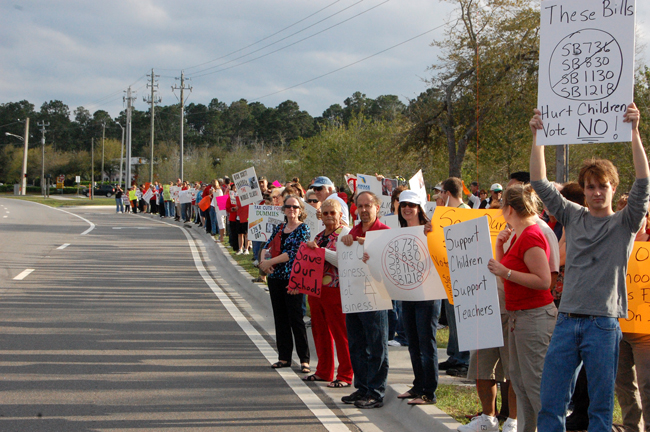 They lined the west side of Belle Terre Parkway near Kohl's, their convictions and exasperations told in signs: "Florida teachers A+ – Florida Lawmakers F"; "If You Have a Job, Thank An Educator"; "I Screwed You All, But Thanks for Blaming It on the Black Guy" (that one on a t-shirt, with George W. Bush's portrait sandwiched between the words); "Public Education Is a Right"; "Tax Cuts for Dummies," that one pointing to the flow of money out of education and into corporate pockets.
They wore red shirts—most of them—they yelled out slogans at passing cars—"Save the Middle Class," "Save Our Schools"—and they solicited honks from passing four to 18-wheelers for about an hour starting at 4 p.m. The "Awake the State" rally in Palm Coast was one of dozens across the state as public employees mobilize to protest severe cuts in education budgets and sweeping changes that would redraw the rules of union membership, weakening collective bargaining powers in a state where union power is already more nominal than substantive.
The rally in Palm Coast was a relatively quieter one. It included three school board members, several principals and numerous teachers and service employees and their families or supporters. It appeared slightly smaller than last spring's rally in the same place against a senate bill that would have eliminated teacher tenure and measured teachers' effectiveness by their students' results on standardized tests.
Other than the sullen or indifferent silence of some of the passing cars (as opposed to enthusiastic and at times blaring horns), the 270-odd demonstrators, according to a head count, faced no opposition, the way other rallies in more populous places in the state did, including in Volusia County and around the Capitol in Tallahassee, where that "Awake the State" edition drew counter-demonstrations of well-heeled tea party activists, who hadn't had much to demonstrate about since the end of the health care reform debate.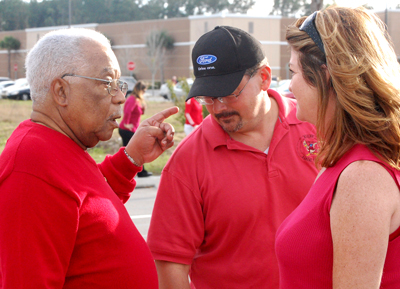 Last spring, the rally, and many like it across the state, helped lead to then-Gov. Charlie Crist's veto of the bill in contention at the time. The effectiveness of this year's rally is more doubtful: Gov. Rick Scott doesn't hide his antipathy for teachers, unions or public employees. He intends to cut the budget by some $3.3 billion and wants to cut taxes despite a gaping budget deficit. And he appeals to his tea party base first.
Jill Woolbright, a sixth grade teacher at Bunnell Elementary, and a 20-year veteran, was asked how much political leverage the rally might have  this year. She did not hesitate. "Very little," Woolbright said. "I don't think what we're doing here is going to matter. I think the Republicans and Rick Scott is going to so what he set out to do before he was even elected. I think it helps build solidarity between the teachers, the paras"—meaning the para-professional employees such as teacher aides and secretaries—"the support staff, even the principals out here, and school board members. I think it helps draw us together, which is important because morale is so low. It helps morale, but as far as really doing anything in Tallahassee it's probably going to do very little. And then this community, I think people think teachers are rich, because our unemployment is so high they think we have plenty and they don't understand what goes on in the trenches and what demands are made of us, because they were in a classroom once. The classroom they were in is totally different than the classroom we have now. So I don't think we're going to have a lot of support from the public."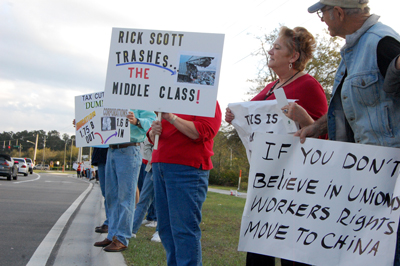 Nancy Willis, the principal at Old Kings Elementary, remembers the teacher walk-out of 1966, when it compelled the state to put more money into education. That's what she's hoping these rallies will do this time, though there's no talk or movement toward a walk-out. Willis concedes that lawmakers haven't been listening. "So far they haven't been" she said, "but I'm hoping they will be."
Willis was holding a sign with Vernon Orndorff, in his first year as principal at Indian Trails Middle School. Teachers, he said, are taken seriously, but not supported by the state. "What's interesting is that what our teachers are going through on a daily basis," he said, "what they have to deal with with their own families, without failure they come to work on a daily basis and give our students exemplary lessons every day in this time of turmoil."
Leading the rally was Katie Hansen, president of the Flagler County Educators Association, the teachers' union. (Her mother Gail Widing, who led the association for 18 years, was there, too, glad to see her daughter in charge now. She remembers her daughter telling her, "I'm never going to be union president. You're always on the phone. Yup She stepped in like a natural.")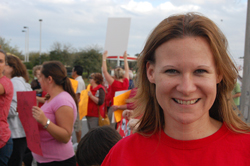 "The whole point of what we did was to raise awareness, and I think that is one of the biggest struggles we have, is that people simply aren't aware of the issues, aware of the legislation that's coming our way, and the bottom line which is the consequences that the children are going to ace, because of what we're facing." How is a student going to feel the consequence of a teacher's pension issues or merit pay scale? (One of Scott's proposals is to require public employees to shift 5 percent of their pay to their pension fund, which amounts to a 5 percent pay cut, since the pension contribution from the state is part of teachers' contractual compensation package—it's not a separate "gift."
"It causes stress," Hansen said. "When we don't have that 5 percent in our pockets, we're the largest working force in Flagler County. If I don't have that money in my pocket, then I can't spend it out in the community, which means my student's mom, who works at Olive Garden, may not have a job anymore. Business is going to decline, it's going to be felt throughout the community. And studies show when there's declining socio-economic areas, the test scores show that."
Jim Guines, the former Flagler County School Board member, was also there. He's just turned 79. He was wearing a white shirt, lending his support. He's known a few demonstrations of his own. He lived through the civil rights era. Yet he doesn't recognize the political movements sweeping the nation. This demonstration, he said, is part of a much larger national context. He doesn't like what he sees coming out of Tallahassee. "This is a well-orchestrated plan to destroy public education as we know it," Guines said. "I don't know how it happened. I must have been asleep or something."