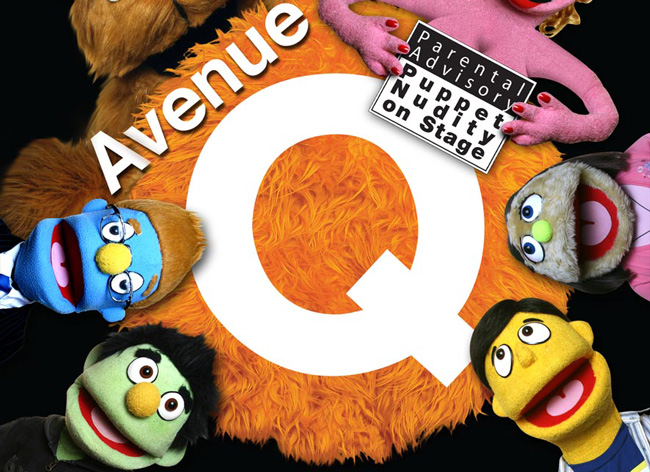 To quickly and easily buy your "Avenue Q" tickets, go here.
Much has been said about millennials and their ability to cope and transition into working and functional adulthood. One general criticism leveled against the group is that they've been too coddled: they all think that they're special, the result of vacuous encouragement from their parents (everybody gets a trophy!) and, allegedly but improbably, children's television shows like Sesame Street. The claim, essentially, is that they're supposedly not ready for the real world, and they don't like hearing it.
City Repertory Theatre will stage "Scapino!" at 7:30 p.m. Friday and Saturday March 17-18 and March 24-25, and at 3 p.m. Sunday March 19 and 26. Performances will be in CRT's black box theater at City Marketplace, 160 Cypress Point Parkway, Suite B207, Palm Coast. Tickets are $20 adults and $15 students, available online at crtpalmcoast.com or by calling 386-585-9415. Tickets also will be available at the venue just before curtain time.
Click On:
---
Enter "Avenue Q"—sometimes referred to as the "raunchy Muppet show," conceived by Robert Lopez and Jeff Marx—Broadway's 23rd longest running show. It beat "Wicked" for best musical in 2004 and does its best to tackle these earnest concerns  with an unofficial parody of the source–Sesame Street, partially blamed for creating them.
Friday, "Avenue Q" comes to Flagler for the very time, premiering at Palm Coast's City Repertory Theatre at 7:30 p.m., and opening that tireless company's fourth season. "But there's nothing serious about it," says John Sbordone, City Repertory Theater's artistic director. "The underlying message may have something to do with serious, but this is just hilarious. From the opening get-go."  He goes on to call it constantly "unexpected."
"It marvelously keeps you off balance because it's so much fun to watch."
While it's certainly capable of ruffling feathers with themes as varied as racism, sex, drugs, and pornography, it's still mild-mannered compared with much of City Rep's other fare—shows like "Race" or "Shoah." In other words, Sbordone's audience should be ready for it. "But we hope they're not," which is the mission of the theater.
With the exception of a traveling hand-puppet show back when he started his career at the University of Maine, Sbordone has never directed a show quite like this. Even that one, back in the early 70s, was for children, whereas Avenue Q is decidedly for adults. "No one under the age of 16 should see this show," says Sbordone. "Except for my daughter. Maybe 18."
The first group song is the oddly rousing "It sucks to be me" ("I like romantic things like music and art./And as you know I have a gigantic heart./ So why, don't I have a boyfriend?/Fuck! It sucks to be me!" You can watch the full performance, as delivered at the 2004 Tony Awards, below.) It's also the show that coined those trenchant little lines: "Everyone is a little racist/Doesn't mean we go around committing hate crimes." (And yes, that's followed up with a rabbi-priest-and-black guy joke. That performance was featured on ABC's The View). And let's not get into the superb "Internet Is For Porn" (though nobody's going to dispute that one).  
The show features 10 actors and 20 puppets, so as usual for the theater, actors take on multiple roles, with the ratio of human characters to puppets weighted heavily in the puppets' favor. The show enjoys such popularity that a number of companies rent "Avenue Q" puppets. It's one reason why many more theaters don't or can't do "Avenue Q." In addition to the puppets, which cost $2,500 to rent and $500 to ship, in conjunction with having to buy the rights to a relatively new musical—which first opened in 2003—the show has cost City Repertory Theater well over $5,000. Hence, the extra $5 to the ticket price, which is normally $20, not $25.
Hence, the third weekend at the theater, which seats 50. "At our price, how many sell-out nights do you have to have just to pay for the show?" Sbordone says. "This is a brilliant show and we're in Palm Coast and no one's heard of it. It's crazy, it really is."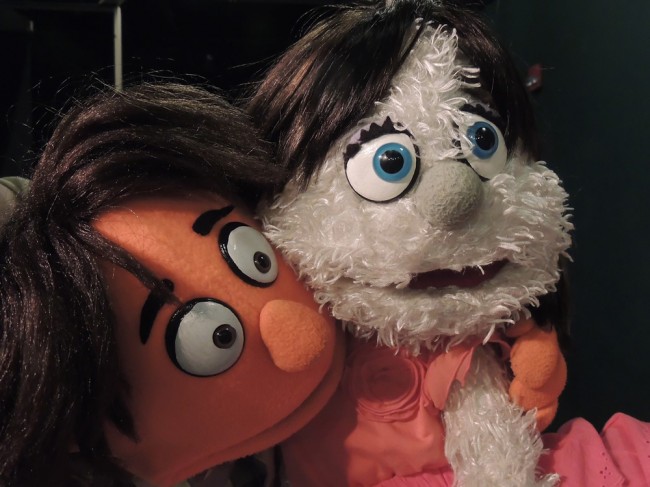 All of this brings to mind two of the show's characters that Sbordone is fond of talking about: the Bad Idea Bears, irony's answer to puppets everywhere. The Bad Idea Bears look cute, cuddly, adorable in that awful Facebook-kitten sort of way. But cuddliness is only fur-deep. They're really two little bastards who like to screw with people to get them in trouble. Just to show how screwed up they are, their supposed salvation is conversion to Scientology.
In spite of the similarities and obvious homages, it's not accurate to call "Avenue Q" a take-off on Sesame Street. "It has nothing to do with it except the playwrights envisioned what would happen if these kids grew up and became disillusioned with the world," Sbordone says. "That's why it's Avenue Q."
While it's an ensemble piece, the dexterous Josh Fagundes plays the protagonist, "of sorts," a character ironically named Princeton. Princeton's opening song is something every English major (and every parent of an English major) has lamented at one point or another. Or still does: "What do you do with a B.A. in English?"
"Literally, he went to college for four years and he has a Bachelor's Degree in English. What does he do with this useless degree," says Fagundes. Princeton continually pines with such thoughts as: "I can't pay the bills yet because I have no skills yet. The world is a big scary place."
"He's trying to find his purpose in his life," Fagundes continues, "so he ends up trying to find a place to live, finds Avenue Q, moves in, and finds all types of things there—love and attempted looks for purpose, friendship, but, being that this is a twist on the normalcy of puppets, things don't work out quite right for him all the time. It's a very human ending." Asked if he identifies with Princeton, Fagundes, in his mid-twenties himself and planning to go back to college this January—in hopes of becoming a videogame designer—answers, "You don't even know."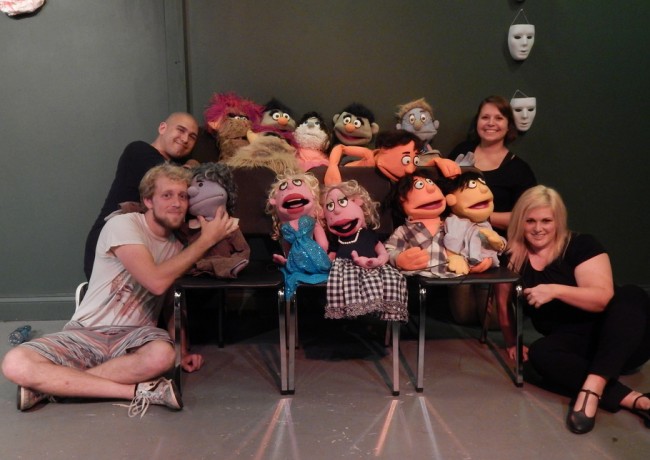 "He's really one of the most fleshed out characters I've ever played for a character that doesn't even have flesh," he says, perhaps anticipating a lifetime of working in pixels. The character is representative of an entire generation "who have no clue what they're supposed to do in life."
As accessible as the themes are, they can be equally offensive, says Fagundes, a regular churchgoer. "I'm able to like the show and enjoy it for what it is, without opining on how offensive or inappropriate it is, but if someone has a very strict view on life, I wouldn't recommend coming to see it," he says, though the suggestion applies equally, if not more so, to the prim and proper: if you have a very strict view of life, this is the show for you. You need it.
"You have to be willing to take down your barriers because it is very realistic," Fagundes says, even if it is a show mostly about puppets. "It's supposed to be representative of what it would be like if you were living in a run-down portion of New York trying to scrape by. You're not going to be this happy-go-lucky camper—you're going to be an average human."
Chelsea Jo Conard, 30, plays Kate Monster—an actual monster—in her early 20s, who's also a kindergarten teaching assistant. She's been living on Avenue Q for a little while. "She doesn't have the best luck with men in the past. She's been hurt quite a bit," says Conard. "She's been that girl, or monster, who's a little hesitant to put her heart out there. She loves her job, loves her students, but what she really wants in life is to create her own monster school, a special school just for monsters."
The fact that Kate Monster is an actual monster is part symbolism, but it's also a bit Muppet-style flare, says Conard. "The show has some definite sarcastic and almost sinister moments. I think the fact that it takes on that sort of Sesame Street-like spin—it makes it fun to put out there really important topics, like racism," she says. "To put it out there in this Sesame Street way kind of lightens the mood and lightens the topic that can be a little more dark and a little more heavy."
While living in New York, Conard, who now works at a Wellness Center in St. Augustine, lived the hard off-and-on again New York theater life. She played the lead for a time in Stephen Schwartz's "Captain Louie."
She first saw Avenue Q when it came out on Broadway. "It's one of the more exciting shows because of how it pushes boundaries and affects audiences," says Conard. "This is that kind of show, which is particularly great for Florida," she says. It's not politically correct, it's not just a fluffy musical. There's a lot of meat in it."

"Avenue Q," at City Repertory Theatre, directed by John Sbordone. Music and Lyrics by Robert Lopez and Jeff Marx, book by Jeff Whitty. Runs September 12-October 5, three weekends total, 12 shows in all, with Friday and Saturday shows beginning at 7:30 p.m. Sunday matinees are at 2 p.m. Note that CRT has substituted Thursday October 2 at 7:30 p.m. for its Friday October 3 show, to honor Yom Kippur, the Jewish holiday. Tickets are $25 for adults, $15 for students. Buy your tickets at the box office or purchase them easily online here.