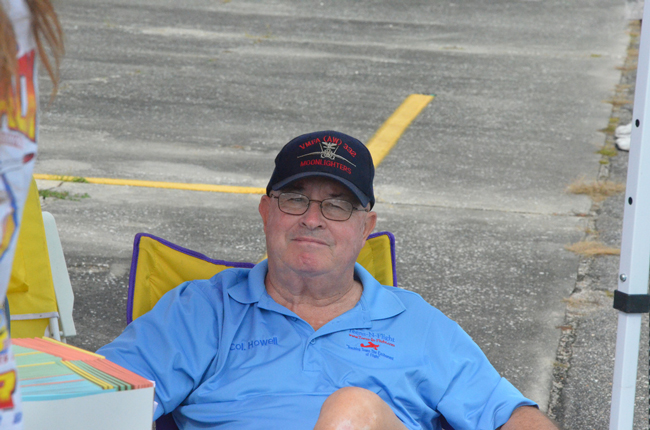 Even as First Lady Michelle Obama met last week with victims of the August 5 massacre at a Sikh Temple in Wisconsin, a particularly civic-minded Flagler County resident is doing more than his part to reach out to victims of the deadly shooting rampage at a Colorado movie theater on July 20.
Two weeks ago, former Marine Corps Col. Jack Howell, president and founder of Teens-In-Flight (a non-profit organization sponsoring flight instruction scholarships for teenagers of military families whose parents or siblings were killed or maimed in action) was watching news coverage of the Aurora shooting. He was disturbed to hear that some of the victims' insurance wouldn't completely cover their medical costs. "It upset me quite a bit," Howell said. "This could have happened here or anywhere else in the USA."
Howell called Flagler County Sheriff Don Fleming, who sits on the Teens-In-Flight board of directors. "We have to help these victims," Howell told Fleming. He and the other directors agreed.
They decided to raise $10,000 and fly Howell to Aurora with the donation. "We'd originally thought about asking people to donate money based on a mileage thing but that would get too confusing," Howell said. "So now we're just asking for any kind of donation." Because Teen-In-Flight is a non-profit organization, any donation is tax-deductible.
When they land, Howell and his team plan on personally handing over the check to Aurora Mayor Steven Hogan who will be there to meet them, along with city council members, in addition to another uniquely appropriate personality on the tarmac: Amelia Earhart's great niece, also named Amelia Earhart, and a fellow pilot.
That Howell's two traveling partners in the expedition are both young women, like Amelia Earhart, makes the mission seem all the more inspiring. One girl is student, who's had her flight lessons, he says, and the other is a commercial pilot who owns the aircraft in which they will be traveling, a Cessna model Cardinal. "I could've taken my own plane but it would've struggled, it's better to have a slightly larger aircraft. It's just going to be the three of us in a four- person aircraft and we're going to be traveling light, It's going to be a very long trip."
The original plan was to take off on Aug. 22, Howell says, the date printed on their fliers, but the money didn't come in fast enough.
"Some people would rather keep the money in the county," Howell admits. "But that's not the way I roll. I want to teach my kids the true meaning of humanity. This is a higher priority," he says of those whose lives were irrevocably damaged by the shooting. "We must lead by example. Maybe that's just my Marine Corps thinking, to do the right thing because it is the right thing."
For the Teens-In-Flight students, who aren't even marines, the Howells way of thinking is second nature. He drills it into them. "They all believe it, no question about it."
The trip has been rescheduled to leave Friday, September 14, weather permitting. The trajectory will take Howell and his two flying partners from the Flagler County Airport first to Panama City, then Memphis, followed by Salina, Kansas for refueling, before finally touching down in Aurora.
"We're doing this to show the people of Aurora that they have people in Flagler County who care. That's the name of our operation," Howell says. "We care."
The operation is meeting with remarkable enthusiasm from the Memphis International Airport Police Chief, the Salina Police Chief, and the fire and police departments at the various stopovers. "That in itself is a big step. We'll be able to refuel for free. Same on the way back. The fact that there are now two cities involved helping us do this makes what we're doing almost a national endeavor. Whoever I tell what I'm doing, they want to help best they can. That in itself is a comforting feeling."
However, Howell is still $7,500 short of his $10,000 goal. He is optimistic that more people will contribute in the coming weeks. "I don't want the 1,000 reasons why you can't donate; I want the one reason why you can," he says. "Can you imagine how embarrassing it would be to fly all the way there with, like, $2,000? Is that the best we could do in Flagler?"
Still, Howell does acknowledge the reality of tough economic times, though his tone suggests that it's a tougher time yet for the victims of the tragedy. "People still go to the movies," he says, which, considering the reason for his fundraiser, is an unintentionally dark stroke of irony. "They still spend $100 on a new pair of Air Jordans."
But between time passing, the Wisconsin Sikh Temple massacre, and the temperamental nature of people's attention spans–not to mention the potential development of fresher tugs at sympathies, like what Hurricane Isaac may have in store for the Gulf coast–the Aurora attack may already be old news.
Howell thinks people will still care. "Any shooting is horrible but this one had so many victims: children, adults, active military personnel." As it turns out, memories of the attack were revived in an unexpected way earlier this month, Howell says, when pediatrics nurse Jennifer Gallagher, who had helped many of the victims, drowned on vacation. And of course for the surviving victims themselves, some ordeals are only beginning.
"We want to show any of the victims who are still in the hospital that we care," Howell said. "There are folks in Florida that care. Teens-In-Flight is going to enhance the name of this little county."
He adds: "I just hope citizens and business here will be as generous as others and open up their wallets. One hundred percent of the money is going to the people in Aurora. We're going to try and get the whole amount donated, but whatever we can't get will come out of my pocket."
The Colorado Organization for Victims Assistance will determine how the money is distributed.

Donations by check or money order can be sent to Teens-In-Flight at 23 Felwood Lane, Palm Coast, FL 32137, or via PayPal at Teens-in-Flight's website here.