We received this letter this evening from Sisco Deen, Archive Curator of the Flagler County Historical Society. We're sharing it because, in Deen's words, "these are the pioneers" of Flagler County, "and they're sort of going away." They should always be remembered. Our thanks to Sisco Deen for granting us permission to run his letter and the wonderful photo, from the Flagler County Historical Society archives, of Ms. McKnight. In Deen's words, "Audrey is on right – her friend Marjorie Marie 'Magie' McKenzie is on the left – since then both were in the Bunnell High School class of 1935, would imagine it was around their senior year."


Dear Flagler County History Lovers,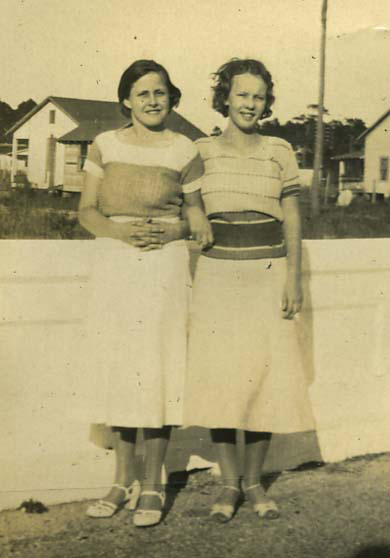 I am saddened to report the death yesterday of Flagler County Historical Society Life Member Audrey Montine Barber McKnight. She was born in Bunnell on May 12, 1917 to Jeptha Dennis (Jep) Barber and Minnie Sweat.
Audrey was a 1935 graduate of Bunnell High School and was married on April 3, 1937, in Bunnell to Jesse Hildreth "Junior" McKight, Jr (March 26, 1916-May 2, 1994), son of Jesse Hildreth McKnight and Minnie Lee Spivey.
Jesse and Audrey had two children, Diana Lois McKnight and Jesse Hildreth McKnight III.
A memorial service is planned for Saturday, May 22, 2010 at the Methodist Church in Bunnell – time unknown at present.
Audrey received a business degree from The Southern School of Commerce in Orlando. She worked for the Flagler County Abstract Company which was formed by Claude G. Varn (her brother-in-law) and Rudolph D. Peterson.
This company was obtained by Orlando Francis Alford about 1927. He sold it to Charles E. Creal, Lily J. Creal, William L. (Billy) Wadsworth and H.V. Peavy in 1965 with the Flagler County Insurance Agency included in the sale.
Audrey Barber McKnight bought the Creal Family's interest in the Abstract company in 1973 and obtained the stock owned by Dick Watson, formerly owned by W.L. Wadsworth, in 1982. The insurance division having previously been acquired by H.V. Peavy.
Her son Jesse, a past president of the Flagler County Historical Society, and his second wife Genette, worked in the Abstract Office and eventually acquired the business, which is the oldest continually operated business in Flagler County.
Audrey was a member of the General Joseph Eggleston Johnston Chapter #2317, United Daughters of the Confederacy, Bunnell, joining on Oct. 30, 1969, with eligibility based on the service record of Dennis Smith, Company F, 47th GA Inf Reg. She served as Corresponding Secretary (1974-1982); President (1982-1984); and 1st Vice President (1984-1988; 1998-2000).
Audrey strongly believed in the preservation of the history of Flagler County — she will be greatly missed.
Sisco