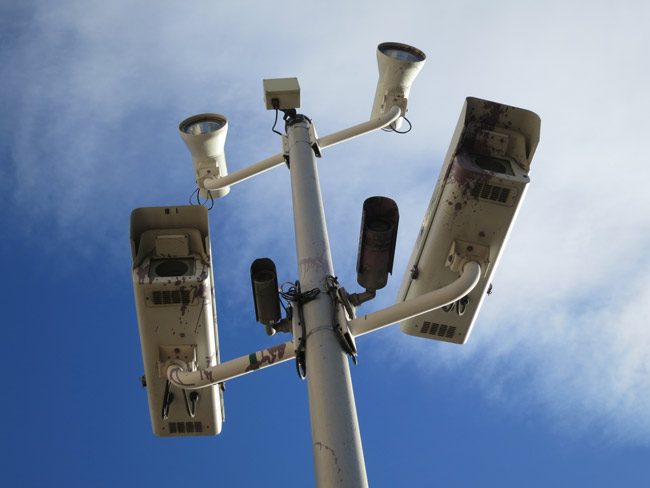 Come Friday, Palm Coast streets will be red-light-camera free.
A plan the Palm Coast city manager is presenting the city council Tuesday morning would require the contractor running the last four cameras in operation in the city to turn them off (if any are still on) by March 31, six months ahead of when the contract was to end with American Traffic Solutions. ATS has run the system since its inception in Palm Coast a decade ago, but it's proved to be anything but a solution.
The plan, termed a "wind down agreement," would end the operation of the cameras by March 31 "by mutual agreement." But Palm Coast would have to pay ATS $16,000 to remove cameras, poles and other related equipment. ATS would then be expected to have all equipment removed by June 30.
The system was initially installed in Palm Coast in November 2007. The state Supreme Court found pre-2010 installations to be illegal, as state law forbade the operation of red-light camera devices. But Palm Coast wasn't alone: several other cities had jumped on the red-light camera bandwagon, seeing new revenue in such programs. By then the Legislature had passed a law allowing localities to run such programs, but also curtailing the revenue share local governments could keep.
The systems have been under relentless attack by courts and consumers, including in Palm Coast, where two judges took the system to task–one because he was improperly ticketed, another because Palm Coast's records were not in line with Clerk of Court requirements. Year after year some lawmakers have tried to ban red-light cameras outright but have so far failed. Another such attempt is ongoing in the current session. Though Palm Coast officials long claimed, with little evidence, that the cameras made roads safer, recent state data pointed the other way, with crashes at red-light camera intersections across the state up 10 percent.
At its height, the program had upwards of 40 cameras in Palm Coast.Two years ago the number fell to five, then four, with the city earning $700 per camera per month, in a flat-free arrangement, or $33,600 a year.

Wind-Down Agreement with ATS (2017)