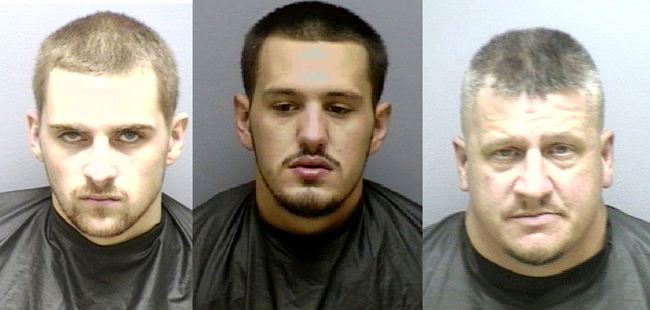 The three men had bank hours of their own: from 2 to 2:45 a.m., though they weren't the nimblest of burglars.
On April 30, they swiped the ATM machine and the $1,200 it contained at the Jiffy Food Store on Flagler Beach's North Oceanshore Boulevard, after breaking the thing off its bolts and pushing it through the glass door they'd smashed with an axe, onto a Jeep. The heist was caught on a surveillance video.
At 2:30 a.m. on June 7, using a Chevy Silverado this time, three men tried twice to pull the ATM machine off its wall at Hancock Bank on Palm Coast Parkway. They failed, though the damage cost the bank about $35,000.
And on July 4, at 2:30 a.m., three men targeted the ATM machine at the Publix at 5415 North Oceanshore Boulevard in the Hammock. That machine contained $10,000, though that theft didn't work out, either.
The Flagler County Sheriff's Office says it caught the ATM burglars involved in the attempted Independence Day burglary. They're Grant Morse, 45, of Patric Drive in Palm Coast; Patrick Giovine, 20, of Price Lane in Palm Coast; and Ethan Gaboury, 19, of East Wareham, Mass.
According to sheriff's reports, the same tactics were used at every burglary, with three men in each wearing the same dark Hard Rock Cafe shirts and the same face-covering hoods or hats (it's a felony all its own to wear masks while committing a crime), and discarding them as soon as their heist, successful or not, was over. In the July 4 burglary, surveillance tape caught the men watering their tools to cool them, with spring water from Publix's racks, then throwing away the tools in nearby woods. They hid the clothing they used during the attempted burglary around 4th Street in Flagler Beach.
"The modus operandi of this burglary," a sheriff's report concludes, "matches the same method of operation of multiple additional burglaries within the past year in Flagler and Volusia counties of which defendant Morse and Giovine have been identified." The 2005 Chrysler van the suspects used to drive off from the Publix ATM was the same van "used to pick up burglar tools by defendant Ethan Gaboury from a hidden area near 2 Emerald Lane on June 24, 2010" at 10:50 p.m., the report states. "This vehicle was also the same vehicle used on June 27, 2010, at 19:18 hours"–(7:18 p.m.)–"to pick up additional burglar tools from Home Depot located at 10 Garden Street" by Morse and Giovine, according to the report.
All three men were booked into the Flagler County jail on July 4, where they remained as of today (July 6). Bond was set at $98,000 for each. Gaboury and Morse face nine charges each, Giovine faces eight charges. The difference is in counts of felony criminal mischief: Giovine was charged with one of those. The other two were charged with two such counts. Other charges include wearing a mask while committing a felony, attempted burglary, tampering with or destroying evidence, possessing burglary tools, obstructing justice and theft.