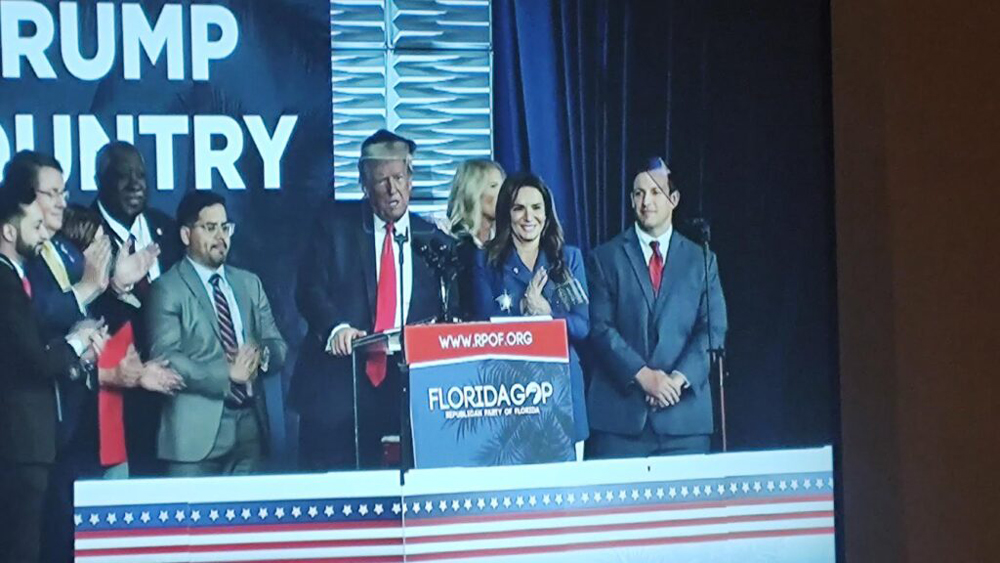 Former President Donald Trump, the frontrunner in the GOP presidential race, closed out a daylong event at the Republican Party's Florida Freedom Summit in Kissimmee on Saturday with an 80-minute address filled with mockery — bashing GOP challengers Gov. Ron DeSantis, former New Jersey Gov. Chris Christie and former Arkansas Gov. Asa Hutchinson, plus President Joe Biden.
Trump also joked about himself — he faces 91 counts on four separate criminal cases, only boosting his poll numbers.




"I got indicted four times in the period of around 90 seconds. If I fly my plane over a blue state, I have to go to a grand jury the next day," he said.
Trump, who resides in Palm Beach and has refused to attend GOP presidential debates, began his appearance Saturday night by bringing to the stage a handful of Republican state lawmakers who had previously endorsed DeSantis for president but dumped him on Saturday to announce their new support for Trump.
It was clearly a move designed to embarrass DeSantis — Trump has attacked him all campaign season after the Florida governor chose to challenge Trump directly for the 2024 Republican presidential nomination.
Among those who joined Trump on the stage was state Sen. Debbie Mayfield, a former Senate Majority Leader and now the chair of the powerful Senate rules committee. House lawmakers on the stage included Webster Barnaby, Jessica Baker, Kevin Steele and Paula Stark, all of whom had been part of the nearly 100 state GOP lawmakers who announced in May that they were endorsing DeSantis right before he had made his candidacy for president official. Those House member are generally from Central Florida and Duval County.




Two other state House lawmakers who had remained neutral so far— Hillsborough County's Mike Beltran and Miami-Dade's David Borrero — also came on stage to show their support for the former president.
(Earlier Saturday, DeSantis downplayed the lawmakers reversing themselves, telling a pool reporter that, "Look, this happens in these things. We've had flips the other way in other states. It's a dynamic thing. I mean, politicians do what they're going to do.").

Overall, the GOP presidential race has not been a close contest. Trump has been dominant in all of the early state and national polls since late spring, with DeSantis a distant second (and perhaps about to fall to third behind former South Carolina Gov. Nikki Haley, who did not attend the event).
At the GOP event, Trump spent a few minutes mocking the man he's dubbed "DeSantimonius."
"We hit him hard and now he's like a wounded bird falling from the sky," Trump said.




The next GOP presidential debate is scheduled for this Wednesday night in Miami, but with his massive lead in the polls, Trump will not attend. Instead he'll hold his own rally in nearby Hialeah.
"The last debate had the lowest ratings in the history of presidential debates. Did you know that? And this one should do slightly worse," Trump said.
About 9.3 million people tuned into that debate, which NBC News reported was the lowest rated debate since the start of the 2016 election cycle when Trump first ran for president.
Trump went on to mock former New Jersey Gov. Chris Christie and former Arkansas Gov. Asa Hutchinson, both of whom were booed on Saturday after they dared to criticize Trump.
"He is NOT a fat pig!" Trump yelled to the crowd, responding to an apparent comment from a member of the audience. "I'm responding. He is not a fat pig," Trump continued, clearly enjoying saying the words again, as the crowd ate it up.
On policy, Trump spent extensive time bashing "Crooked Joe Biden" on a number of fronts, such as immigration.
Trump said if elected, he would enact "the largest mass deportation ever in our country," and said that he would "terminate any work permits for illegal aliens and demand Congress send me a bill outlawing all welfare payments to illegal migrants of any kind."




He also repeated his familiar tropes about the 2020 election being stolen from him, and a theme from 2020 that there is something suspect with voting by mail, despite the fact that the Republican National Committee announced months ago that the party would now embrace that style of voting.
Trump also blasted Biden on the current wars in Ukraine and the Middle East, which he said would not be happening under his watch.
"The attack would never have been made," Trump said specifically about Hamas' Oct. 7 terrorist attack on Israel.  "All of these people would be alive. The cities would be thriving."
The former president also said that "we are very close to World War III," a comment that drew cheers from the crowd.
Trump said if there was such a war, "this would be obliteration" because he said that it would involve nuclear weapons. To prevent that, he said that if elected he would build a "state of the art missile defense shield" that would bring "jobs for Americans."
The comment invoked Ronald Reagan's "Star Wars" missile defense program from the 1980s, which was officially called the Strategic Defense Initiative (SDI). The Clinton administration later renamed the program and "dramatically reduced its projected funding," in 1993, according to Congressional Quarterly.
Trump penned a recent op-ed in Newsweek, where he also mentioned building such a missile defense shield, writing that "Americans deserve an Iron Dome as well," referring to the Israel's Iron Dome air defense system designed to protect against incoming rockets.
In addition to the presidential candidates, the Florida Freedom Summit also featured other Republicans such as U.S. Reps. Matt Gaetz and Byron Donalds, and top state officials Lt. Gov. Jeannette Nuñez, Attorney General Ashley Moody, Chief Financial Officer Jimmy Patronis and Agriculture Commissioner Wilton Simpson.
–Mitch Perry, Florida Phoenix

At Florida GOP Summit, Ron DeSantis Says 'We Must Usher in an American Revival'
Florida Gov. Ron DeSantis gave a rousing speech at the Republican Party's Florida Freedom Summit in Kissimmee on Saturday, focusing on tough talk on immigration and reversing what he believes is America's decline. But despite the cheering crowd, DeSantis remains underwater in the GOP presidential race.
The governor continues to trail Trump in public opinion polls by significant double-digit margins in the early voting states as well as nationally, with just a little more than two months before the first votes in the race for the GOP nomination takes place in Iowa.




While DeSantis needs to capture states around the country, the governor spent the first 15 minutes of his speech offering a greatest hits-like recital of his accomplishments in Florida during his nearly five years in office.
That included policies such as COVID-19 — eliminating lockdowns and moving away from COVID vaccines — his battles with the Disney Corporation and his support for parental rights in education, which has spawned lawsuits over concerns about African American history, book bans and other controversial measures in both the K-12 and university systems.
"We are the freest state in all of the United States – the free state of Florida!" DeSantis exclaimed to the cheering crowd. "We have set the standards on so many things that when things go wrong in some other cities around this country, the first place people think to escape for refuge, is right here in the Sunshine State."
DeSantis then pivoted to looking more at the future, where he expressed concerns that this could be the first generation of Americans to turn over a less prosperous and free country to their children and grandchildren.
"I'm not going to sit idly by and witness the continued decline of this country," he said. "The decline is not inevitable. The decline is a choice. We're not going to be satisfied with merely managing the decline a little bit better than the Democrats. No, our mission is simple. We must reverse the decline of this country. We must usher in an American revival, and we must give this country a new birth of freedom just like we have in the free state of Florida."




DeSantis received some of his biggest cheers with his tough talk about how he would handle immigration if he were president.
It's considered a winning issue for Republicans with President Joe Biden getting low marks for his handling of the issue. According to a Gallup survey conducted in August, Biden received only 31% support for his immigration policies.
"We'll put troops on the southern border. We'll stop the invasion cold and when people come illegally, you don't just sit there and throw up your hands, you send them back to their home country where they came from. We will build a border wall and we aren't going to have countries like Mexico pay for it, not because they're just going to fork over money," DeSantis said.
Instead, DeSantis says he will impose fees on the remittances — money that foreign workers send back to countries in Mexico and other parts of Central and South America. The International Monetary Fund reported last year that there had been record levels of remittances sent by individuals working in the U.S. in 2021 that was sent to Mexico, Central America, Panama and the Dominican Republic.
"It will raise billions of dollars and it will go to construct the border wall," DeSantis said.
DeSantis also said he would hold the Mexican drug cartels "accountable" for the fentanyl that he says is coming across the border from Mexico.
"We're going to authorize the use of deadly military force because they are killing people all across the country by the tens of thousands and it is wrong and the people in DC don't give a damn about it. But I care. I'm standing up," he said, but did not provide data on the numbers or more information on the issue.




DeSantis closed out his speech by bringing it back to the state of Florida.
"I will get the job done as your nominee," he said. "We will not only win the presidency, win the Congress, we'll win the Senate. We'll win state legislatures and school boards just like we did in the state of Florida as a leader. I always conduct myself in a way that you can be proud of. And as your president, I promise you this, I will not let you down."
Meanwhile, Central Florida House Republican Randy Fine dramatically announced last week that he was ditching his previous endorsement of the governor and switching to Trump. On Saturday, state Sen. Debbie Mayfield also flipped, from backing DeSantis and now supporting Trump. Mayfield is a former Senate Majority Leader and is currently the powerful Rules Chair in the Senate.
In addition, Florida U.S. Senator Rick Scott on Thursday endorsed Donald Trump for president – bypassing DeSantis.
"This happens in these things," DeSantis told a pool reporter on Saturday. "We've had flips the other way in other states. It's a dynamic thing. I mean, politicians do what they're going to do. But I would say taking a step back and looking across the country, we've got more endorsements from state legislators than any other candidate by far, like going down in Iowa and New Hampshire, all these places."
–Mitch Perry, Florida Phoenix