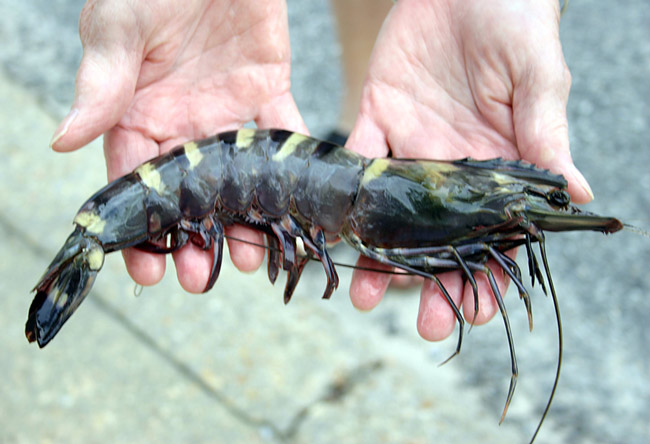 NEW ORLEANS–To borrow from what Mulder used to say on the X-Files, "They're out there!" While these aliens may not be as scary as what the special agent dealt with, they are threatening to marine life and our fragile economy.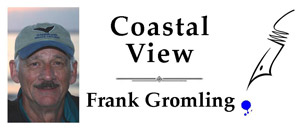 The aliens I'm talking about are those invasive plants and animals being discovered on land and in the waters of America in increasing frequency and numbers. In today's column, and in the future, I'll share with you the gritty details about some of the most threatening of the invaders in hopes that an informed public will assist with control and removal of the menaces.
Today's "alien du jour" is a cannibalistic shrimp from Asia which has found its way to the waters off the East Coast and Gulf of Mexico. I chose this creature, the giant Asian Tiger Shrimp (Penaeus monodon), because it recently has been found in the Gulf near Louisiana, where I am right now. Although I'm not working on a research vessel offshore (I'm actually at the New Orleans Jazz & Heritage Fest), I am researching the local perspective on the threat from this shrimp on steroids.
Asian tiger shrimp can grow to 13 inches and weigh 23 ounces, making them similar in size to lobsters. Sometimes called Asian tiger prawn, they are voracious predators which eat other shrimp species, such as the white, brown and pink varieties famous in the Gulf and on the East Coast. They also eat crabs, mollusks, and algae. Another threat is that they are known to harbor numerous diseases that could spread to other shrimp, oysters, and crabs, thereby threatening to wipe out entire fisheries.
"There's a certain unknown about what ecological impacts that something non-indigenous like this can have on the local environment," Marty Bourgeois, a biologist with the Louisiana Department of Wildlife and Fisheries, told me.
Officials at the US Geological Survey and the National Oceanic and Atmospheric Administration report that recent surveys disclose that Asian tiger shrimp have multiplied significantly, perhaps tenfold, in the last year off the East Coast and in the Gulf of Mexico. Because these shrimp are cannibals, scientists and fishermen are concerned about local marine life and possible consequences for the local seafood industry, conservation efforts, and an economy vulnerable to dramatic shifts.
The black and yellow striped shrimp, native to Australia, South East Asia, South Asia and East Africa, may have started their invasion after escaping from a state operated aquaculture research operation in Blufton, S.C., in 1988 when 2,000 fled into the Atlantic Ocean through a screen inadvertently left open. While there are no known tiger shrimp farms in the United States, there could have been at the time Hurricanes Katrina and Rita struck the Gulf Coast in 2005, perhaps freeing additional numbers. Scientists also speculate that the shrimp could have arrived in ballast water of ships and were pumped into local harbors as part of the ships' discharge. Research continues to locate the source and DNA sampling is seeking to identify genetic features that might lead back to the geographic sources.
So far, according to Bourgeois, only adults have been found in Louisiana waters, so researchers hope they may be breeding in Central and South America and migrating north. This possibility seems somewhat remote to me, but it is one of a few under examination. Because females release up to 800,000 eggs into the water, where they hatch within 18 hours, scientists will be much more concerned if the larvae (pre-adults) or juveniles are found in estuaries or near shore.
Scientists are asking anyone who finds Asian tiger shrimp to note the location and report the sighting to the U.S. Geodetic Survey database at this site. Also, if possible, NOAA would like to receive a frozen specimen to help with tissue sampling.
There have been sightings of the tiger prawn in Louisiana for more than two years now, Bourgeois said. Previously, Louisiana fishermen reported about 25 to 30 tiger prawns in their nets per year. This past fall, there have been close to 100 reports from shrimpers across Louisiana's coasts. Local shrimpers are worried that Asian tiger prawns will be a major threat to Louisiana's native shrimp in the form of bacteria, fungus and viral infections. Tiger prawns are known to carry at least 16 viruses, including white spot, which can be lethal to shrimp.
And, to make a Florida connection, Asian tiger shrimp were sighted in East Bay in Panama City, marking the first confirmed sighting in the north Gulf region of Florida. Previously, several had been sighted off St. Augustine and as far south as Cape Canaveral on Florida's East Coast. Florida Fish and Wildlife Conservation Commission (FWC) is asking anyone with a sighting to report the size, date and location of the capture, preferably with the GPS coordinates, to Larry Connor at 352/357-2398 or by email at [email protected].
As I prepare for a dinner of tasty Louisiana crawfish and shrimp, I am struck by the possibility that maybe the way to stop this invader in its tracks is to eat it. A little melted butter, Louisiana hot sauce, and a cold Abita beer would go well with this 23 ounce hunk of protein. Maybe that might not work, but it sure would be fun while the scientists are doing the hard work.
Until next week, be well and do a little something special to protect what we have so we can pass it on to those who follow.

Frank Gromling is the owner of Ocean Publishing in Flagler Beach. Reach him by email here.