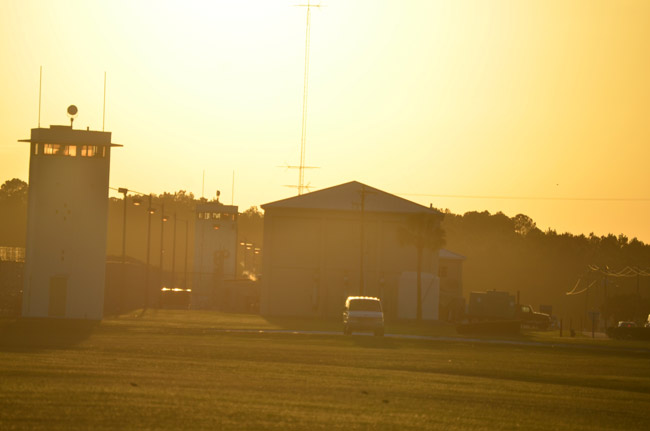 The Florida Supreme Court on Monday rejected a reprieve for a convicted murderer scheduled to be executed Thursday, after justices acknowledged the court had been mistaken for more than two decades about the race of one of the victims.
Lawyers for Mark James Asay, convicted of killing Robert Booker and Robert McDowell in 1987, asked state and federal courts to grant a new hearing after the Florida Supreme Court last week issued a rare mea culpa for mistaking one of the victims as black.
But the Supreme Court on Monday summarily dismissed Asay's request.
"While this court may have mislabeled the racial identity of the victim in its prior opinions, this fact does not negatively affect this court's final determination," justices unanimously decided Monday afternoon.
It's not unusual for Death Row lawyers to launch a flurry of appeals in the days preceding an execution.
But the latest attempt by Asay lawyer Marty McClain, who's represented defendants in more than 200 death penalty cases, is yet another twist in a case rife with oddities.
In an Aug. 14 order rejecting Asay's latest round of state appeals, the Supreme Court noted that the court had "previously described the victim born Robert McDowell as `a black man dressed as a woman.' "
McDowell was "known to friends and neighbors as Renee Torres," the court wrote.
"Torres was identified at trial by everyone who testified as white and Hispanic. Renee Torres nee Robert McDowell may have been either white or mixed-race, Hispanic but was not a black man," the court wrote. "We regret our previous error."
While the court acknowledged its mistake, last week's order refused to allow a rehearing on issues related to Asay's case, prompting McClain to file a separate lawsuit over the weekend alleging that the condemned prisoner's rights were being ignored.
Prosecutors' case against Asay — portrayed as a racist inked with swastikas and white supremacist tattoos — was "premised upon its claim that the two homicides at issue were motivated by Mr. Asay's alleged racial animus," McClain wrote in a 52-page petition filed Saturday with the Supreme Court.
"In a case in which the prosecution case was built on a theory of racial animus towards blacks as the motive for Robert McDowell's homicide, this (Supreme) Court at the eleventh hour has changed Mr. McDowell's race from black to white and/or Hispanic," McClain added.
The "change of fact" came with a state of "regret (for) our previous error" but also barred Asay from getting a new hearing, the defense lawyer pointed out.
"In other words, this court after giving notice of a change of fact decided that Mr. Asay was not entitled to be heard at all, let alone meaningfully heard, as to what this change in fact means in regards to the litigation that has occurred during the past 26 years regarding the constitutionally (sic) validity of the judgments and sentences entered against him. A more clear violation of due process and the constitutional guarantee of notice and opportunity to be meaningfully heard is hard to imagine, and at the 11th hour — 10 days before Mr. Asay is to be executed," he wrote.
Asay was convicted in 1988 of the murders of Booker and McDowell in downtown Jacksonville. Asay allegedly shot Booker, who was black, after calling him a racial epithet. He then killed McDowell, who was dressed as a woman, after agreeing to pay him for oral sex. According to court documents, Asay later told a friend that McDowell had previously cheated him out of money in a drug deal.
The prosecutor's theory of the case was that Asay was a white supremacist who first shot and killed Booker because he was black and then a short time later shot and killed McDowell.
A jury found Asay guilty of two counts of first-degree murder, and recommended the death penalty with a 9-3 vote.
"In closing arguments, the prosecutor relied upon a jailhouse informant's testimony that Asay confessed to killing `those niggers,' " McClain wrote in Saturday's petition.
But since the court acknowledged it had erred regarding McDowell's race, "the relevance of evidence that Mr. Asay was a racist melts away and needs to be revisited," McClain wrote in a footnote.
"Evidence of racial animus towards blacks is not relevant in a case in which a white man is charged with killing another white man," he wrote.
But Attorney General Pam Bondi's office argued that the high court's mistake was irrelevant.
"Asay murdered two people in separate incidents," Charmaine Millsaps, a lawyer representing the state, wrote in a 12-page response filed a few hours before the court's Monday decision. "There is no dispute regarding the race of the first victim as being black or Asay's racial motivation in the first murder. … The race of the second victim does not matter to the convictions or death sentence."
The case of Asay — who will be the first Florida Death Row inmate to be executed since January 2016 — has been fraught with problems.
Asay spent more than a decade on Death Row without legal representation, a violation of state law.
And many of the records related to Asay's case were destroyed after being stored in a shed that was "infested with snakes, rats and insects," McClain wrote in a court filing after being appointed to represent Asay last year. Other records were destroyed by water and mold, McClain wrote.
Asay's case has also involved a legal tangle over a lawyer who was the subject of an investigation ordered by Florida Supreme Court Chief Justice Jorge Labarga.
The high court dropped the inquiry after Mary Catherine Bonner, who repeatedly missed critical deadlines in death penalty cases, resigned from a statewide registry that made her eligible to represent defendants like Asay.
Asay's execution would be the 24th on Gov. Rick Scott's watch, a record for any modern Florida governor.
Responding to Mark Asay's scheduled execution, Mark Elliott, director of Floridians for Alternatives to the Death Penalty stated:
"Florida continues the premeditated and unnecessary killing of well-secured captive prisoners. Governor Rick Scott may be attempting to create the illusion of an 'Equal Opportunity' state program for executions by ordering and overseeing the killing of Mark Asay, who is white, for killing Robert Booker, who is black. This does nothing to change the 170 year long history of Florida not executing whites for killing blacks."
Elliott's organization is coordinating several vigils and protests, including a bus trip from Palm Coast to Starke, the state prison, at the time of the execution.
–Dara Kam, News Service of Florida, and FlaglerLive