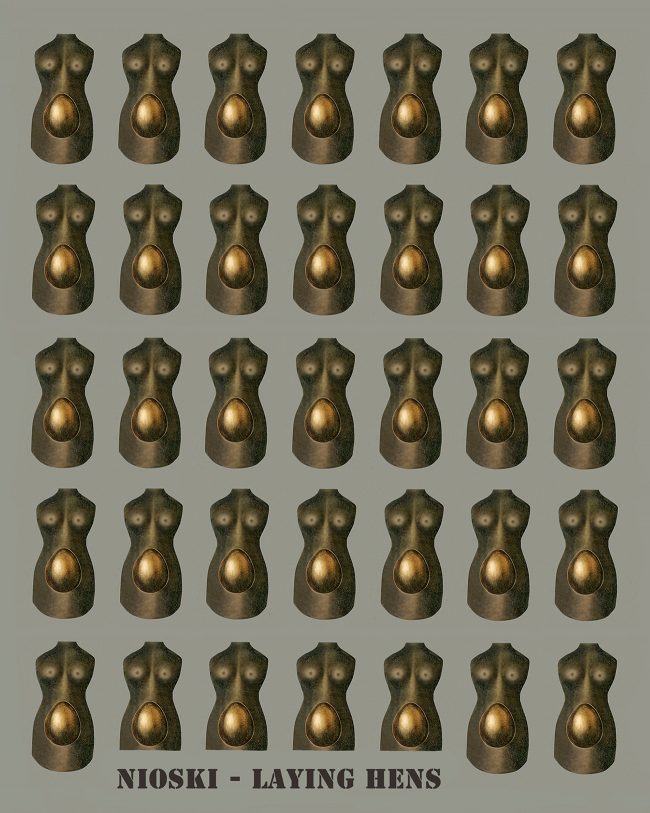 When Palm Coast artist Krystyna Spisak-Madejczyk and her husband, Wlovzimierz, came from Poland to New York City during the heady days of 1981, they didn't plan to stay.
Wlovzimierz was a dentist in their native land, and also a member of Solidarity – the sizable, increasingly powerful labor union that was independent of Poland's communist regime and bucking its leaders for reforms.
Then in December 1981, Poland's communist government, led by the black-spectacled Wojciech Jaruzelski, sought to crush Solidarity and its trade unionist leader, Lech Wałęsa, by instituting martial law, and perhaps staving off an invasion by Soviet tanks poised at the border. Cold war tensions were hitting one of their peaks, the chills fanned by Ronald Reagan and Pope John Paul II on one side, and the decrepit Leonid Brezhnev, to the extent that he could fan anything but his respirators by then, on the other.
Poles, as so often in their history, were the battered victims in between.
"And at once we decided to stay," said Spisak-Madejczyk (pronounced Spee-sack Ma-day-chick) at her recently opened Blue Contemporary Fine Art Gallery in Bunnell's Marvin Garden.
She didn't fear imprisonment "because I wasn't involved," she said, her accent still cadenced by her Polish roots. "I was always outside politics. But my husband Wlovzimierz — after martial law they interred in prison a lot."
The couple spoke little English. They had few belongings. It was not too different from the Cuban exiles stranded in Florida in the wake of the Cuban revolution after Fidel Castro ousted the murderous and corrupt Fulgencio Batista.
"We stayed with few luggages," Spisak-Madejczyk said. "We left everything there."
Everything, perhaps, except her passion for art.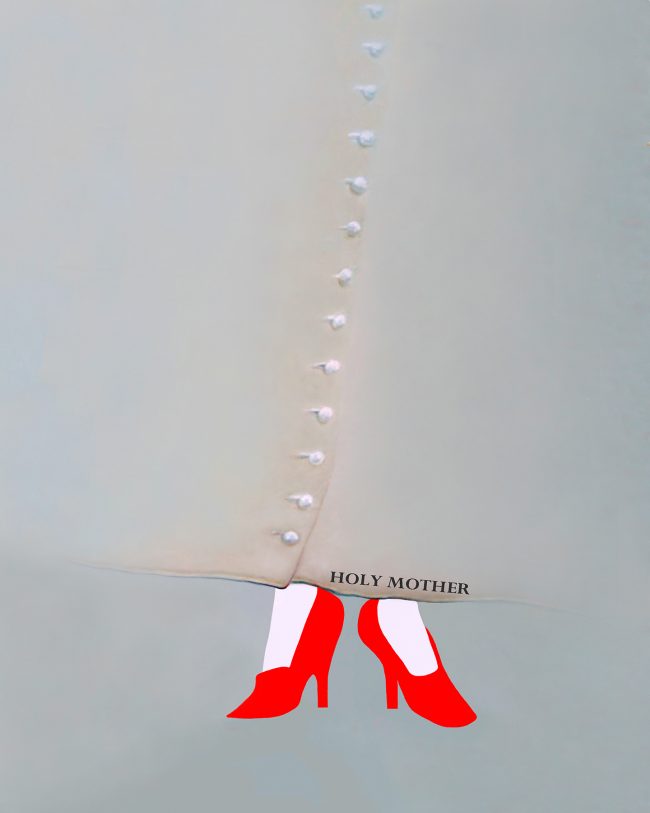 After pursuing her muse by exhibiting her work and managing a gallery in the New York area, Spisak-Madejczyk and her husband moved to Palm Coast 10 years ago, where she has continued her work in bronze sculpture, photography and digital art. She creates mostly contemporary, abstract stuff, with an occasional tweak to the nose of the papacy and other institutions she believes give women short shrift.
After operating her studio for a time at JJ Graham's and Petra Iston's Salvo Art Project before it was forced to shutter its location at Nature Scapes in Bunnell, Spisak-Madejczyk opened Blue in April in one of the backside units at the Marvin's Garden complex in Bunnell.
Step into Blue–named after the color of eternal evocations–and one will encounter two-dimensional geometries that variously resemble watercolor paintings left in the rain, extreme closeups of textures or metals, aerial cartography photos or images that recall the Hubble telescope's snapshots of the cosmos.
Some of the works (almost all are untitled) began as photographs and were digitally manipulated "by mouse, by computer," said Spisak-Madejczyk, who graduated from the National School of Fine Arts in Poznan, Poland, with a Master of Fine Arts degree. Other works were created entirely by what she called "computer painting."
But what you are really witnessing in her works, Spisak-Madejczyk said, are "secrets."
As for the works born from photography, "you can't even guess what kind of photography it was because I am looking for something beyond," she said. "For me it was like find something behind, find something that is invisible."
---
"It was not my plan to do abstract. For me, I try to find some kind of spirit in this, some kind of secrets, some kind of color balancing, space."
---
Though Spisak-Madejczyk occasionally deployed the term "modern," she doesn't use the word "abstract" to describe her work, which has been exhibited in Poland, Mexico, Canada, France, Italy, Germany and the United States. Among her numerous awards are second place in the Architecture in Sculpture and the Small Sculpture Form categories at the XII International Biennale of Sculpture in her native Poznan in 2000.
"I don't want to be connected with any one kind of art," she said. "I am still looking for something new. So I do experiments. I never think it's abstract or something else. Maybe it is abstract. It was not my plan to do abstract. For me, I try to find some kind of spirit in this, some kind of secrets, some kind of color balancing, space.
"I want you to see something but not concentrate only on what you see but try to find something more."
One of her works that looks like a black-and-white aerial photo of the Mississippi delta is, in fact, "a photograph of skin."
Any perception that her process is simple or easy is deceptive.
"Of course, I have to work a lot," Spisak-Madejczyk said. Numerous versions of each work come and go on her computer screen. "I never know how many or which was first, which was second because I don't save. I save the final one. Or I destroy."
But the goal is always to "try to find some kind of cosmos behind."
Fellow Palm Coast artist Sheila Skipp Zinkerman said Spisak-Madejczyk "is a determined, motivated artist who takes risks with her art but is uncomfortable with self-promoting the art she creates. I imagine she puts that unspent energy in reserve and channels it into her art-making since she is an accomplished multidisciplinary artist.
"As with many classically trained artists, she is adventurous and will readily seek out and use new and non-traditional materials by seamlessly transitioning from sculpting tools to camera to paint brush to computer mouse. There is no obsessive, monotonous repetition in her body of work."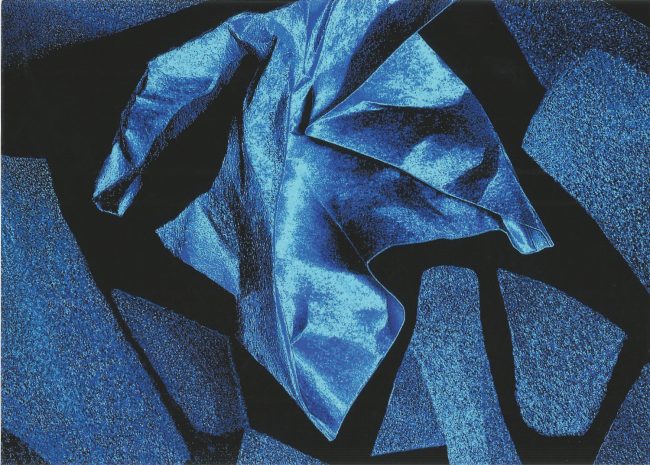 Visitors to Blue (which until a few months ago was home to Zinkerman's ZinkZank Art gallery) should not read any meaning into the table, in the rear of the small gallery, where disheveled prints of Spisak-Madejczyk's traditional photography seem tossed aside.
The striking, accomplished prints include a modernist-looking yet old church in Poland, ballistic ballerinas in mid-air, and photos taken during a visit to New Mexico last year, including the Taos Pueblo and the adobe church at Ranchos de Taos (made famous in a painting by Georgia O'Keefe).
"I have thousands of pictures" Spisak-Madejczyk said of traditional photographs. "I try to find time for scanning my old film photography. I have a lot of just film with no prints."
Blue also has a smattering of Spisak-Madejczyk's bronze sculptures on display – curvy, less-than-a-foot tall works imbued with feminine and masculine lines that are variously part of her "Drop" or "Tunnel" series. She also has four large-scale sculptures are on permanent display in Poland.
While the Blue sculptures are in no way overtly religious, when Spisak-Madejczyk spoke on their mix of the feminine and masculine she was seduced into spiritual reflection: "If you imagine a god, for example, it's always the people praying to Father God. For me God is never father. It's why not mother? Why not something mother and father? It's definitely not father only."
Her feminist sensibilities are more pointedly on display in two works not on exhibit at Blue.
One is a poster she created for the 5th International Socio-Political Poster Biennale: It pictures a pale blue cassock from midriff down – with hot red high heels exposed below the ankle-high hem. Just in case viewers don't get the point, the words "Holy Mother" are inscribed at the bottom of the cassock.
"I try to address women discrimination in life and fight for equality," said Spisak-Madejczyk, who is Catholic. "The church is one of the areas where women are limited. Among other things, I feel strongly that it is time for a woman to be pope. The poster speaks to that and aims to address that it's time to move women up in our culture."
"One of the things I admire most about Krystyna is that she is fearless," Zinkerman said. "She is willing to take on controversial subject matter of the times like her image of the pope in high heels. In that piece, she questions the patriarchy of the Catholic church."
An unpublished poster image titled "Nioski – Laying Hens" depicts five rows of bronze female torsos – no heads, arms or legs – with egg-shaped pregnant bellies. Though Spisak-Madejczyk didn't say so, the work would be a perfect image to illustrate "The Handmaid's Tale," Margaret Atwood's dystopian novel (remade into a current TV series) in which a fundamentalist religious movement seizes power and subjugates women, forcing some to become breeders known as "handmaids."
As for her motivation to open Blue, Spisak-Madejczyk said, "The priority is not selling. Of course, selling is good and as a matter of fact I sold four pieces of my art so I am happy. The goal is to show modern art here because we don't have really modern art around this city.
"The museums here are traditional. Nothing against it – I love the old art and at my home I have a collection of realistic art. But there is a 21st century and we need to go ahead. We need to change our thinking, see some different kind of vision."

Blue Contemporary Fine Art Gallery holds an opening Saturday, May 27, from 6 to 9 p.m. Blue is located in Marvin's Garden at 4601 E. Moody Blvd., Suite K-11, Bunnell. Gallery show openings are held 6-9 p.m. the fourth Saturday of every month. Beginning in June, the gallery will be open 4-6 p.m. Tuesday through Saturday and by appointment by calling 386-447-3065. For more about the artist, go online at krystynaspisak.com.