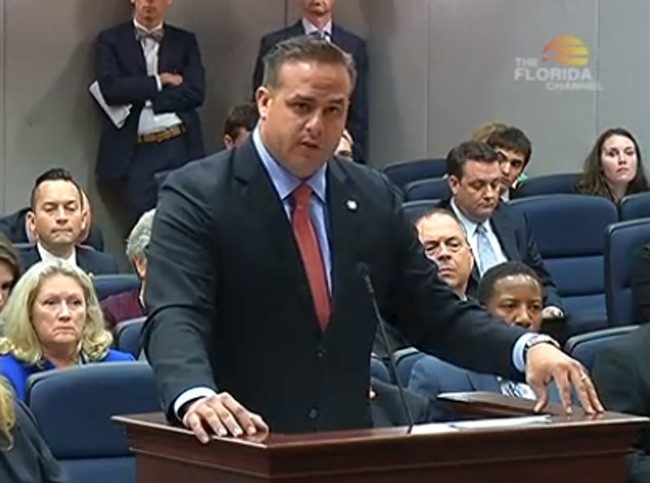 Sen. Frank Artiles, R-Miami, publicly apologized Wednesday morning for a tirade at a club that included making derogatory comments about a fellow senator and using a racial slur, Senate President Joe Negron said late Tuesday.
"I stand up before all of you, every one of you, and with great humility, I ask for your forgiveness," Artiles said on the Senate floor this morning.
The apology comes after news reports about Artiles berating Sen. Audrey Gibson, D-Jacksonville, on Monday night at the Governors Club near the Capitol. The Miami Herald reported that Artiles also used the word "niggers" — though he later said he had used the word "niggas" and suggested that he didn't think the slang term was insulting.
Gibson, who'd previously served in the House, was elected to the Senate in a 2012 special election, when her district included a small part of Flagler County. The district has since been redrawn and no longer includes Flagler voters.
Negron issued a statement late Tuesday saying that he was told about the incident by Senate Minority Leader Oscar Braynon, D-Miami Gardens. Negron said he was "appalled to hear that one senator would speak to another in such an offensive and reprehensible manner."
"Racial slurs and profane, sexist insults have no place in conversation between senators and will not be tolerated while I am serving as Senate president," Negron said in the statement. "Senator Artiles has requested a point of personal privilege at the beginning of tomorrow's sitting, during which he intends to formally apologize to Senator Gibson on the Senate floor."
Sen. Bill Galvano, a Bradenton Republican who is expected to become Senate president after the 2018 elections, said Gibson "under no circumstances should ever have been spoken to in such a reprehensible manner."
"I understand that President Negron is allowing Senator Artiles to formally apologize on the Senate floor tomorrow," Galvano said. "Such comments cannot be repaired by a formal apology, but I trust that it is an appropriate step to be taken by the president and the Florida Senate to handle this matter, and to ensure that this behavior is not tolerated and does not happen again."
The Florida Times-Union reported that Artiles' tirade apparently stemmed from being upset that Gibson had voted against bills he sponsored and had asked critical questions about the measures.
The Herald reported that Artiles "dropped the n-word to a pair of African-American colleagues in private conversation Monday night — after calling one of them a 'fucking asshole,' a 'bitch' and a 'girl,' the two senators said. Over drinks after 10 p.m. at the members-only Governors Club just steps from the state Capitol, Artiles told Sens. Audrey Gibson of Jacksonville and Perry Thurston of Fort Lauderdale that Senate President Joe Negron of Stuart had risen to his powerful GOP leadership role because "six niggers" in the Republican caucus had elected him."
Artiles, who was elected to the Senate in November after serving in the House, also told Gibson and Sen. Perry Thurston, D-Fort Lauderdale, that Negron had become Senate president because of getting votes from "six niggers" in the Republican caucus, the Herald reported. Artiles later told Gibson and Thurston — both of whom are black — that he had used the word "niggas."
The Herald reported that it was unclear who Artiles was talking about "since the only black senators in the state Senate are all Democrats — and none of them backed Negron's bid to lead the chamber."
Both newspapers said Artiles issued a statement Tuesday apologizing.
"In an exchange with a colleague of mine in the Senate, I unfortunately let my temper get the best of me," he reportedly said in the statement. "There is no excuse for the exchange that occurred and I have apologized to my Senate colleagues and regret the incident profusely."
The Florida Democratic Party, however, called on Artiles to resign because of the incident.
"Frank Artiles must resign now," Democratic Party spokeswoman Johanna Cervone said. "His use of horrific racist and sexist slurs towards his colleagues is disgusting, unacceptable and has no place in our democracy or our society."
The Root, the black-culture online magazine, was more scathing: "Another day, another Republican showing out in the name of white supremacy," The Root's Kirsten West Savali wrote.
Artiles has at times walked more reactionary than conservative grounds: he had led the ultimately failed campaign two years ago to pass a bill forbidding local governments from extending protections to transgender people using public bathrooms–a replica of the bill that would eventually pass in North Carolina, triggering a political and business backlash in that state against the Republican governor who signed it into law, and who lost a re-election bid in 2016.
–FlaglerLive and the News Service of Florida