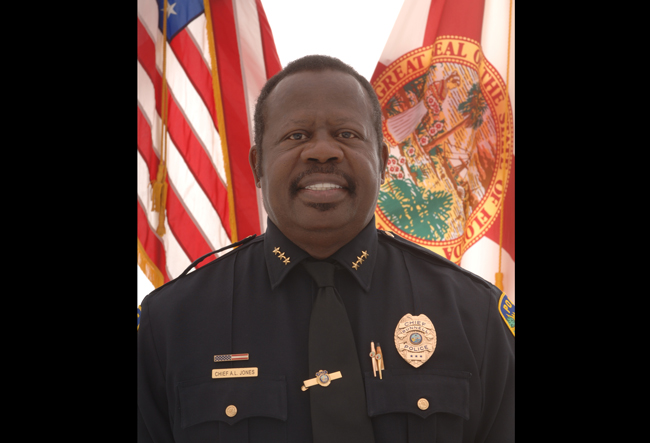 It's been rumored for a few weeks. It's no longer a rumor. Arthur Jones, Bunnell's affable police chief—and the city's first black chief, hired concurrently with Barack Obama's election, as Bunnell Mayor Catherine Robinson said at the time—has announced his resignation. He will leave his post at the end of April, Bunnell City Manager Armando Martinez said this afternoon.
Jones had planned to retire late next year anyway. But he was involved in a car accident—when he was rear-ended by a teenager last fall—that caused chronic and persistent pain, leaving him at times unable to sit down for long periods. He's also had to take time off subsequent to the accident.
"He was already telling me that he wanted to dedicate more time to his family," Martinez said. "I didn't think he was going to leave this early but I can certainly understand that he wanted to dedicate more time to his family." Jones, 59, is father to seven children. He retired from the Fort Lauderdale Police Department after 32 years there, where he worked as a gang-resistance instructor in schools and a homicide investigator. He moved into the job Martinez had held when Martinez was elevated to city manager and public safety director. (Martinez later relinquished the second title.)
"It seems that April is as good a time as any," Jone said this afternoon of his retirement. "My church is constantly asking me about being more involved and needing to work with the youths and the ministry in the church and I'm looking forward to doing more of that." Asked to cite his proudest accomplishment in his years in Bunnell, Jones cited his work founding AIM, the Alliance of Involved Ministers, which he developed with a focus on Bunnell's youths, especially in its South and almost exclusively black side—essentially Flagler County's one enduring ghetto. Jones says he plans on continuing to work with the alliance and through local programs with a community focus. He and his wife will remain as Palm Coast residents.
His biggest challenge, Jones said, was making the transition from a career field police officer into the department's top administrative job. "Dealing with budgets and budget cuts," he said, "those were my biggest disappointments in the job. I believe that anything that we need we should have, but there's a difference in needs and wants, and I do understand the difference now." The Bunnell Police Department has 11 uniformed officers, Jones included. Jones' Salary is $50,000.
The resignation is effective April 27. "I will be looking to fill that position before Jones leaves," Martinez said. Jones will be involved in choosing a successor. The position will be advertised through the Florida Police Chiefs Association's website. Martinez said he plans to limit the search to Florida, though he would not rule out qualified candidates who have worked elsewhere for a time. Martinez will ask the city commission to enable a salary range of $50,000 to $60,000 for the next chief.
Jones's tenure was not smooth. But no police chief's tenure in Bunnell has been for at least a decade, in a department that was the subject of three broad investigations or reports about internal issues through that decade. And while tumult swirled around him, Jones was a calming, cool-tempered force that played a humbling role in contrast with Martinez's more forceful personality.
The last report on the department was a searing State Attorney's investigation, issued in 2010, that was critical of loose internal procedures and criminal acts by two cops that led to their indictment on drug and abuse of power charges. The report was instrumental in unraveling the nine-year tenure of a city commissioner, Jimmy Flynt, for whom cops and city officials did special favors that profited his wrecker business. Flynt was defeated in the March 2011 election by rival wrecker John Rogers.
Martinez said that while problems arose in the ranks, at no point did Jones attempt to cover up matters, but rather discussed them candidly and dealt with them. It was also just as clear in the last three years that Martinez, always a police officer at heart, wielded the true power in the department.
The department on Jones's watch also sustained two attempts at dissolution in the last two years. Elbert Tucker, a city commissioner, favored letting the sheriff's office take-over policing in Bunnell. Rogers initially did as well, though they could not find a third vote on the commission.
The commission will not—or should not be—involved in the choice of a new police chief. That responsibility falls on the city manager. But commissioners clearly have some influence. Martinez said he won't make race a factor in the hiring, focusing instead on qualifications alone.
And he categorically ruled out the hiring of Louis Vega as the next police chief. Vega, a former supervisor in the Miami Police Department, where he was a colleague of Martinez's, was brought in this fall as a reserve officer, sending shivers down a few spines over Martinez's intentions. Martinez had reportedly mentioned a former colleague to Tucker as a desirable successor to Jones. Vega had also worked in the New York City Police Department for 30 years, leaving there after being suspended over charges that he "falsified reports to show a greater reduction in crime in the South Bronx," The New York Times reported at the time.
"No, not at all, he's not interested," Martinez said of Vega taking over as chief. "He was never interested and he was never going to be a candidate as far as I know."
Of his successor, Jones said: ""I would only endorse someone who will carry on the legacy that we have going for us right now. We have a police department that focuses on the needs of the people, the needs of Bunnell."
Jones added, referring not just to the next chief but to what sums up one of his fundamental beliefs: "All men are leaders and all men are to some point designed to make a difference, and along those lines we have to educate ourselves and continue to motivate ourselves to continue to make this difference that we're designed to make."