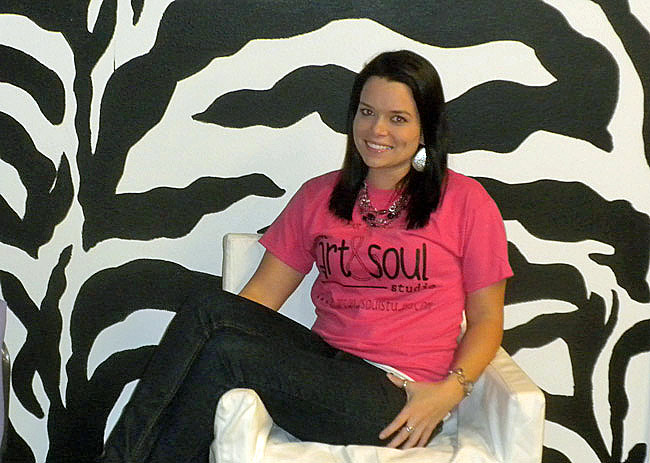 "Like everyone else who was born and raised here, I've gone through my phase of hating Palm Coast," says Erin Walker, owner of The Art and Soul Studio, a two-month- old recreational paint-your-own-pottery shop at 25 Pine Cone Drive in Palm Coast.
Now, at 28, Walker's learned to love the town she's watched sprawl into the incorporated city of today. She's making it, or a corner of it, her own. The shop's interior is open and airy, except for a partitioned children's party room that seats about 20, where, should a child be celebrating the occasion at the studio, the birthday boy or girl gets to leave a purple handprint on the wall. "I want to leave my mark, too," Walker says. "That's why I've anchored here. It's home."
Originally a high school psychology teacher, Walker loved working with children. But too many peripheral elements in teaching encumbered her relationship with her students. "All the paperwork and the emphasis on hammering information down their throats bogged the experience," she says. Walker was in the midst of a Christian fast and painting a pot at Mudd Monkey—a similar shop in Ormond Beach—when she had a moment of clarity: "I realized I was in the wrong profession. Art is a great way of self-expression. What I loved in places like this, is the fact that I could come with a lot of stuff on my mind and just pause reality for a little bit." In her new venture, she's able to hold onto the aspects of education she liked while getting rid of trappings. Walker credits a paint-your-own-pottery consultant for helping her design the studio's interior, after discovering that such a niche profession actually exists.
The décor features purple walls all around except for a lone corner painted in zebra stripes. Cushioned chairs in the zebra corner provide a comfy waiting spot, a contrast to the stools occupying the studio work area. At this time of day—a mid-week evening–it's mostly small children, primarily girls, who are painting, with two employees supervising. Some girls are more rapt in their projects than other, more rambunctious ones.
"Thankfully," Walker says, "in the two months we've been open, no one has broken anything. But cross your fingers."
Since having her birthday party here, Jackson Willrick, 12, has been coming regularly to the studio to work on her Christmas gifts—although  she wants to keep silent about her project: no need to tip off her mother.  She has a clear idea about the studio's  appeal to her:"You can make your own thing here and hold onto it forever, along with the memories of creating it."
A white Christmas tree with purple-trimmed ornaments greets entering customers, and similar holiday-themed figurines and bric-a-brac sit on the eclectically itemed shelf, waiting for customer makeovers. Prices range  from $9 to $65Customers can also attend monthly glass fusion and mosaic workshops.
The Art and Soul Studio opens at 11a.m., Wednesday through Saturday and 1 p.m. on Tuesday and Sunday (with somewhat altered hours for the holidays, though it'll be open New Year's day), but, as Walker still teaches online during the day, she doesn't make it to her real job until 5 p.m. It is thanks to her teacher's income that she was able to open the studio doors. That said, psychology—which was her major at Palm Beach Atlantic University (she minored in art)—earned her a Master's in psychology counseling which plays more of a role here than keeping the lights on.
"I want this to be a safe place," Walker says. "We hope to be able to organize something for preteen girls, for example, where we can teach them lessons on self-esteem. We also do family nights, where we try to encourage communication, in addition to father-daughter date nights." For father-daughter date night, a first daughter's purchase is 50 percent off, a second, 40 percent, and so on for fathers with lots of daughters. "Each month, we try and come up with something new."
In addition to youth and family-oriented themes, the studio hosts what it calls Wine-d Down Wednesdays, a ladies night. Each Wednesday at 7 p.m., the doors close to men and all patrons under 21. Customers are invited to bring their own wine, while the studio orders pizza or supplies other snacks. It just so happens that tonight is Wednesday evening and, as the children who have been painting leave, a few women bearing wine bottles have already begun trickling in. The women are a little early, but that's okay says Walker, because some customers are afraid they'll take a long time to finish.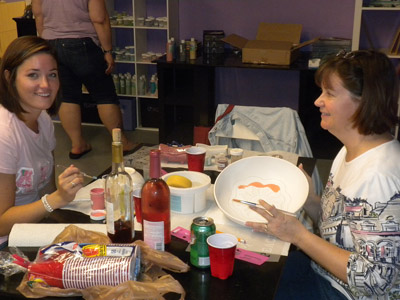 Ashley Reynolds, 21, and Becky Reynolds,43, mother and daughter, are here for the second night in a row. This time they've brought Becky's sister-in-law, Sarah, 48, as well as a bottle of White Zinfandel for Wine-d Down Wednesday. "It goes well with pizza," says Sarah.
Ashley paints a cereal bowl. Becky, a spaghetti bowl. Sarah nervously tickles an opaque jewelry box with the paint-brush. "You're never too old to make your parents holiday gifts," Becky says.
"We get about equal traffic between families and adults," Walker says. "Men and boys are slightly more unusual as patrons than females, but the guys who do come actually seem to take it more seriously than the women. They just use their girlfriends, wives, etc, for an excuse. Painting here is like coloring in a coloring book when you're little."
The studio has a new monthly cause as well. The latest one is called "Love for Alyssa." When Walker was teaching at Flagler Palm Coast High School, she learned for the first time that a colleague, whom she'd worked with for several years, had a disabled daughter named Alyssa, born with Arthrogryposis. Alyssa has no use of her arms or legs, and only limited use of her fingers. "Yet the father hadn't said a word about it," Walker says.  "A portion of sales from each holiday item sold will go to a non-profit for that cause."
The Art and Soul Studio is the latest addition to what has been a steadily growing—if disparate and far from united—arts community in the county. Flagler Beach's Gallery of Local Art is flanked one new gallery and the gallery-like walls of Ocean Publishing, which are regularly turned over to the works of local artists. The Hollingsworth Gallery's contemporary head-scratchers and the Flagler County Art League's monthly exhibits of more decorative art are the odd couple of City Marketplace in Palm Coast. The city is taking public art a little more seriously, with a subcommittee of sorts formed to propose policy on how and what may be displayed, and where. There's word of a new artist colony forming on the grounds of Nature Scapes, the stately garden center and nursery in Bunnell.
"Well, unlike those galleries, I see us as more a place for people who are creative but not necessarily artists," Walker says of her studio. "Here, you can come in and copy something or you can just paint a mug blue. Then you have something and it's shiny and it's yours." Nevertheless, The Art and Soul Studio and the Palm Coast galleries do have a common outreach, Walker adds. "Without these outlets, if you want to do something in Palm Coast, with the exception of dinner and a movie, you're out of luck. Palm Coast has grown but it's still a small town. We need to support one another."
If, that is, small operations like The Art and Soul Studio are sustainable in an environment where even the larger galleries are in a chronic struggle for survival.            "Well, just the other day, I was getting my tires done and the owner had one of our postcards on display in his shop. He'd been to father-daughter date night. In the worst case scenario, we'll close," Walker says. "But hey, one of the most rewarding things thus far is that many people have told us, 'please don't close.' Thankfully, I don't have any starving kids of my own yet that I'm trying to support with the business."