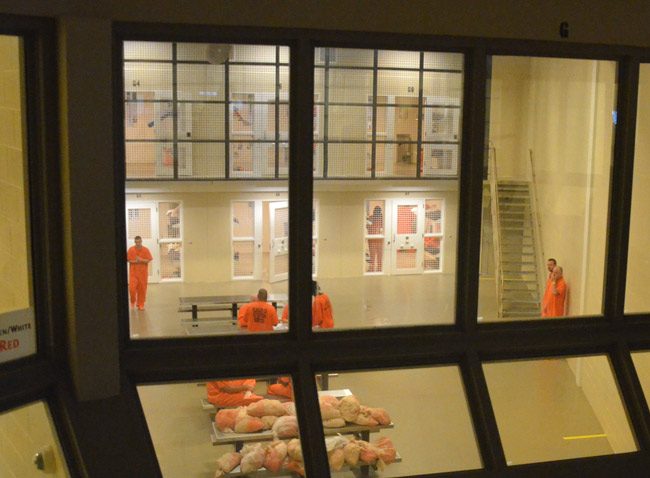 Armor Correctional Health Services, the health care provider at the county jail, removed two of its employees from duty there pending the outcome of an ongoing investigation in the unexplained deterioration and death of inmate Anthony Fennick, 23, last week. Armor did so at the request of the Flagler County Sheriff's Office.
Armor placed the two employees on paid leave, however, and is requiring the sheriff's office to pay both the employees' salaries and their replacements for the duration of the investigation. The sheriff's office is disputing the request, as it had requested both employees "be relieved of duty at any FCSO facility," according to the sheriff's attorney, Kayla Hathaway.
Armor is asking that the salaries of two nurses, Tracey Columbus, a registered nurse, at $2,190 biweekly, and an employee it initially referred to as Kelsey Gadson, a licensed practical nurse, at $412 biweekly, be reimbursed. Columbus was employed full-time. "Gadson" was employed on an as-needed basis. (Armor had initially reported Kelsey's last name as Gadson in an email to the Sheriff's Office, though there is no one licensed as an LPN with the Department of Health, according to DOH records. The company subsequently referred to her as Kelsey Cochran in a later email. After several inquiries by FlaglerLive, the sheriff's office on Tuesday said there may have been a name change (she was married in May 2017, though her maiden name was Strom), and Kelsey was cleared by the jail under the "Kelsey Delrey Cochran" name. A Kelsey Delrey Cochran, of St. Augustine, is licensed since October 2016, according to DOH records. The Sheriff's Chief Strobridge said she's been known as Chochran all along at the jail, and attributed the error to Armor. "They don't even know who their own people are," he said.)
Flagler Sheriff's Chief Steve Cole, who oversees the county jail, requested that Columbus and Cochran be placed on leave on Feb. 7 "Pending completed investigation of possible negligence resulting in a patient death," according to an email by Armor's Jennifer Owens, who was following up on a phone conversation with Cole on Feb. 8.
Fennick, a resident of Richardson Drive in Palm Coast, entered the jail on Dec. 28 after failing a urine test, testing positive for cocaine, and getting thrown out of drug court, where he'd been a participant since 2017. He complained of high fevers starting Jan. 30. His mother, Erika Williams, who spoke with him daily, said two of the three nurses he dealt with were more dismissive than caring or concerned, treating him with antibiotics and ibuprofen. He was denied access to a doctor before a doctor's scheduled visit on Feb. 5. (The contract calls for a medical director to put in two hours a week.)
By then it was too late. Fennick's health degraded, he lost touch with his surroundings, had a seizure on Feb. 4–a week ago–the night he was finally transported to AdventHealth Palm Coast. There, he went into cardiac arrest and was revived only to have lost all brain functions. He died Saturday (Feb. 9).
Two sheriff's detectives have been conducting an investigation into Fennick's death since he was taken to the hospital. "Investigators are doing their interviews, they're pulling video, they're listening to tapes," Sheriff's Chief Mark Strobridge said Monday, referring to surveillance video at the jail and to recorded conversations between Fennick and his mother, which his mother says document his deteriorating condition.
Armor says it bears no responsibility for Fennick's fate. "Armor has reviewed the clinical actions of these employees and found nothing inappropriate," Owens wrote.
"Per Armor Correctional Health Services, the above employees will be placed on a paid administrative leave," the Armor official wrote. "Both employees positions are required to be backfilled by Armor to maintain continuity of patient care at the Flagler County Detention Center. This cost would be above the contract terms therefore Armor Correctional Health Services requests the Flagler County client reimburse Armor for the cost of maintaining the two above employee's salaries while on leave as well as any benefits the employee's may have. The reimbursement is being requested upon the investigation clearance of the two employees. The above employees would be placed on a paid administrative leave rather than an unpaid leave due to neither employees have been found of any wrongful practice nor are neither employees accused of any wrongful practice at this time."
"Of course they're going to deny they did anything wrong," Carlos Trivino, Fennick's uncle and one of many members of his family who'd been at his bedside last week, said today. "But that's OK. We're going to get to the bottom of this."
The request for reimbursement surprised the sheriff's office for several reasons, among them the fact that it had requested that the employees be relieved of duty–that is, replaced–and because the contract with Armor does not spell out a requirement by the sheriff to pay for "backfilled" employment, as Owens's email suggests. "Can you please point to the specific provision in the contract that calls for reimbursement in these circumstances?" Hathaway asked of Armor in a Feb. 8 email.
As of today, Armor had not replied, Strobridge said.
The contract with Armor, signed in January 2018, does spell out measures to be taken when the sheriff's office has issues with Armor's coverage under a section called "Sheriffs Satisfaction with Health Care Personnel."
"If the Sheriff becomes dissatisfied with any health care personnel provided by Armor hereunder, or by any independent contractor, subcontractors or assignee of Armor, Armor, in recognition of the sensitive nature of correctional services, shall, following receipt of written notice from the Sheriff of the grounds for such dissatisfaction, exercise its best efforts to resolve the problem. If the problem is not resolved satisfactorily to the Sheriff, Armor shall remove or shall cause to be removed any employee, agent, independent contractor, subcontractor, or assignee about which the Sheriff has expressed dissatisfaction. Should removal of an individual become necessary, Armor will be allowed a reasonable time to find an acceptable replacement."
There is no mention of reimbursement. Strobridge said the sheriff's office is interpreting the contract as silent on reimbursements.
The only mention of reimbursement in the contract refers to Armor's potential "Failure to Perform/Reimbursement." It reads: "For any services required to be performed by Armor under this Agreement, but that are performed by the Sheriff due to Armor's failure to perform, Armor shall reimburse Sheriff for those expenses and such expenses shall be reduced from the monthly payment due Armor under this Agreement."
The contract does note that all inmates' medical records are "the property of the Sheriff," and that "Armor shall make available to the Sheriff, at the Sheriff's request, all records, documents and other papers relating to the direct delivery of health care services to Inmates hereunder."
Fennick was on a respirator for the duration of his last days in AdventHealth's intensive care unit as family gathered. The hospital delayed removing Fennick from the breathing machine to allow for his family to arrive from Colorado and North Carolina.
"It's not fair and its scary as hell that this can happen to another person who's trying to do the right thing," Trivino said. "As a community we have to come together and make sure this can't happen to anyone else."
The breathing machine was disconnected at 10:40 Saturday morning. Anthony Joseph Fennick was pronounced dead at 10:49 a.m.

Note: Anthony Fennick's family has set up a GoFundMe page here.