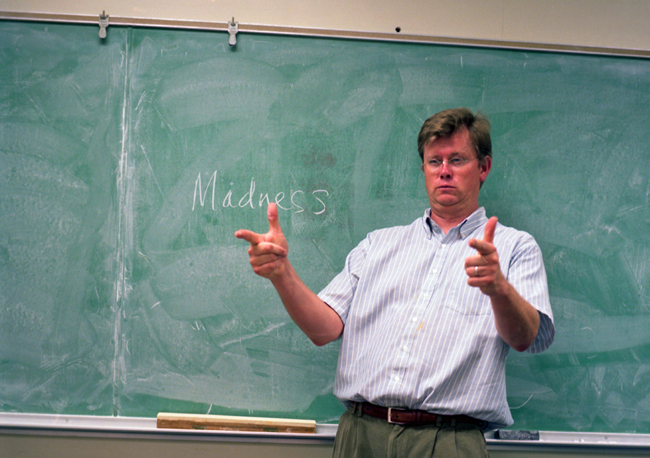 The state's self defense law would say people can fire warning shots to fend off attackers without fear of prosecution and teachers would be able to pack heat on campus under bills now before legislators.
Freshman Rep. Neil Combee, R-Polk City, filed a bill on the one year anniversary of the shooting death of Trayvon Martin in Sanford that would make it clear that people who fire warning shots – or simply show their gun to scare away any would-be attacker but don't actually shoot someone – could be protected from harsher penalties that they could otherwise face under criminal gun laws.
And on Wednesday, Rep. Greg Steube, R-Sarasota, offered a bill that asks for school principles to decide which teachers and staff can carry a concealed weapon while at work.
Steube said the chances of a student getting hold of a weapon are "minimized' due to the bill's requirement that anyone approved for concealed carry on campus must first undergo firearms training.
Also, "we've given a lot of flexibility to principles in the bill," Steube said. "If they want to designate one (teacher), if they want to designate many they can. If want to require them to put (the gun) in a safe they can. It's going to be completely up to the principle logistically how they want to implement the legislation."
Steube's measure (HB 1097) comes as some conservatives nationwide and in Florida have called for arming teachers and guards at schools in the wake of the December shooting in the Newtown, Conn. Sen. Alan Hays, R-Umatilla, is expected to file the Senate companion of the bill.
Steube said he's received positive feedback from educators and school board members.
However, school administrators haven't lined up behind the armed teachers plan.
"Our members are saying they would rather not have that, that they'd rather have other security measures put in place," said Michele White, a spokeswoman for the Florida Association of School Administrators.
Other measures FASA may prefer range from increased preparedness drills to trained armed security, which Steube's bill would require when armed educators aren't designated.
"We're trying to figure out what are the best ways for each district – because each school in each district is different – to secure their schools," White said.
Combee's bill (HB 1047), comes days after Gov. Rick Scott's Task Force on Citizens Safety and Protection proposed only a few tweaks to the stand your ground law, including a need to redefine "unlawful activity," increase education for law enforcement and review neighborhood watch guidelines.
Co-sponsor Rep. Dennis Baxley, R-Ocala, the original sponsor in 2005 of the state's "stand your ground" bill, and a member of the task force, said Combee's bill is based upon a task force recommendation to clarify Florida's 10-20-Life law regarding displaying a firearm.
"There is an edge there with the law if you fire a weapon or display a weapon, you could be charged with a felony," Baxley said.
But self defense shouldn't have to always require shooting someone, he said.
"In the country you used to fire a warning shot in the air to let people know to get off your property and you wanted them to leave.
"In a recent video, Vice President Joe Biden advocated that he told his wife Jill 'Go out on the front porch if you're nervous and shoot that double barreled shot gun.' In Florida that would be a felony," Baxley said.
The 10-20-Life law sets mandatory minimum sentences primarily in regard to firearm use during a felony. "Now you're at risk of being charged if you display a firearm," Baxley said.
Legislators have already started to discuss school safety measures, but not broader laws dealing with firearms.
Sen. David Simmons, R-Altamonte Springs, has filed a bill (SB 930) to require local law enforcement to set "reasonable" guidelines for neighborhood watch programs.
Sen. John Legg, R-Port Richey, chairman of the Senate Education Committee has been cool to the idea of arming teachers. And Scott has generally supported a review of Florida's gun regulations and school security procedures in reaction to Newtown, but hasn't made any proposals to change the law.
Still, both bills are considered to have a better chance of advancing in the Republican-dominated Legislature than a proposal by Rep. Alan Williams, D-Tallahassee, who has filed a bill, HB 4009, that would repeal the "stand your ground" self-defense law.
–Jim Turner, News Service of Florida