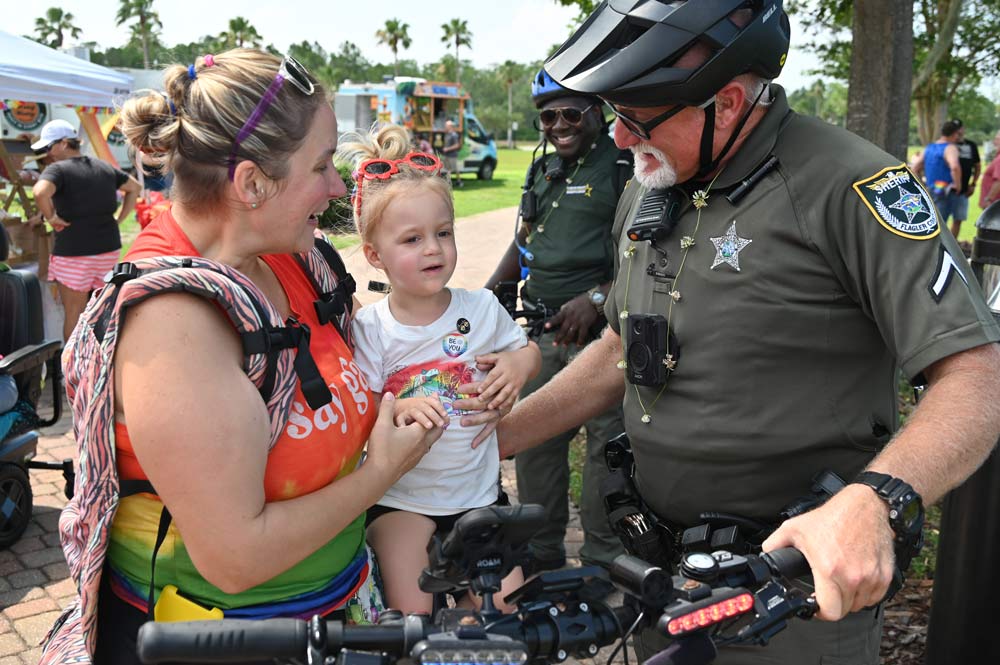 The Flagler County School Board this evening rejected on a 3-2 vote a proposal to arm some school employees on the unfounded assumption that it would improve security. The vote ends a year-long discussion about the so-called "guardian program," as a majority of board members still had too many questions, doubts, and lacking buy-in from school staff.
School Board Chair Cheryl Massaro and board members Colleen Conklin and Sally Hunt voted against the proposal. Will Furry and Christy Chong voted for it. Massaro and Hunt left the door open for adoption in an undetermined future. But just not yet.




"I really don't think we're there yet," Massaro said, citing conversations with school principals as the tipping point for her. "One of the principals in their building has an incredible marksman, won all kinds of awards for their marksmanship and they can shoot. But then in the next breath, I was told they would never let them be guardians. I said, huh? You know, we need people that are familiar with firearms. And they proceeded to tell me: I've seen them in stressful situations, and they are useless. Bingo. Bingo. I like, wow. I mean, that went completely against what I had been thinking."
Another principal reminded her of the time when a staffer and a school resource deputy broke up a fight, only for the staffer (who became a principal) later confronted the SRD, thanking him, but also telling him to not ever do it again, telling him: "Because you are the only person on campus that has a weapon. You're the only person and if that weapon got fired during that struggle, who knows what would happen? Who knows? So that added more thought to my process here. So taking it directly to the people who would be most pivotal leads me to believe we're not ready yet. Are we opposed to the process? Not completely."
The school board had devoted nearly a dozen segments in previous workshops to discussing the feasibility, costs and some of the parameters of the program, and apparently had held a secret session to do so as well: state law allows school boards to hold closed-door sessions to discuss certain aspects of security, but not security policy. The secrecy is intended only to cloak tactical and operational details of a district's safety procedures.




It isn't clear, of course, to what extent the board hewed to those restrictions, since there is no transcript or recording of the session. But Chong cited it to justify her vote, at least in part.
"I'd say for the public's knowledge that, and I hope it's okay to say this, that we've had executive session about this topic where a lot of questions were asked and answers given," Chong said. "That's why you haven't heard a lot about the details because it involves safety and our children."
Had it been adopted, the board would have kept secret from the public, from other employees and from students who would have been armed, whether the person is qualified beyond the district's and the Sheriff's Office's own (secret) evaluations, what weapon would have been in the employee's possession and where, among other concealments. None of those concealments apply to school resource deputies.
Conklin worried about the disparity between the level of training professional law enforcement officers like sheriff's school resource deputies and the training that armed employees would receive–132 hours. Beyond that, there's the matter of "being able to handle high pressured situations effectively," of the higher risk of accidents, having more guns in schools, more possibilities of students accessing guns, and the possibility that it could "make a bad situation worse."
"I worry about the cooperation with law enforcement and whether or not that could be hampered if there is an issue on campus," Conklin continued. "If teachers and staff members are armed it could create confusion during a shooting incident." The program could create a culture of fear of mistrust, she said, as students and employees know that someone, somewhere, is secretly armed.




Saliently, Conklin said, "I've just not been able to find any evidence to suggest that school shootings have been deterred by armed teachers or staff members. In fact, there's been incidences where armed teachers and staff members have accidentally discharged weapons or used them inappropriately putting students and other staff members at risk."
Hunt had spent considerable time focused on school safety since her election last November, but had also raised some of the more notable questions in workshops–in contrast with Chong, who raised virtually none, and Furry, who mostly was chomping at the bit to get the program going.
"Are we today doing our best with what we have in place around safety?" Hunt asked. "Are all of our teachers following the no-doorstops? Are our campus advisors in place today, making sure that all of our exterior doors are locking properly? When that is tightened up, when I know that all Flagler school employees are given clear expectations and held accountable for those clear expectations, I know I would feel better about implementing a program like this."
Furry, an ardent supporter of the program since his election last fall, said the implementation date of the program would not have been before the 2024-25 school year, though the resolution before the board had no such date. Neither Furry nor Chong cited any evidence that the program would improve school security, or diminish the risk of mishaps.
Still, at the end of this evening's meeting, Massaro said the board will get there at some point.