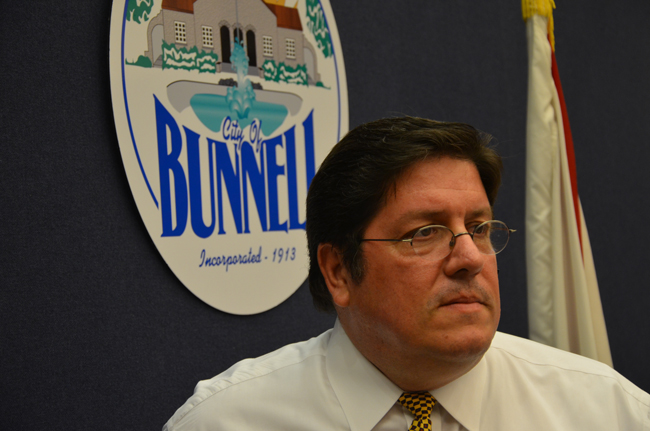 Bunnell City Manager Armando Martinez is among the top five finalists for the police chief's job in Melbourne, a city of almost 80,000 in Broward County where Martinez actually lives–and commutes to and from every day.
"I have my family that lives down there, I have my children and grandchildren," Martinez said this afternoon, as he was waiting to see Bunnell City Commissioner John Rogers at the commissioner's towing business in the city. "If I get told that I don't get selected, I'll be just as happy."
Melbourne's personnel office confirmed that Martinez is one of the applicants, but not that he's made the finalist's list: that responsibility was contracted out to an outside agency, whose results aren't in yet. Melbourne has no set timeline on filling the police chief's job. The job's salary range is $76,182 to $127,953. The previous police chief retired.
Rogers is asking for a special meeting of the Bunnell City Commission Friday "to discuss Mr. Martinez's employment because he's a top-five finalist for a job in Brevard County. He's looking for another job," Rogers said.
Tucker was pressing for a meeting as well. "We need to protect ourselves so that we don't get caught without at least beginning a look for somebody else since Mr. Martinez needs to be closer to his family, and I don't fault him for that," Tucker said. Martinez told Tucker about his job hunting just this morning. "We can renegotiate the contract. This is a good opportunity to do that."
The meeting is set for 6 p.m. in the Government Services Building's chambers, where the commission usually meets.
The mayor had been resisting setting a special meeting, at least on Friday, but had relented by 3:30 p.m., when it became clear that a special meeting could be called without the mayor calling it. (The mayor alone may call an emergency meeting dealing with the suspension of the manager, which is not the case here.)
A little political gamesmanship may have been afoot: To be valid, the meeting needs a quorum of three commissioners. That quorum appeared set just before 3 p.m., with Commissioners Daisy Henry, Elbert Tucker and Rogers agreeing to meet. The mayor, according to the clerk's office, initially could not make it because she has company. (She could not be reached at her home Friday afternoon). Nor could Jenny Crain-Brady, the vice mayor, make it, according to the clerk's office. That changed by 3:30, with the mayor committing to the meeting, though Crain-Brady will be absent, according to the clerk's office.
Martinez's contract is up for renewal. He signed it on Oct. 26, 2009. It may be renewed for two one-year renewals "unless either party gives written notice of non-renewal at least 60 days prior to the end of the initial term or one of the two one-year renewed terms." No severance would be owed if such a notice was given. For the city commission, that 60-day window closes soon. Outside the 60-day window, Martinez would be eligible for six months' severance pay.
Martinez's support on the commission weakened with Rogers's election, which may have compelled the city manager to apply in Melbourne. But Martinez is primarily a law enforcement officer and a police chief. That was his original job in Bunnell, which he took out of retirement, when he had moved to Melbourne. At heart, he's still a police chief. He'd maintained, by contract, his hazard pay and his title as public safety director in Bunnell until the News-Journal raised a question about the constitutionality of his dual jobs–and the city had to concede that he could not keep both the manager's title and the public safety title. Martinez gave up the policing title, but not the pay: the city agreed to bump up his base salary by $7,500, to $116,000.
Martinez said he applied to the Melbourne job a month or two ago. "It's very prestigious. I'm honored. That doesn't mean I have the job," Martinez said, putting his chances of getting ti at less than 1 percent. "But I'll accept it if they offer it." He said the base pay would not be significantly different than his pay as Bunnell's city manager. And he added that either way, he'd be happy with the result, calling Bunnell "my hometown no matter where I'm at."
Commuting to Melbourne has not been an issue, Martinez said, though it has been a cost borne by the city, Martinez's contract grants him a city car at the city's expenses, including gas. The 100-mile one-way trip to Melbourne means that commuting adds up to 1,000 miles a week, or at least $175 in gas alone (assuming 20 miles per gallon at $3.5 per gallon). The annualized cost is close to $9,000, not counting other maintenance for the vehicle. Martinez said he's been gassing up the car two or three times a week out of his own pocket.
Speaking of Bunnell residents on Thursday, Martinez said: "I want them to know that this is only about me being closer to my grandchildren, not about not being here."