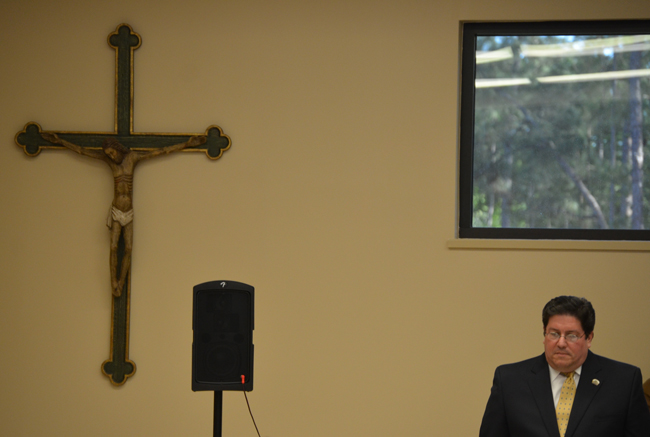 Armando Martrinez, the former Bunnell police chief who became Bunnell's city manager, was fired in June and was un-fired, if not yet quite rehired, this week, says he's not interested in running for Flagler County Sheriff. Not now, anyway.
Manfre had heard of the rumor when asked about it Tuesday, and said he wasn't concerned, being too busy focusing on running the agency. Manfre is only six months into a four-year term, though his election was close and his tenure so far has been rocky, with most of the transition he brought in to senior positions (including the head of investigation, the head of human resources and a commander) having resigned. Several senior staffers fired for various reasons (one of them a sergeant who misused sheriff's office resources to conduct illegal database searches on people on Manfre's staff). And internal reorganizations have defined most of the first six months.
Manfre has been speaking highly of Martinez since Martinez's earliest days in Flagler County, in 2007, when he was a police chief. He was not surprised by the rumor, but not worried about a prospective race against Martinez, either.
On Wednesday, Martinez and Manfre met. Shortly after the meeting, Martinez put it categorically: "I am not running for sheriff and I am not interested in running for sheriff."
Martinez says he's heard the rumor every year, and has no idea why or how it gets started. When former sheriff Don Fleming was in office Martinez said he wouldn't have run against him because Fleming was a friend of his. "And Manfre is a friend of mine, I wouldn't run against him," Martinez said.
Nevertheless, he hasn't ruled out a run entirely. Martinez has always been a cop at heart. But he said a run for sheriff would take place only in the future, if he had nothing else occupying him.
OPn Monday, the Bunnell City Commission reversed itself on a 3-2 vote and agreed to negotiate a new contract with Martinez. His current contract expires in October. The commission, on a 3-2 vote, had opted not to renew the contract two months ago, essentially firing him when his term was up. But commissioners opposing Martinez drew public criticism and rebukes while a senior staffer of Martinez's resigned, citing the commissioners' action.
Two commissioners are up for re-election in March (Jenny Crain Brady, a Martinez supporter, and John Rogers, an opponent). The Martinez question may figure prominently in those races.