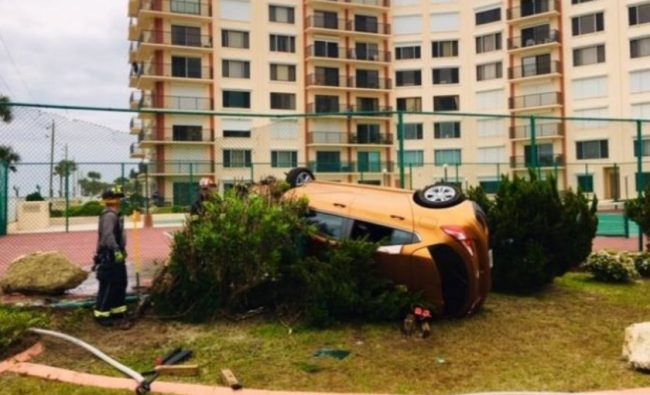 Flagler Beach police had gotten reports about a gold Chevy and its occupant as if casing properties at the south end of town Tuesday morning. Sgt. David Arcieri located on South Central. As the occupant of the other vehicle saw the officer, he gunned it through the residential street. Arcieri followed and activated his emergency lights. The driver didn't slow down, burning through stop signs without slowing or stopping, according to Arcieri's report.
"As the vehicle approached the S curve on A1A–or South Ocean Boulevard–in front of Gamble Rogers State Recreation Area, "the vehicle began to pass cars in oncoming traffic, on a double yellow line, while going around the curve," Arcieri reported. The officer disengaged and alerted Volusia law enforcement as the Chevy was approaching that jurisdiction. The Chevy kept speeding, with Arcieri's eyes on it.
Before long the officer saw the driver attempt a right turn onto Clubhouse Drive. It did not go well for the vehicle, which overturned and ended up on its roof on the south shoulder.
The driver crawling out of the vehicle by the time Arcieri got there was Joshua Allen Reed, a 27-year-old resident of Daytona Beach. Ordered to the ground, Allen allegedly refused and had to be forced to the ground by the officer, where he continued to "thrash around." But, Arcieri reported, "his resistance was easily overcome," and Allen was handcuffed.
Reed had two occupants with him, Brittany Caprilozzi, 32, and Doreen L. Hodge, 34, both of Ormond Beach. A passer-by helped them out of the car.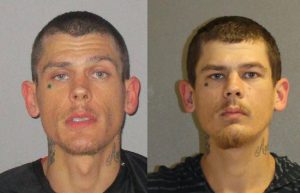 By noon, Reed had been booked at the Flagler County jail on charges of grand theft auto, home burglary, fleeing and eluding, driving on a suspended license, reckless driving, and resisting an officer without violence–three felonies, three misdemeanors. The Chevy he'd been driving had been reported stolen the night of March 11 out of Ormond Beach. And a resident of South Flagler Beach had seen him go into a neighbor's garage and allegedly walk out with a box and leave.
Earlier, the resident, a 52-year-old resident of South 23rd Street, had seen the two women who'd been in the car: they'd gone up to him to ask for money and donations after driving past his house. He declined. They drove on. The resident thought the encounter was odd and "suspicious," according to a Flagler Beach police report, so he kept his eyes on the Chevy. That's when he saw the car stop two doors down and Reed get out and go into the garage.
The resident was later asked to drive by the scene where police had detained the Chevy's occupants and to show a thumbs up if he recognized Reed as the man who'd gone into the garage. The resident did so. "Yes, that's him, you guys got him," he then told police by cell phone.
The owner of the house that was allegedly burglarized told police he was in his kitchen at the time of the incident. The box taken from the garage "has not been recovered," the police report states. It's not clear how it would have vanished from Reed's or the two women's possession.
"This case is a perfect example of our citizens seeing something suspicious and saying something," Flagler Beach Police Chief Matt Doughney was quoted as saying in a release his agency issued this afternoon. "Mr. Reed was targeting homes in our city with open garage doors and mailboxes with outgoing mail. What he didn't count on was alert, concerned citizens that contacted Law Enforcement, which ultimately led to him being apprehended."
While thankful to residents' vigilant eyes, Doughney also urged residents to keep their garages shut even when they're home.
Reed has not been arrested in Flagler previously. But he has a lengthy arrest record in Volusia, with some 16 bookings at Volusia's jails going back to 2010, including three in 2018 alone–for shoplifting, drug possession, resisting arrest, unauthorized possession of a driver's license, and other similar charges. Both Caprilozzi and Hodge, who were riding with Reed, also have extensive arrest records in Volusia.