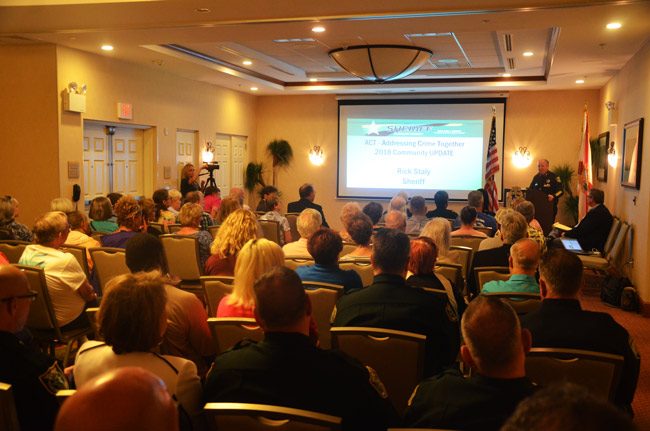 Sheriff Rick Staly spoke of a long list of developments as he summed up his agency's work over the past year to some 75 people assembled for a policing community update at the Hilton garden Inn this afternoon.
Here's a sample: Other than rape and domestic violence, violent crime is down 18 percent in the first quarter of 2018. Burglaries and stolen vehicles are down. Car break-in's are up, but as always, most of those involve owners leaving their vehicles unlocked. School resource deputies will now have their AR-15s on campus, not in their patrol cars—locked behind biometric safes, but more easily accessible during an emergency.
Ankle bracelets are on their way for individuals serving injunctions, enabling alerts to victims when the individuals are too close. Cops' response time in Palm Coast is down below four minutes, from closer to 5, even though calls for service are up 12 percent in the first quarter compared with last year, to 31,531 calls. But there are also 15 additional deputies on the streets, five in Palm Coast, 10 in the county. Inmate health care has been privatized at the jail. White Mustangs—patrol cars, not horses—will soon appear on Palm Coast streets for traffic enforcement. There's a larger and soon-to-be more active marine unit.
The presentation—"Addressing Crime Together"—included a chapter by Bunnell Police Chief Tom Foster and was designed to provide a more transparent perspective on policing, a perspective made easier to present given the generally favorable crime numbers, the series of initiatives the sheriff has launched since his election, and the resulting favorability he's fostered across the county: the turnout he drew today and the applause he garnered along the way (particularly for his on-camera appearance in a folksy video about his "Green Roof Inn" jail signs) underscored that popularity. The acclaim is unusual for any locally elected official. It's not been contrived so much as cultivated through a re-energized agency, that ambitious list of new programs or directions, and a command staff that appears in sync with the sheriff's style of leadership from the trenches.
"We want to engage the community. We're not going to hide crime from you," Staly said. "I believe that an informed community helps us all be safe and know what to look for and how to prevent crime."
The most startling revelation was about the AR-15s, the assault-type rifles that Staly says now every deputy carries, and that will be on school campuses very soon, not in patrol cars anymore. In other words, each school resource deputy assigned to a school will have his or her own rifle inside the school in a biometrically-accessible safe that only the deputy can access with fingerprints. The weapons will be taken out of the schools at the end of every shift and brought back in at the beginning of each shift, making for arresting sights to come as deputies take their weapons to and from their vehicles. Former Superintendent Jacob Oliva had been opposed to the weapons' presence on campus. Superintendent Jim Tager is not.
The presentation, which was followed by a question-and-answer period, was moderated by Joe Saviak, an assistant professor of public management at Flagler College and the assistant director of its Public Administration program. Saviak, who volunteered (and has known Staly for three decades), compared the 20th century model of government services to a vending machine: you pay, you get. That model is over, Saviak said. Today, it's about a "partnership model" that seeks to better inform end engage residents. The Sheriff's presentation was that idea "in action," he said.
And so began Staly's talk through 34 slides, almost every one of them summarizing numbers, programs and developments that have highlighted his tenure, starting with what residents generally are most interested in: crime stats. The numbers seemed contradictory: arrests and bookings at the jail are way up, with an average jail population of over 200, up from the 130s when he took over.
"Now let me tell you what that tells me," Saly said. "I look at self-initiated activity to see if we have a team that's engaged and working. So when I see traffic stops up, it doesn't matter to me if they write tickets, but that's a self-initiated activity. If I see arrests up, in many cases that's a self-initiated activity. So an agency is engaged and working when you see the self-initiated activity increasing, and that's what we see here."
The risk in that is deputies making "self-initiated activity" whether there's probable cause of a crime or not. But if that were the case, the arrests that turn into charges filed by the State Attorney's Office—which acts as a check on policing zeal, a form of quality control, by either ratifying or throwing out charges filed by the sheriff—would reflect it in lower filings. In fact, filings by the State Attorney are up.
The agency filed 120 more cases with the State Attorney's Office in early 2018 than it did in a comparable period in 2017. "But the real important statistic with that is that the State Attorney's Office filed 25 percent more criminal cases than they did the year before," Staly said, "which means that the investigations are better, the quality of the cases are better, and they're willing to file those cases."
The quality of policing would also be reflected in the agency's clearance rate—that is, the proportion of crimes it actually solves. The rate for 2018's first quarter is nearly 28 percent, up from 23.5 percent in the same period last year (which also happened to be the statewide rate): the agency's detectives have been a sharp, if hidden lot.
Staly spoke about the "redistricting" of the county into three districts—one district covering the beach area, one covering Palm Coast, one covering the west side, giving deputies within each district a better chance to develop affinities for their districts. He spoke of the domestic violence task force he initiated and that drew much attention last year (though curiously today's presentation lacked numbers on domestic violence crimes, which Staly has said previously has increased), of traffic enforcement ( "It doesn't matter to me if we don't write the ticket if we can get the compliance") and three developments ahead: the white Mustang patrol cars that will enforce traffic laws in Palm Coast (the cars have no lights on their roofs but do "light up" for traffic stops, and have no markings on the front hood but just on the sides); the ankle monitors that will add a level of security for victims and of alerts for deputies in cases involving injunctions; and a Problem Area Crime Enforcement Team that will focus on targeted problems such as car burglaries, drug raids and gangs.
Foster, the Bunnell police chief, spoke briefly about developments in his nine-officer department (he'd be the 10th), its efforts to diversify ("If you have any good African American candidates we'd love to see them") and its engagement with the community (Foster described himself sitting down with known drug dealers to chat and develop relationships while visiting neighborhoods). But when he'd asked if anyone in the audience was from Bunnell, only one hand went up–that of Bunnell City Manager Dan Davis.
The questions from the audience were all directed at Staly and focused on homeless issues, noise, domestic violence, and being able to report issues anonymously.
The slide presentation in full is below.

Sheriff Rick Staly's and Bunnell Chief Tom Foster's State of Policing