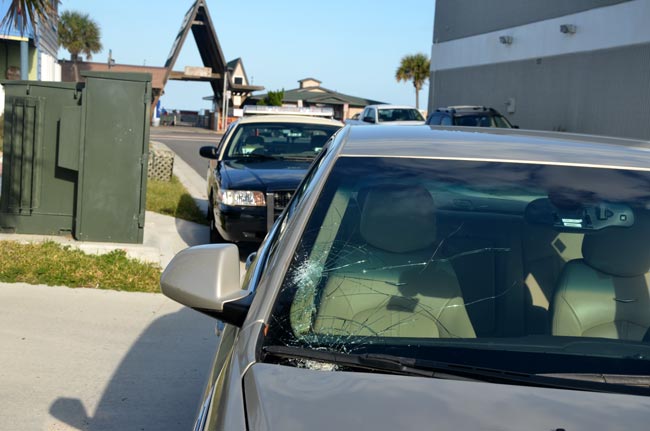 Antonio Brasca, visiting from Ormond Beach, had just been to the Waffle Cone, the ice cream shop on South 4th Street in Flagler Beach, and was walking back with his wife and friends to his car, parked along the boardwalk some 50 yards south of the pier, when he was struck by a car.
Brasca, who's turning 76 next week, was on the northbound shoulder of State Road A1A when a motorcycle going north had stopped to let pedestrians cross. A Cadillac CTS driven by David Carlson, 73, of Palm Coast, traveling north, went around the motorcycle, to the motorcycle's right, to keep driving–and struck the man instead, Florida Highway Patrol trooper Conrad said.
Brasca struck the passenger-side windshield and was thrown violently between the shoulder of the road and the row of parked car. His own car bore the marks of the accident in blood spatters, also visible on the ground. (Brasca was described, in an earlier version, as being thrown into a puddle. That was inaccurate: the ground was dry at the time he was struck. The puddle was the result of rescuers washing down the vehicle of the spatters.)
Brasca was transported to Halifax hospital in Daytona Beach in critical condition (the ambulance sirens did not sound when the ambulance pulled out). "At this time, nothing appears criminal," Conrad said. However, charges are pending.
Troopers were called to the scene at 2:50 p.m. By the time the highway patrol released an official report of the crash Thursday evening, Brasca's condition had been downgraded to serious.