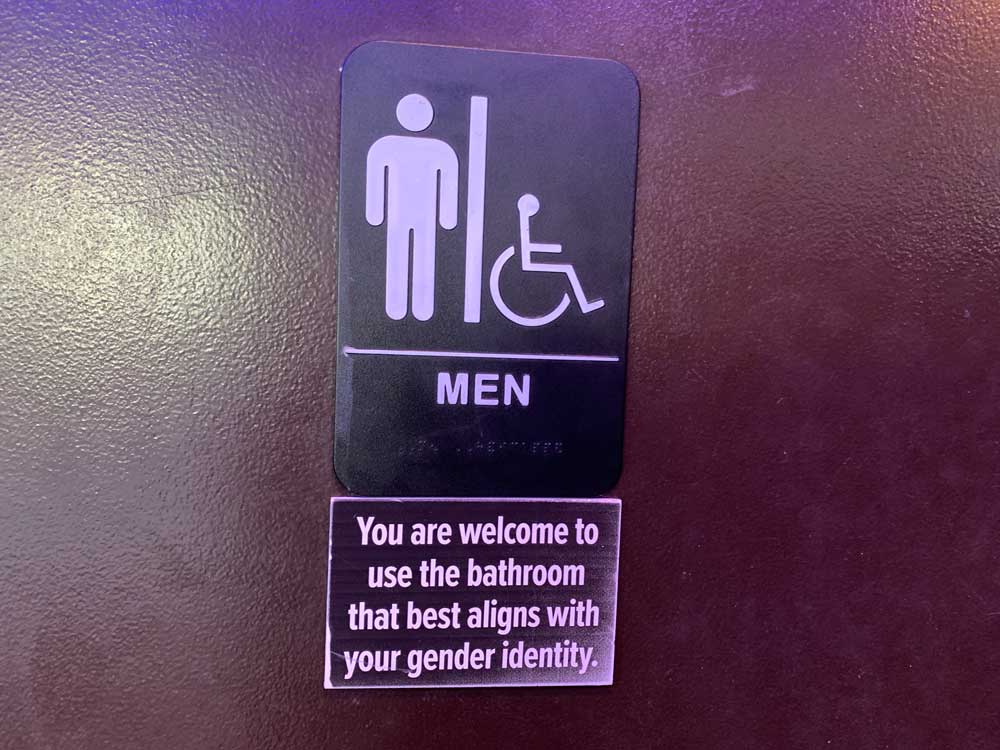 Florida could be next in line to criminalize transgender adults who intentionally enter a restroom or changing facility opposite their sex at birth, according to two bills hastily moving through the Legislature. Similar bathroom bans are advancing through legislatures around the country — some are already expected to take effect this summer.
The American Civil Liberties Union reports a record number of 451 anti-LGBTQ+ bills moving through state legislatures. Of these, eight seek to impede the LGBTQ+ community's right to simply use the restroom, according to their website.




Abdelilah Skhir, the ACLU of Florida voting rights policy strategist, said during a Senate hearing last week that the "mean-spirited" and "degrading" bill invites harassment, abuse, and violence "all for the crime of being transgender and using the bathroom."
He added: "This bill is not about safety in bathrooms. This is about being yet another attack on the LGBTQ community as part of a coordinated, nationwide effort and an obsession of this legislature to push LGBTQ people out of the public sphere — out of sight and out of mind."
Nationwide bathroom bans
Florida is among seven states set on passing bans on transgender students' and adults' use of public accommodations, such as bathrooms, locker rooms, and changing rooms this year.
Under Florida's SB 1674, adults who enter a restroom or changing facility "designated for the opposite sex" and refuse to immediately leave when "asked to do so by another person in the restroom or changing facility," will be penalized with a second-degree misdemeanor, punishable by up to 60 days in jail or a maximum $500 fine.
For someone under 18, refusal to leave an educational institution's restroom or changing facility will be classified as a violation of the Student Code of Conduct.
On Thursday, the Arkansas Senate delivered a bill to the governor's desk that would ban transgender students from using school restrooms and locker rooms that pair with their gender identity. The measure allows for violators to be charged with misdemeanor sexual indecency with a child.




On Tuesday, the Republican-controlled Kansas Legislature passed a bill that would implement some of the country's broadest bathroom regulations. A 28-12 Senate vote was enough to get the measure to the Democrat governor's desk and satisfies the two-thirds majority required to override an expected veto.
A House proposal requiring school districts to provide "separate accommodations" for students according to biological sex on overnight school-sponsored trips also advances in the Lone Star state.
North Dakota's version of a bathroom ban passed in the Senate on Monday. This bill specifically restricts the use of restrooms, locker rooms, and shower rooms in state higher education dorms, youth and adult correctional facilities, and prisons.

In March, Idaho passed a bill eliminating a requirement that public works contractors provide access to a multiple-occupancy restroom, shower facility, or changing room on any basis other than biological sex. This will become law on July 1.
Indiana introduced its bill, making "knowingly or intentionally" entering a restroom designated for the opposite sex a misdemeanor. But it hasn't moved since its first read and Courts and Criminal Code Committee referral in January.
Iowa filed its version of the ban, but the bill was defeated due to a missed committee deadline, according to the ACLU.
Asked and (not) answered
Sen. Erin Grall, a Republican representing Southeastern Florida counties, acknowledged that "a lot" of questions were asked during a Regulatory Reform & Economic Development Subcommittee hearing on the House companion bill.
"Because implementation of something like this, I believe, is important that it's clear, we will be taking feedback and input between now and the next committee stop," she said only one minute into questioning.




Though unsure of what ideas will emerge, she anticipates amendments to the Senate bill before its next meeting.
The House version, HB 1521, is quickly moving through the Legislature. But, unlike the Senate version, it includes an exception for individuals born with "certain genetically or biochemically verifiable disorders of sex development."
Criticized as government overreach, the bill's language raised implementation concerns from LGBTQ+ advocates, Democrats, and even the Rules Committee chair, a Republican.
For instance, covered entities that fail to comply with the new law may be penalized with a licensure violation. This includes public shelters, health care facilities, educational institutions, and public accommodations.
Sen. Darryl Rouson, a Democrat representing parts of Hillsborough and Pinellas counties, asked whether the state Capitol qualified as a "covered entity." An unsure Grall failed to fire back a "yes" or "no," but said she and the staff would meet to clear up the bill's ambiguity — a discussion Rouson said he'd like to be a part of.
'And please, get to the point so we can move on'
Limiting public testimony has been a recurring theme during this year's legislative session. Three hours into the committee meeting, Chair Debbie Mayfield said each person would be granted one minute to "state their case" due to the "limited time."




"And please get to the point so we can move on," she added.
Jon Harris Maurer, public policy director with Equality Florida, said the bill has "no standard for reasonableness" and is a potential "tool of harassment" against the transgender community. In a series of hypothetical questions, he outlined what may happen if he demanded any male lawmaker leave the restroom.
"Maybe they'd say they're in the right restroom — then what," he asked. "Do I get to make them show me some form of identification? Why would the state be empowering me to do that? What if they don't have documentation, or if I decide it's not sufficient? Am I now performing a citizen's arrest, detaining the lawmaker in the bathroom until law enforcement can verify their identification?"
Maurer pleaded with the lawmakers not to empower Floridians to harass transgender people.
"It makes our workplaces less safe while also jeopardizing transgender workers' and patrons' right to privacy," he added. "If enacted, this bill would mean that transgender people will have to make the impossible decision of breaking the law or revealing their private medical information."
The ACLU of Florida opposes the prohibition of gender-inclusive restrooms and changing facilities in schools, private businesses, public shelters, and health care facilities, according to its website.
"Transgender people shouldn't be criminalized for using the bathroom that matches the gender they live in every day," they said.
Did Florida lawmakers think this through?
Florida State University student Kaleb Hobson-Garcia said lawmakers failed to consider trans people with "passing privilege." Garcia asked the female lawmakers to consider him, a law-abiding citizen with a full beard, inside a women's restroom with them.
"It looks like me in the stall, next to women, with my low voice and facial hair," he said. "It looks like me with my characteristics that terrify you when they're seen on trans women. It looks like me bringing discomfort and potentially traumatic experiences to women."
Garcia said this law would put him at risk, as he asked what happens when husbands see him following their wives into the women's restroom.




"This law would open the door to aggressive behavior inside and outside of bathrooms, as strangers demand other people prove their gender, making all people less safe," he said. "And that does include cis people who don't conform to stereotypical appearances for one reason or another."
"If you pass this bill today, know that you are forcing me to use the bathroom with your daughters, wives, mothers, and sisters," he added.
Getting it 'right'
A disabled woman brought another issue to the committee's attention: How will this affect the disabled community with caregivers of the opposite sex inside restrooms?
Another speaker pointed to the bill's failure to outline a standard of proof and questioned whether the wrongly accused could sue for harassment.
Despite public testimony and concerns from her colleagues, Grall said she's committed to getting this legislation "right."
"We need to make this very clear for our constituents, and you have my commitment that that is what we will work to do before you see this bill the next time, and ultimately, hopefully, on the [Senate] floor," she said.
Andrea Mercado, executive director of Florida Rising, said she knows many lawmakers have already made up their minds.
"So, my message is more to the queer and trans people: That we will fight alongside you and that we will do everything we can change who sits behind on that side of the wall" — as committee members.
–Briana Michel, Florida Phoenix