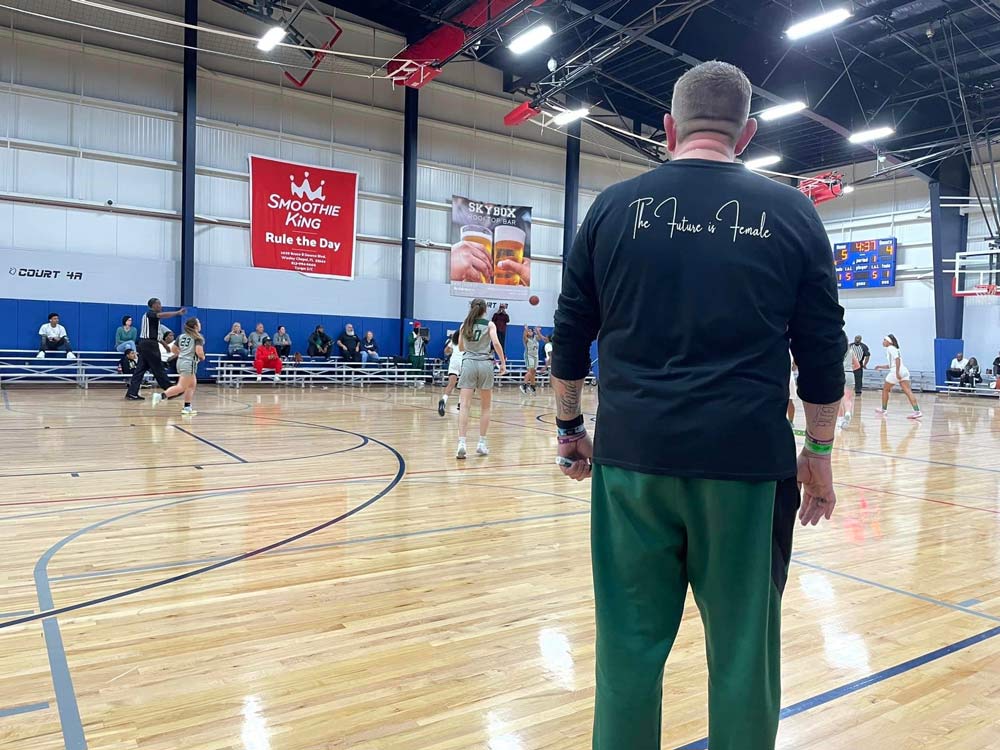 A Flagler County school district investigation of now-former Flagler Palm Coast high School basketball coach Anthony Wagner found that he had improperly supervised adult players he'd invited to practice with team girls, used profanity in team members' presence, mishandled overnight arrangements during a team trip to Tampa last December, and used a cash app the athletic director had not approved for transactions. 
The investigation was the result of a complaint filed by the parent of a student on the team,  strongly bolstered by an assistant coach and supported in some regards by the testimonies of nine of the 12 student athletes the internal investigator interviewed. The financial improprieties were a parallel matter and involved only the improvised use of the cash app, not missing funds, and Wagner had used it openly. 




Wagner had also been a teacher at Buddy Taylor Middle School. His contract has not been recommended for renewal next year. He has filed a grievance. That process is ongoing.  
The parent's complaint had listed many more issues and concerns about a "negative, toxic and abusive team culture he has cultivated at FPC since September 2022" than were sustained in the limited investigation conducted by Bob Ouellette, the chief human resources officer who conducts all internal investigations. 
Wagner acknowledged that his errors potentially compromised the safety of his athletes and conceded that his language could occasionally be foul, but he downplayed the severity of his actions and insisted he treated all his team members like family–a claim not necessarily supported by some of the students' testimonies. 
The investigation, in sum, reveals that Wagner appears to have had no malice or meanness in his conduct. But he was prone to serious misjudgments, one of which resulted in a student spending the night in the same hotel room as an assistant coach and his girlfriend during the Tampa trip, at the Tampa Bay Christmas Invitational–to speaking too freely within earshot of students and spectators. He spoke unflatteringly about Steve DeAugustino, the former and long-time athletic director at FPC who has just been reassigned. And he perpetrated  a harsh, old-school tough-it-up approach no longer appropriate on high school campuses. 




"There is no evidence anywhere that the program or [its] staff is pro-woman in any way," Sue O'Lear, who filed the original complaint, wrote the superintendent in march. "In fact, my initial meeting in the office with Wagner and [Assistant Coach Thomas] Dailey was spent with Dailey telling me his plans for turning the office into a 'man cave' for him and Wagner to hang out in before games. I questioned him about what that had to do with a female athletic program, and he said 'the girls have the locker room to hang out in.' They were told to be a team but were forced to compete with each other for positive attention from coaches, and those who didn't received insults or punishments, or, like my daughter, ended up totally erased and ignored." 
One of the students interviewed told the investigator that "at the beginning of the season she bled through a practice pair of shorts because coach would let her go to the bathroom during practice and he commented that was disgusting." Wagner did not dispute the claim about her having to practice, but called the allegation that he called it disgusting "ridiculous." 
Another student cited the time when three Flagler Palm Coast High School student-athletes were in a severe car crash in Palm Coast–one of them was airlifted to a hospital–and the FPC-MHS basketball game was scheduled. One of the students interviewed for the investigation "stated that at first Mr. Wagner brushed off the car accident that occurred and wanted to play the game that night," according to the report, "but the Principal, Mr. Bossardet, came in the locker room and called off the game."
O'Lear in her complaint stated explicitly that the program "needs female leadership," which the investigator took as a sign of "improper bias."
Wagner, in a five-page, single-spaced statement defending himself against the allegations, saw it very differently. "Outside of my wife and 4 daughters, these players are my family. I look at each student-athlete like they are one of my own children," he wrote. "Our Coaching staff has been there for them through some of the hardest times of their lives. We have been the shoulders they cried upon when their parents split up, when their parents got divorced, when they are having problems at home, when they are having issues with peers, when they are struggling with life and the things they go through, when they need someone to talk to. We look at our roles as more than just basketball coaches, we are trying to not only develop these young people into competitive athletes, but also trying to equip them with skills that they can utilize to be successful in all areas of life. This is something we constantly preach to them."




Wagner in an email shared a text from one of his student-athletes: "Hey wagner… I see everything going on, and I want you to know that I really did enjoy you being my coach even with the ups and downs. I don't completely understand why she is doing all of this," an apparent reference to O'Lear, "but I really just wanted you to know that you are a great coach and you gave us time that you could've been spending with your family and I greatly appreciate that:)
Parents and former assistant coaches made "multiple allegations of misconduct" against Wagner, but the investigation, Ouellette wrote, did not focus on aspects "more specific to coaching style, temperament and best practices." 
There was no question, for example, that Wagner allowed his assistant coach and his girlfriend to stay in the same hotel room they shared with the team's equipment manager–a student–in Tampa. 
Students reported to the investigator that "Wagner has a temper and swears all the time," but the same student said that all coaches do, suggesting that Wagner's conduct was standing out only because of the investigation. But almost every student on the team that the investigator interviewed described Wagner using foul language to one extent or another–and all of them said (as Wagner said) that it was never directed at any single player. But some were specific, saying he referred to the junior varsity team as "trash" or "shitty" to the point that one of the students did not want to ride home on the bus from an away game. The students reported that his swearing was also heard on the bus. 
One student stated that "Mr. Wagner doesn't see us as people first," citing an example many students and O'Lear cited: the athletes were required–or forced, in some interpretations–to wear shoes that were too tight-fitting. Some students bled in their shoes. Wagner, according to some, told them to "suck it up." 




Students said he was better disposed when the team won, but also described him as sulking when he felt the team would lose: "He was only nice to us when we were winning," a student wrote. "If we were having a tough game he went right back to usual. Yelling, insulting, pouting, negativity." 
O'Lear had encouraged students to email the administration to complain about Wagner, who may have had legitimate reasons to think that O'Lear was gunning for him. But the investigator focused on one-on-one interviews with the students, not their emails, and the allegations about an unhealthy environment were especially supported by Amanda Tyminski, an assistant coach known as Coach Amanda. 
"Nothing in this program teaches these young ladies on how to be acceptable, decent, respectful, understanding human beings," she wrote Bobby Bossardet, the principal at FPC, in early February, before the investigation. It was one of several complaints that went to the principal. (O'Lear complained that Bossardet did not respond until the complaints moved up to the superintendent's office in march.) 
"None of this reflects the purpose of the FPC Girls Basketball Program," Tyminski continued. "The program is meant to be more than just basketball. It's supposed to be a safe place that young females can go to play ball, confide in each other, be themselves without judgment, be guided into adulthood by genuine adults that want to see the girls succeed with no conditions. It's supposed to be a positive staple in these girls' lives, not something that they dread every day. It's supposed to be a place free of anger and prejudice. Every single one of these girls, want all of this, need all of this. They need this program to keep them from taking a negative path in life. To some, it could very well be a matter of life or death."
The issue with the unsupervised adult players developed after the team's trip to Jacksonville, where the team went to a camp hosted by Edward Waters University. Two college students who live in Volusia County subsequently practiced with the FPC team at FPC–one of them just once, the other several times–and a romantic relationship developed between one of the college students and one of the student-athletes. 




Ouellette reported the issue to the Department of Children and Families, which declined to investigate: though the college student was over 18, dating a minor who was over 16, there was no criminal issue in play, since the college student was younger than 24. But there was a different matter of safety: the two college students had not been "badged," or cleared as volunteers, to practice with the team–an error Wagner also acknowledged. 
"Again when I look from a different perspective, I can see the potential of something happening," Wagner wrote. "It is my mistake that I take my trust in people whom I know very seriously, and would never put the players in any danger, however, I can not look at it that way and have to look at it as how it can be perceived by others outside of the team. If I could go back with the perspective I have now, I would definitely make different decisions/choices for both situations. Although they are unique and different they still represent safety, and the last thing I want is for anyone associated with our program to feel unsafe or uncomfortable."
He defended his use of the cash app, which he said was the result of students asking for ease of payment at the concession stand and during fund-raising at Publix, where many donors said they needed the app to contribute. He said he had spent up to $500 of his own money, never reimbursed, to support team activities. 
"I realize I need to change my perspective, which I have done so," Wagner concluded in the statement in his defense. "Going through this process since Aug. 7th, answering to many of the same allegations over and over and over again has taken its toll on me. It has led me to question if what I am doing is right; if I should be coaching because I no longer feel the joy and excitement. I still want to see the players be successful and will do whatever I can do within reason to help facilitate that, but as far as coaching is concerned I don't feel I have the drive to do it anymore. To be constantly harassed and done so without support really knocks you down. If I do return to the sideline though, I know it has to be different, the decisions I make have to be done with more thought into what is the worst that can happen and not with what's the best thing that can happen." 




Officially, Wagner received a written reprimand. It was not his first. He had also received a written reprimand as a result of an unrelated, previous investigation in his capacity as a teacher at Buddy Taylor Middle School.
The district's investigation concluded on May 15 that Wagner "acted inappropriately and/or unprofessionally" and was turned over to the Professional Practices Section of the Florida Department of Education, which may follow-up with its own investigation and consequences. That division oversees teachers' licenses. 
One of the emails in the investigative file dating back to February, apparently from O'Lear's daughter, had outlined many of the same issues and elaborated on many more, concluding on a more personal note: "I don't talk about this anymore. I try not to think about it. Even writing about it is bringing me back to a time when my mental health sank. He broke my trust, abused me and others, and destroyed me and my love for the game. When the final buzzer sounded in our last game, I wasn't sad or disappointed. I had a weight lifted off my shoulders. I felt like I could breathe again. I never felt safe around him. My guard was up 24/7 and it's exhausting. I was in such a dark place mentally because of him. I was relieved it was over. And I didn't have to talk to him ever again. Be near him. He could no longer hurt me. It was the first time I felt safe in a long time. This man is not fit for a head coaching job."