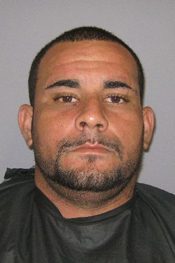 Anthony Gunther, 26, of 3748 Lisa Lane in New Smyrna Beach was arrested shortly before midnight Monday after Flagler County Sheriff's deputies found him inside the yard of an automotive repair shop in South Flagler County.
Gunther was released Tuesday morning from the Flagler County jail after posting $5,500 bond on charges of grand theft over $300, burglary and driving with a suspended driver's license.
Deputies were dispatched to Dave's A1 Auto Shop on County Road 200 in response to a report of a burglary in progress at 11:48 p.m. Monday night. Deputies said when they arrived, they found the office building secure, but one deputy noticed a flashlight glowing from inside the fenced lot.
While deputies searched the lot, another deputy located a suspicious vehicle on U.S. 1 near County Road 200 that was loaded with vehicle parts that could be seen in the truck bed.
Deputies said the truck Gunther was driving was loaded with used wheels with tires, a used vehicle rear end and several other vehicle parts. Deputies also found a flashlight inside Gunther's truck.
The owner of the auto shop arrived at the scene and identified the rear end and other parts, worth about $1,000, as having been stolen from his lot.