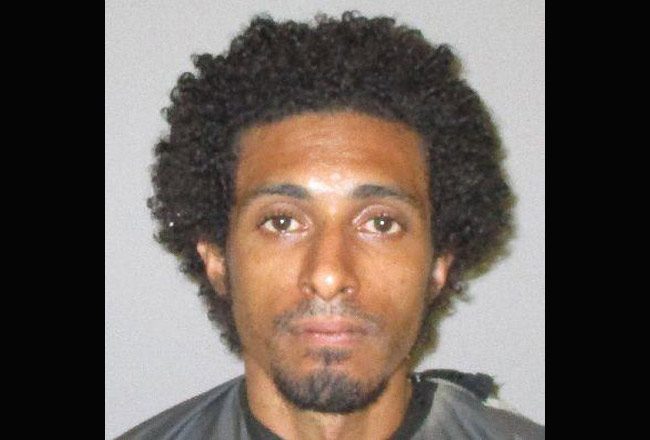 Anthony Eason, a 35-year-old resident of Port Echo Lane in Palm Coast with a history of arrests involving weapons, threats of using weapons, domestic violence and hiding from police, was again arrested Sunday, hiding in his bedroom, after allegedly threatening a 17-year-old neighbor with a gun.
The 17-year-old told a Flagler County Sheriff's deputy that he had been friends with Eason, but that after returning from Georgia that day, felt that Eason had broken into his house across the street. When the younger boy approached Eason on Eason's property at 38 Port Echo Lane, Eason was wearing a gun in a shoulder holster. Eason "got agitated" when the neighbor asked him about breaking in, according to Eason's arrest report, then took out the firearm "and reached his left hand up cycling the bolt and chambered a round," according to the report. He then allegedly pointed the gun at the 17 year old and told him to get out of his yard before he shoots.
The boy, according to the report, "blew him a kiss and told him to shoot" before going back to his house and calling police. The boy's father told the deputy that he walked out of the house only to see Eason pointing a silver-looking handgun at his son's chest, then yelled out to Eason to tell him that if he was going to shoot anyone, to shoot him instead.
Another neighbor a lot further down told the deputy that she was outside, saying goodbye to her grandchildren, when she heard a loud argument between the younger boy and Eason. She noticed the holster and "what looked like a pistol in it," then, according to the arrest report, "heard a click and observed him bang the holster" while the boy's sister was screaming to her parents that Eason had a gun. The neighbor then ran inside.
Another deputy approached Eason's house and began calling out on a PA system for Eason to come out. Eason did not. The deputy turned on his lights, blew an air horn and repeatedly called on Eason to come out. Eason did not. Deputies called Eason and his girlfriend, who eventually provided a house key. As deputies searched the house, they found Eason hiding under the bed in a back bedroom. He told the deputies he was scared because he is on probation, though hiding from cops is in itself a potential offense, which then would turn into a probation violation.
Eason said the neighbor came to his house to accuse him of breaking into his house and placed a folding knife on a cabinet, inviting him to fight, when the boy's father came over and pulled his son back into their yard. But the younger boy returned, according to Eason, this time with a baseball bat, throwing it at Eason's house. That's when Eason said he pulled the gun—a BB gun, he told deputies, but he denied pointing it at the 17 year old. The BB gun was located in the house. The knife and the baseball bat were not.
He was charged with aggravated assault and resisting arrest and booked at the Flagler County jail, where he remains on $10,500 bond.
It was his fifth arrest in eight months. Last September, he was arrested on a charge of domestic violence battery involving his 31-year-old girlfriend of four years. They were arguing, she accused him of smashing out the rear passenger window and windshield on her car, pushing her, slapping her and punching her. The charge was dropped. In January, he was arrested on an obstruction charge after hiding in the house when deputies showed up to serve a warrant out of St. Johns County. He was found guilty on that charge and required to serve 30 days in jail.
On Valentine's Day in February, Eason was again arrested on a domestic violence charge after he allegedly struck his girlfriend. She told police she had been depressed because the Department of Children and Families had taken away her children, and because Eason had made no plans for Valentine's Day, so, to provoke him, she said, she called him a racial epithet. had provoked him. When police got to the scene, she told deputies that he'd fled through the back yard. He later told a deputy he was not hiding, just walking in the neighborhood.
A week later, he was arrested for violating a no-contact order with his girlfriend, and resisting arrest: he was again found hiding in the attic. The charges were dropped.
In March, Eason was found guilty of the Valentine's Day domestic battery charge, and sentenced to 12 months' probation.