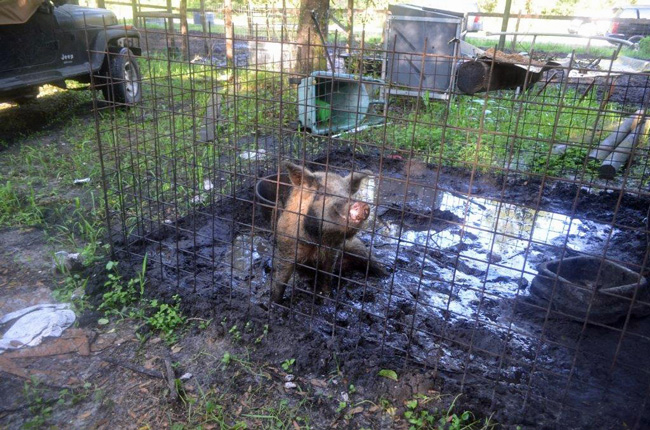 Two Flagler Estates residents, Tammy Marie Denes, 40, and Donald E. Dunbar, 40,  are each facing 39 counts of animal cruelty after the large animals they were responsible for were found to be held in poor and  neglectful conditions.
St. Johns County Circuit Court Judge Charles Tinlin on Wednesday awarded the St. Johns County Sheriff's Office the 39 large animals it had seized on Aug. 22 from 10020 Nikolitch Ave. in Flagler Estates. The development straddles the Flagler-St. Johns County line. The house where the animals were seized is on the St. Johns side. In all, 17 cows, nine pigs, 11 goats and two horses were removed after deputies were called to the residence following a report of neglect, the sheriff's office reported today.
The judge found that Denes and Dunbar were the owners of the animals and were unable to care for them. The animals were awarded to the sheriff's office to be offered for auction and will be announced to the public at a later date. Individuals who have the ability to provide for these animals are encouraged to attend that auction.
Tinlin also ordered  Denes and Dunbar  permanently enjoined from owning animals until they can demonstrate to the court the ability and willingness to provide adequate food, shelter, space, and veterinary care for  animals. They were fined nearly $5,300, payable to the sheriff's office, for the animals' care since the office took possession of them.
Denes and Dunbar are free on bonds of $39,000 each pending the criminal case.