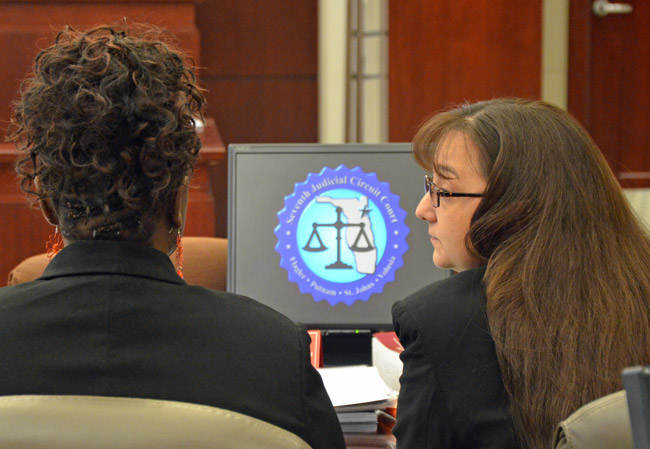 A defense attorney threw a flurry of verbal jabs in the first day of a trial on March 27, trying to shift blame from the wife of a Flagler County sheriff's deputy to the former employer she's accused of stealing from over three years.
Angela Wray wore a black blazer and tan slacks as she stood trial on a charge of embezzling $58,964 from Celico Auto Body in Bunnell from June 2007 to February 2010.
Defense attorney Regina Nunnally tried to throw suspicion on the business finances of Carlo Celico by questioning legitimate business expenses, as well as bounced checks and unpaid bills Celico said were caused by the embezzling.
"It goes to motive," Nunnally said of her line of questioning.
The defense attorney's verbal jabs failed to hit their mark, never seeming to cast doubt that Wray stole the money. Instead, the defense questions seemed to highlight the havoc caused by the thefts.
Prosecutor Jennifer Dunton opened the trial by urging the jury of six members and one alternate (five women and two men) to "follow the money." Dunton told the jury how Carlo Celico first met Wray at a party for sheriff's deputies. Celico is the father of two sheriff's deputies, including the late Sgt. Frank Celico, who died in 2011. Celico had lost his bookkeeper and Wray's husband asked him at the party to hire his wife.
Wray's duties included answering phones, accepting payments and writing checks using a rubber stamp signature of Celico's name. "He trusted her," Dunton said. "This trust he placed in Miss Wray was a grave mistake."
Celico said he didn't monitor Wray's work or his financial records very well. When checks bounced, insurance was canceled and taxes were overdue he initially blamed the recession, higher materials costs and the loss of a major customer. Finally, he noticed some checks listed as payable to a vendor in the business ledger, but the actual canceled check was made out to Wray. Celico called the Flagler County Sheriff's Office, which cited a conflict of interest because of Wray's marriage to a deputy. Then he called the Florida Department of Law Enforcement.
The prosecutor said Wray's embezzling was often poorly disguised. "If you follow the money, this is an easy case," Dunton said. "Did you ever authorize the defendant to make out multiple checks in a pay period to herself?"
"No," Celico responded. "She was taking more money than me."
Defense attorney Nunnally did her best to complicate the case with lengthy questions about the finances of Celico's business. "This story has chapters," Nunnally told the jury. "It's going to point straight back to Mr. Celico and him only." Nunnally tried to create suspicion about multiple payments to suppliers, which Celico said were for paint and other supplies, and payments between pay periods to freelance workers, who Celico said were paid after their work was completed. In response to the defense attorney, Celico said he was not accusing Wray of paying other employees more than authorized.
"The only thing I'm accusing her of is the checks made out to her," he said.
The defense attorney tried to impeach a statement by Celico that Wray never asked him for a loan and never talked about her own financial problems. Nunnally claimed Celico hesitated when answering the same question during a March 2012 deposition. However, his answer then was also "no." "That's not impeachment," Judge J. David Walsh said.
The defense attorney tried to cast doubt by quizzing Celico about a lawsuit filed against him by a supplier. Celico said he had broken a contract and switched suppliers. The lawsuit has been settled, he said. Nunnally continued to press Celico about his finances.
"I could understand one or two, but a hundred checks?" Celico said.
"But thousands of checks come out of your business," Nunnally said.
"But a hundred checks were made out to Angela in addition to her paycheck," Celico said.
Nunnally said only 30 checks went to Wray.
"Does it make a difference?" Celico said. "Thirty or 40 is still theft."
David Brock, a Florida Department of Law Enforcement special agent called to the stand, said he found 127 instances of theft from June 2007 until March 2010. In addition to checks made out by Wray to herself, Brock tracked money stolen to checks Wray made to Capital One credit card, GMAC and Chase Auto Finance accounts. The FDLE agent's investigation determined there was no ledger record for some checks, but he was able to trace company money to Wray.
"There were checks cashed at both Walmart and Publix supermarkets," as well SunTrust bank, Brock said. Fifteen checks were cashed at Walmart, seven at Publix and six at SunTrust.
"Do you recall which name was on the back signing the checks?" Dunton asked.
"Essentially it was Angela Wray," Brock said.
Defense attorney Nunnally followed up with lengthy questions showing that Wray only sometimes used embezzled company money to make her payments.
After being quizzed about his method of investigation, Brock said, dovetailing the prosecution's theme: "I was able to follow the money."
"So it wasn't very difficult," Nunnally said.
"Right," he said.
Attorneys were restricted from mentioning a previous third-degree felony theft charge against Wray in New Jersey, in a case that in its essence echoed the one involving Celico: an embezzlement case. But no mention to the jury was allowed of the arrest in New Jersey, nor of Wray's guilty plea and conviction.
But Robert Hathaway, of Mountain Landscaping in New Jersey, where Wray had worked, was permitted to testify. Judge Walsh allowed discussion of problems with Wray's bookkeeping when she worked for Mountain Landscaping, but instructed the jury that Wray was on trial only for the charge of stealing from Celico Auto Body.
"Angela was an employee of mine" from 1999 to 2006 he said. Hathaway said he was generous with Wray, loaning her money and even paying bills for her at times. He discovered the theft in 2006 while working on 2005 taxes when the "books were grotesquely out of order."
"Literally hundreds of documents destroyed or misrepresented in the ledgers," Hathaway said. It took a lot of time to reconstruct his finances, he said.
"There was some substantial theft and fraud uncovered," Hathaway said of his New Jersey business. Many payroll checks were not recorded. "They were all Miss Wray's checks. Some weeks she double-paid herself. It amounted to more than $40,000." It was $47,000.
Wray had automatic deposit, so the Mountain Landscaping investigators could follow the money to Wray's account. Additional losses were incurred because documents were improperly identified, Hathaway said. Despite its limitation, that testimony could prove difficult for the jury to overcome.
During the investigation, Hathaway called Wray on the telephone twice at the behest of law enforcement to gain information for the case in New Jersey.
"While you're making these calls to her, she has no idea she's being listened to by the prosecutor," Nunnally said.
"Yes," Hathaway said.
Nunnally continued, "When you asked her if she took money from you, you believed her, right?"
Hathaway responded, "Yes, I knew for a fact she did."
The defense attorney questioned Hathaway about not filing income tax returns in 2005. Hathaway said returns could not be filed for several years because the thefts and document destruction left his books in terrible condition.
Responding to assertions by Nunnally, Hathaway said, "I never gave her any extra paychecks. She paid herself three times in one week some times. The extra paychecks were destroyed. That's why it took so long to uncover."
Although Nunnally made an issue of unpaid taxes, Hathaway did not initially pay taxes on fraudulent paychecks destroyed by Wray because he did not know about the payments. The taxes have since been paid, he testified.
Dunton rested the prosecution's case after 4:30 p.m. The trial was scheduled to resume 8:30 a.m. on Thursday with motions by attorneys. The jury is set to reconvene at 9 a.m. when the defense will present its case. Judge Walsh said he hopes to give the case to the jury in the afternoon.
"Please do not discuss the case with anybody," Judge Walsh told the jurors before breaking for the day.