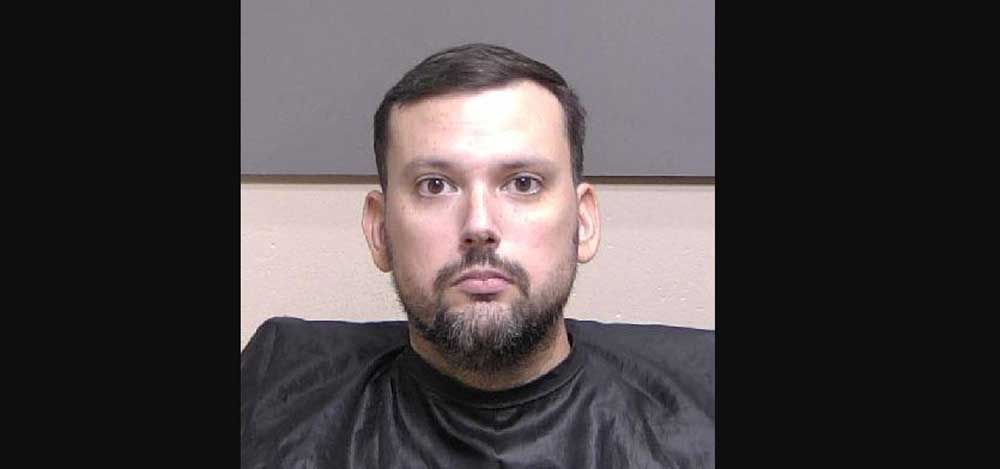 Andrew Craven Mintz, the 34-year-old Palm Coast man at the center of a three vehicle crash that narrowly missed several local officials and a child near the pier in April, turned himself in at the Flagler County jail Friday evening, six weeks after he was charged.
Mintz was booked on two charges and released on $100,000 bond.




He was driving a two-door 2012 Honda the morning of Saturday, April 1, just as the Flagler Beach All Stars were about to begin their monthly beach clean-up at the pier. The clean-up was led by Flagler Beach Mayor Suzie Johnston, Commissioner Eric Cooley and former Mayor Linda Provencher, all of whom were at the intersection of State Road 100 and State Road A1A, on the sidewalk, when the crash took place a few feet from them. (See: "Andrew Mintz, Man at Center of Head-On Crash at Flagler Beach Pier, Faces Felony Charge.")
Mintz was spotted by two law enforcement officers on A1A shortly before, speeding down the highway recklessly, passing cars on solid-yellow lines and narrowly avoiding head-on crashes, according to his arrest report. He was first spotted by a sheriff's deputy in the Hammock. That deputy tried to follow Mintz but quickly lost sight of him, advising of the situation on the radio.
Mintz was again spotted by a Flagler Beach police officer on patrol in the city, who turned on the patrol car's emergency lights at North 18th Street, where the officer reported seeing the Honda going 90 in a 45. The officer followed Mintz for 30 seconds with lights on, before deactivating the pursuit in accordance with agency policy. Shortly afterward, Mintz, passing a stopped car at the SR100 intersection, crashed head-on with a vehicle that was in the opposite lane of travel. He was seriously injured and taken to Halifax hospital in Daytona Beach.




The Florida Highway Patrol filed a reckless driving citation, then dropped it: on April 14, the State Attorney's Office filed both the second degree felony charge of fleeing and eluding police and a charge of reckless driving with damage to person or property, a first degree misdemeanor. If Mintz is found guilty, he faces up to 15 years in prison on the felony charge, up to a year in jail on the misdemeanor charge.
Even with a guilty finding, he is unlikely to be sentenced anywhere near 15 years in prison, especially since there is neither an allegation of drunk driving nor was there a serious injury, other than his own. The property damage was to three vehicles and a Department of Transportation sign that had recently been installed.
Assistant State Attorney Tara Libby is prosecuting the case. The witnesses she is listing so far include all five individuals who had been in the two other vehicles involved in the crash and three law enforcement officers, but none of the city officials who had been on the sidewalk. Mintz is represented by Daytona Beach attorney Aaron Delgado, who has filed motions to dismiss and toi suppress statements Mintz may have made to police. The motions are typical in such cases and are usually denied by the court.
Mintz listed his address as 90 Florida Park Drive in Palm Coast. The location is at the center of an ongoing civil action Mintz faces, initiated by his partner of more than seven years just days before the crash. Mintz's partner had on March 24 revoked his consent for Mintz to live there. Mintz, who listed in address in Marietta, Ga., in his answers to the filing, is contesting the claim.
Neither the civil case nor the criminal case have court hearings scheduled yet.