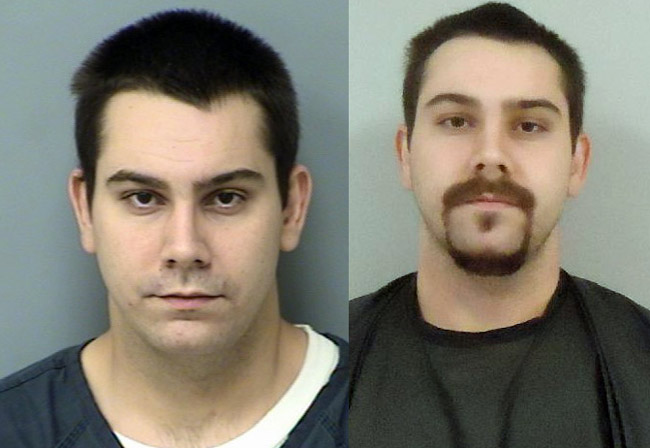 The St, Johns County Sheriff's Office confirmed that Andrew Dane Dandurand, an inmate at the St. Johns County jail who attempted suicide by hanging on July 11, died from his injuries this evening (July 16) at Flagler Hospital in St. Augustine.
False rumors and announcements of his death began appearing on social media late Sunday and Monday, confusing–and angering–friends who knew him. Dandurand had had a troubled life since his father's death when he was not yet a teen, a friend recalled, had himself become a young father, but had difficulties adjusting.
He had been in jail in St. Johns since June 15, after threatening to kill his ex-girlfriend, her boyfriend and himself with an assault rifle–and allegedly keeping from a shooting spree at his ex's house, he later told police, because he feared children were present.
The earlier story is below.

Suicide Attempt in Jail: Suspect Arrested For Threatening To Kill Ex With Assault Rifle Is In Critical Condition
July 14–A month ago Andrew Dandurand, 24, a resident of Palm Coast's R-Section, was arrested after getting hold of an assault rifle and allegedly threatening to kill an ex-girlfriend, her boyfriend and himself. After a chase, he was eventually arrested and jailed in St. Johns County, on $500,000 bond.
Friday evening, Dandurand attempted suicide at the St. Johns County jail by hanging himself with a bed sheet. He remains in critical condition at Flagler Hospital in St. Augustine.
Detectives with the St. Johns County Sheriff's Office Robbery/Homicide Unit are conducting a preliminary investigation into the suicide attempt. The initial response, according to the St. Johns County Sheriff's Office, occurred just before 5:50 p.m. on July 11 after corrections deputies found Dandurand unresponsive and not breathing in his cell, where he was housed alone. Dandurand was on his knees and had a sheet around his neck.
Deputies reported observing Dandurand 20 minutes earlier and found no issues. Deputies immediately began to perform life-saving measures and summoned for St. Johns County Fire-Rescue. Once on scene, Fire-Rescue personnel evaluated Dandurand and transported him to Flagler Hospital.
On June 15, St. Johns County deputies began a search for Dandurand after receiving information from Flagler County deputies investigating the case of a possible stolen assault rifle. Once St. Johns County Deputies located Dandurand they discovered he was armed with the stolen rifle, a loaded SKS semi-automatic weapon of Soviet make. Dandurand was arrested and charged with felony charges of fleeing and attempting to elude law enforcement and aggravated stalking.
Subsequent to his arrest in St. Johns, he was again booked on charges in Flagler–on June 27, on charges of felony contempt of court and violation of a pre-trial release agreement.