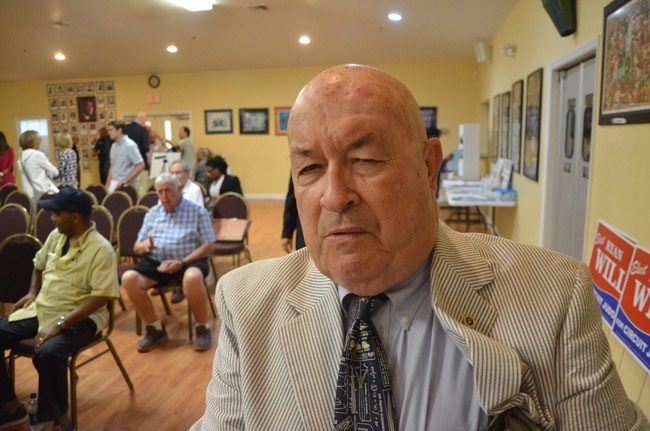 Palm Coast City Council member Jack Howell speaks his mind. He can be undiplomatic, coarse and brutal. That's his trademark, a manner leavened by sincerity and a complete absence of malice: his opponents or critics find themselves embracing him even as he plunges the bayonet in their chest. Inevitably, occasionally, he goes a stab too far.
Howell called his four colleagues on the city council "four idiots" during an emotionally charged comment period at an open meeting of the Palm Coast Democratic Club Thursday evening. He's been serving on the council since last November–a council that may have its faults, though lack of IQ is not among them.
Friday morning, Howell, who did not dispute using the characterization, apologized and said he was wrong, attributing the language to his PTSD and to the emotionally charged issue under discussion–and how the council dealt with the issue two years ago, before Howell was elected.
The Democratic club was holding its monthly meeting at the African American Cultural Society Thursday evening, with Ernie Gallo as guest speaker. Gallo is a survivor of the 1967 Israeli Air Force attack on the USS Liberty during that year's Arab-Israeli war. The attack left 34 American sailors dead and 174 wounded. Israel said the attack was an accident. Official American military history says likewise, though the incident has also generated copious claims, among them Gallo's, that the attack was deliberate.
That the ship was attacked and that it took a heavy toll has never been in dispute. To that end, Gallo sought to have a plaque "Dedicated to the Brave Men of the USS Liberty" installed at Palm Coast's Heroes Park. The city's Beautification Committee over a lengthy process approved the plaque and its emplacement. But then-City Manager Jim Landon diverted the process, turning it into what he called "a policy issue" he said would be "best decided by city council," even though such plaques or monuments are not normally channeled to council votes–and no policy was in play. Landon inaccurately said the plaque commemorated an "event" (it commemorates fallen soldiers, as other monuments as Heroes Park commemorate fallen officers or Purple Heart recipients, each associated with the "event" that caused the death). Landon never told the council of the plaque's long trek through the Beautification Council's approval process, nor of its being unanimously approved there. The council then rejected the plaque's installation. (The story was reported in August 2017.)
Gallo spoke of the Liberty and of the plaque's history at the club meeting Thursday evening. Then Howell, a retired Marine colonel who's been in combat in Vietnam and is the recipient of a Purple Heart himself (among other honors), spoke and said he would do what he could to bring back the plaque.
"Please understand that I'm working with four idiots," Howell said, according to Gallo and three other people who said Howell characterized his colleagues as "four idiots." Howell himself this morning did not dispute saying the words and immediately apologized, recognizing he should not have spoken that way.
Why did he? "Because they don't listen," he said. "I was frustrated over this whole thing. They don't listen. And I didn't mean it in that sense, but I was all riled up because of the seriousness of this event and because this was taken away from this guy before by Mr. Landon and nobody raised a shekel for it, so for that I would apologize, for calling them idiots. I was just emotionally wound up. I was just emotionally upset over that deal, and I know I'm going to have a hell of a time educating my colleagues, they don't understand, none of them are veterans." Howell compared the issue to the planned "splash pad" at Holland Park, which the council approved last month and which he opposes, saying–based on his experience in Jacksonville–that it will be a magnet for injuries, costly lawsuits and a maintenance nightmare.
"I was wrong, but I put on my big pants, and I let emotions get to me," Howell said, "but as a guy that's got PTSD and a guy that's got a Purple Heart, I understand exactly what the survivors of the Liberty went through, having been wounded, then to have officials disregard that for some reason."
Gallo said he took Howell's remark as more joking frustration than an intentional slight. "He's a former Marine colonel, to any veteran, especially somebody like him who has a Purple Heart and understands the USS Liberty, which was issued 208 Purple Hearts," Gallo said. Howell, he said, sees "how this is a problem to begin with. I understand his frustration and if these four other people can't understand the simple fact of having this plaque installed at Heroes Park, I can understand it, that's all I can say. I agree, name calling is not the way to get something done."
Gallo said that Landon in his office had told him that he would approve the plaque if Gallo agreed to an edited plaque. "He told me in his office that if we could remove 'attack from Israel,' then we could have the plaque, and I said no, it's a fact of history." (Even Israel does not dispute that the ship was attacked, characterizing it as an accidental attack because the ship was ostensibly mis-identified.)
Bill Moya, who regularly attends club meetings, said Howell "was adamant, he was going on, he's just like me, temperamental. But yes, he wanted to support the plaque but said I'm the only one doing it, I'm the only one for it."
Howell had brought Matt Morton, Palm Coast's city manager, to the meeting, but according to several people who attended the meeting, Morton had left just before Howell's comment about his colleagues. Morton said he thought he was going to a veterans' club meeting, and considered not attending the meeting once he realized it was a political meeting, but Howell urged him to listen in. Morton said he agreed to listen to Gallo's presentation–which had a direct connection to council history–and left immediately after Gallo spoke.
Bob Coffman, president of the Democratic club, said he was interested in having Gallo as a speaker only with regard to the memorialization of the Liberty's shipmen. He said it was a matter of "advocacy of memorializing fallen soldiers and not too far wandering into whether the attack was intentional or not. That's not a political, that's a historical truth seeking issue, it's not a 2019 political issue. I tried to not censor what Ernie had to say but at the same time what our interest as Democrats is to support the fallen warriors."