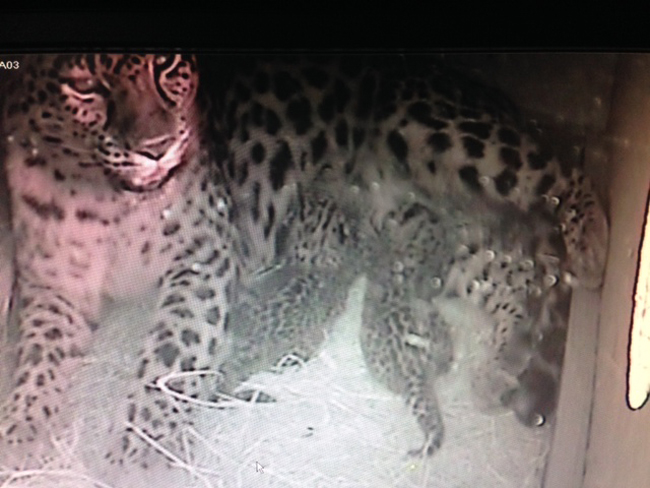 Jacksonville Zoo and Gardens announce today the birth of two Amur leopards, a subspecies of leopards that hails from the Russian far east and is also referred to as the Manchirian or Korean leopard cubs. The species is critically endangered, with perhaps two or three dozen leopards alive in the wild. As such, they may be the most endangered big cats in the world.
The first cub was born at the Jacksonville zoo at about 10:30 a.m. on Nov. 16. The second followed at 11:15 a.m. Zoo officials were able to monitor the birth with a remote camera. The leopards can expect to live 20 years in captivity, as opposed to 10 to 15 years in the wild.
"We are very proud of our leopards and our animal care team who have successfully brought two more of these extremely rare cats into the world," said Dan Maloney, deputy director of conservation and education of Jacksonville Zoo and Gardens.
This is the third litter for the cubs' dam, or mother, whose name is Makarii, and sire, or father, whose name is Nicolai. The cubs were active immediately and have since been seen nursing frequently, clearly growing stronger. Zoo staff kept away from the cubs and their mother. They will will have their first interaction with the cubs at 9 a.m. Tuesday (Dec. 3) during the cubs' primary medical exams. That will include weighing the cubs and doing quick checks of their overall health. A more thorough examination will be performed when the cubs are six weeks old and will include their first routine vaccinations.
The cubs normally stay about two years with their mother before they are considered independent, but they may be removed, as previous cubs have been, as part of efforts to enlarge the species' population and possibly return some of the animals to the wild.
The same pair parented Tuffy, born in August 2011, and twins Liam and Leopold, born in May 2012. Because of their critically endangered status, Amur leopards are managed under a Species Survival Plan program through the Association of Zoos and Aquariums. Through a breeding recommendation from the program, Tuffy was transferred to the Audubon Zoo in New Orleans in January 2012, to be paired with a female there to further the conservation of the species. Liam and Leopold were transferred to the Staten Island Zoo, also based on an SSP recommendation.
In other breeding news at the Jacksonville Zoo, Madini, the Zoo's first pregnant gorilla is doing well. Using ultrasound technology, staff are able to continuously monitor the growth of the fetus, and have observed strong movement and heartbeat. Lash, one of the Zoo's two silverbacks, is the sire. The infant is due this spring.

Watch a female Amur leopard and her two nine-day-old cubs at a zoo in Estonia, in footage from 2010: