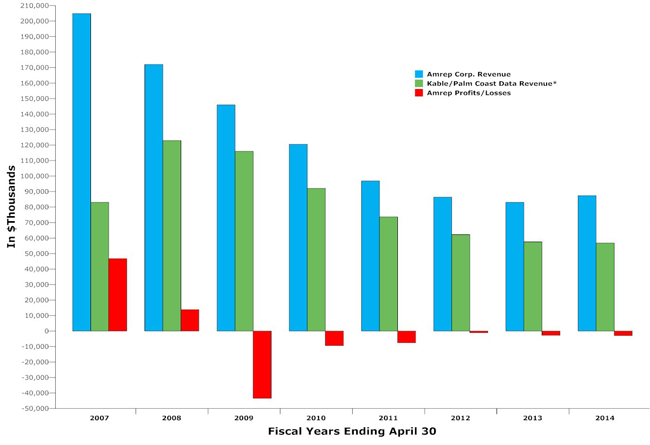 Palm Coast Data's parent, Princeton-based Amrep Corp., ended its fiscal 2014 year with a net loss of $2.84 million on revenue of $87.3 million, the sixth year in a row that the company has ended in the red. The company lost $2.94 million in 2013 on revenue of $83 million, it announced Tuesday.
Most of the company's revenue is drawn from Palm Coast Data, where revenue improved slightly thanks to two one-time factors: its acquisition at the end of 2012 of FulCircle, a subscription fulfillment company similar to Palm Coast Data, and a favorable settlement, including a financial windfall, with one large client. FulCircle's revenue within Palm Coast Data was $5.9 million in 2014. That helped push Palm Coast Data's revenue up slightly, from $55.7 million last year to $56.7 million this year. But that's still a far cry from the $123 million revenue the company recorded just six years ago.
The companybenefited from a one-time, $1.76 million payment in a settlement with a major German publisher and a major Palm Coast Data client, Heinrich Bauer LLC, in June. The settlement secured Heinrich Bauer as a client for the next four years in exchange for 10 percent of the company's stock, and reduced Palm Coast Data's operating deficit by $15 million. The settlement staved off what could have been a crippling blow to Palm Coast Data, instead infusing the company with new life.
But excluding the settlement and other one-time revenue bumps, Palm Coast Data's media services operations had a net revenue decrease of $4.4 million in 2014, compared to 2013: its revenue, absent those two one-time factors, went from $55.7 million to $50.9 million. When all of Amrep's media services operations are included, revenue increased from $82.1 million to $83.6 million. Operating expenses for media services, including Palm Coast Data–which runs its operation from a campus along Corporate Drive in Palm Coast–increased from $69.9 million in 2013 to $72.5 million in 2014. The $2.6 million increase in expenses was primarily due to FulCircle's full-year expenses.
For Palm Coast, however, the concern is Palm Coast Data's long-term stability as the second-largest private employer in the county, after Florida Hospital Flagler. The single-largest employer is the Flagler County School Board, which has about 1,700 employees.
The past year has been encouraging for Palm Coast Data. But the long-term trends are still a challenge for the company, which is fighting to keep its place in a very competitive environment, and against several other subscription fulfillment companies, even as print products are disappearing rapidly, and web replacement have not proved nearly as profitable to companies that built their business on servicing print.
the latest annual report, filed this week, reflect those worrisome trends for Palm Coast Data.
According to the report, Palm Coast Data now performs subscription fulfillment services for 405 magazine titles representing 90 clients, with a database of approximately 30 million active subscribers for client publishers and membership organizations. In a typical month, Palm Coast produces or provides data for approximately 30 million mailing labels for its clients and also processes over 10 million pieces of outgoing mail for these clients.
Just last year, Palm Coast Data had 422 magazine titles and 96 clients, maintaining 39 million active subscribers for publishers and membership organizations. In a typical month, Palm Coast Data produced or provided data for approximately 39 million mailing labels and processed 13 million pieces of outgoing mail.
Six years ago, when Palm Coast Data was chosen as the site where the parent company's other fulfillment operations would consolidate (Amrep had acquired Palm Coast Data in January 2007), the company fulfilled services for 1,050 magazines, had 300 clients and a database of 72 million subscribers, processing some 27 million pieces of outgoing mail for those clients.
The annual report makes the challenge explicit: "Magazine publishers are the principal customers of these operations," it notes, "and these customers have continued to be negatively impacted by increased competition from new media sources, alternative technologies for the distribution, storage and consumption of media content, weakness in advertising revenues, increases in paper costs, printing costs and postal rates and weakness in the U.S. economy. The result has been reduced subscription and newsstand magazine sales, which has caused publishers to close some magazine titles, change subscription fulfillment providers or newsstand distribution providers and seek more favorable terms from Palm Coast and Kable and their competitors when contracts are up for bid or renewal.
As of July 1, 2014, the Amrep as a whole–including the New Mexico operation, administrative headquarters and so on–employed approximately 1,278 full time employees, which included approximately 474 temporary employees of the company's staffing business. That's a slight increase from the 1,200 employees (and 370 temporary employees) the annual report noted last year.
The Company's effective tax rate was 23.5 percent in 2014 compared to 38.3 percent in 2013. This year, Amrep also reached a settlement with the Internal Revenue Service following an IRS audit of 2012 and 2011 federal income tax returns. Amrep did not have to pay any additional federal taxes because of its operating losses, which were reduced by approximately $2.4 million. With the end of the audit, Amrep reduced its liability for uncertain tax positions by $160,000, including accrued interest.
Amrep also has a real estate subsidiary in Rio Rancho, New Mexico. While that subsidiary had been a drain on the company since the implosion of the housing bubble, 2014 proved much brighter, with revenue increasing from less than $833,000 in 2013 to $3.6 million in 2014. Amrep Southwest, as the real estate subsidiary is called, sells developed and undeveloped lots to commercial and residential builders. The subsidiary sold 89 acres in 2014 at an average selling price of $41,000 per acre, compared to 12 acres the previous year at an average selling price of $69,000 per acre.