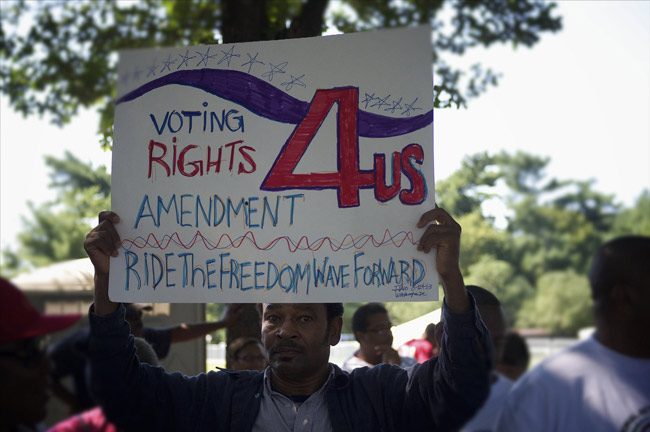 More than 1.5 million Floridians now unable to participate in elections would automatically have their voting rights restored, under a proposed constitutional amendment that will go before voters in November.
The "Voting Restoration Amendment," which was approved Tuesday to appear on the ballot as Amendment 4, would automatically restore voting rights to felons who have served their sentences, completed parole or probation and paid restitution. Murderers and sex offenders would be excluded.
Floridians for a Fair Democracy, the political committee behind the petition drive, this week surpassed the requisite 766,200 signatures to put the proposed amendment on the November ballot.
"Voters took matters in their own hands to ensure that their fellow Floridians, family members and friends who've made past mistakes, served their time and paid their debts to society are given a second chance and the opportunity to earn back their ability to vote," Desmond Meade, chairman of the political committee, said in a prepared statement.
If approved by 60 percent of voters, as required for all constitutional amendments, the change would bring Florida in line with nearly every other state in the nation.
The restoration of felons' rights has long been controversial in Florida, with critics of the state's process comparing it to post-Civil War Jim Crow policies designed to keep blacks from casting ballots.
A system approved in 2011 by Gov. Rick Scott and the Cabinet required felons convicted of nonviolent crimes to wait a minimum of five years to have their rights restored, while others could wait up to 10 years before being eligible to apply. Backers of the process have argued that the restoration of voting rights for felons should be earned and only after a sufficient waiting period.
Meade, a convicted felon and law-school graduate who struggled for years to have his rights restored, spearheaded the campaign, largely bankrolled by the American Civil Liberties Union and other big donors.
Black state legislators have tried repeatedly to change state law to allow the automatic restoration of rights. But the Republican-dominated Legislature either quashed or ignored the efforts.
The change would apply to people who complete their sentences in the future as well an estimated 1.5 million Floridians, according to the Brennan Center for Justice, which helped get the Florida initiative on the ballot.
"This is a very exciting development," Myrna Perez, director of the Voting Rights and Elections Project at the Brennan Center, told The News Service of Florida in an interview Tuesday. "The voting requirement (for passage) is 60 percent, but there's a lot of popular support from all types of Floridians who believe in the idea of second chances and who recognize that this current policy makes Florida an extreme outlier."
Critics of the current system say the application process is lengthy, cumbersome and imposes unreasonable burdens on felons — including travel to Tallahassee to appear before the Board of Executive Clemency, comprised of Scott, Attorney General Pam Bondi, Agriculture Commissioner Adam Putnam and Chief Financial Officer Jimmy Patronis.
The state agency that process restoration-of-rights applications has long face complaints about backlogs. The agency, now called the Commission on Offender Review, currently has a backlog of more than 10,000 applications, according to the agency.
Meade, for example, originally applied to have his rights restored in 2006, but he got caught up in a backlog of thousands of others eager to take advantage of changes authorized by former Gov. Charlie Crist and the Cabinet that made restoration easier.
But the process took so long that, by the time Meade's application was examined, he was no longer eligible for the quasi-automatic restoration of civil rights, which include the right to vote.
By then, the new system instituted in 2011 had taken effect. Since then, just a fraction of the more than 100,000 former felons who sought to have their rights restored were successful.
Meade, originally convicted of drug crimes and, later, of aggravated assault and possession of a firearm, received a letter the same year the 2011 changes went into effect telling him he had to wait at least another year to petition to have his rights restored — more than five years after he had first applied.
He said he abandoned his effort and instead focused on revamping the system, pointing out that some people have waited more than a decade just for a hearing to have their rights restored.
Meade earned a law degree from Florida International University in 2014 but is unable to apply for a license to practice law until he has his rights restored.
After the Florida Supreme Court heard arguments about the petition last year, Meade called the inability to vote "a cloak of shame."
"To be constantly reminded, especially during election season, that yes, you're good enough to be successful. You're good enough to overcome obstacles. But you're not good enough to have your voice heard," he said.
–Dara Kam, News Service of Florida