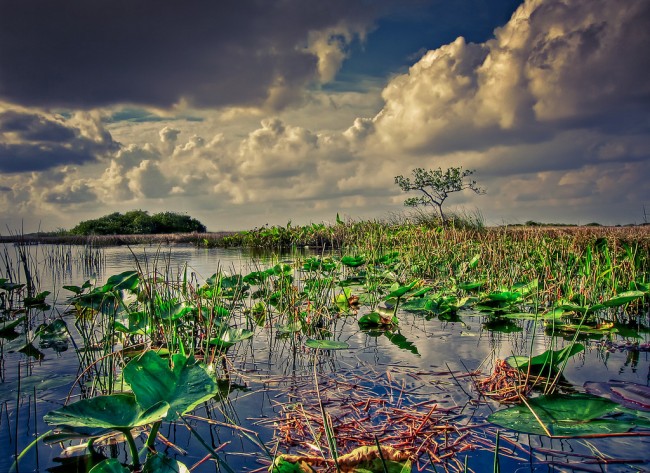 Florida voters appear poised in November to pass a constitutional amendment that would require setting aside billions of dollars for land conservation and other environmental projects.
The proposed "Water and Land Conservation" amendment would earmark 33 percent of the state's documentary-stamp tax revenues — fees paid when real estate is sold — for 20 years. The money would go to buy conservation lands, protect areas vital to the water supply and restore natural systems that have been degraded, such as the Everglades.
But some Republican and business leaders are raising concerns that Amendment 1 could make it harder to balance the state budget in the future.
"In a perfect world, you wouldn't want it in the constitution," said incoming Senate President Andy Gardiner, R-Orlando. "As a legislator, you want as much flexibility as you can, and it doesn't belong in the constitution."
Other critics of the measure include House Speaker Will Weatherford, a Wesley Chapel Republican who has argued that "legislating via constitutional amendments" doesn't work, and Senate President Don Gaetz, a Niceville Republican who has said the amendment would shift too much land to state control.
But supporters of Amendment 1 say it came about after state funding for land preservation dwindled during the last recession.
"The conservation community took the hit like everyone else when the economy turned south," said Allison DeFoor, chairman of Florida's Water and Land Legacy campaign, which backs the amendment. "And then things just didn't get readjusted when the economy began to turn."
The proposal appears likely to get the required 60 percent support from voters to pass. According to the Florida Chamber of Commerce — which opposes the measure — 78 percent of the state's voters support the amendment.
"Little is known about it, but it has a powerfully effective ballot title, in synch with Florida's pro-environment leanings," said University of South Florida political science professor Susan MacManus, who expects it to pass.
Supporters point to the Florida Forever program, which uses bonds backed with revenue from documentary stamps and authorizes lawmakers to spend up to $300 million a year for land preservation. The last year Florida Forever's funding approached that mark was 2008.
Supporters of Amendment 1 say it will generate about $10 billion over 20 years, while the state appears to project higher numbers. A state analysis estimates the total would be $648 million during the fiscal year starting in July 2015 and eventually grow to $1.268 billion by the 20th year.
"You would think that we could at least spend 1 percent of our state budget on water and land conservation," said Will Abberger, campaign manager for Florida's Water and Land Legacy. "That's what Amendment 1 represents: having that constitutional dedication so that no matter who's in public office, we know that there is going to be funding."
But others are wary. David Hart, executive vice president of the Florida Chamber of Commerce, said Amendment 1 would put state leaders in a bind during an economic crisis.
"It's hard enough for the Legislature to balance (competing) budgetary needs, but if $20 billion is set aside and untouchable, what else is going to get cut to make up for that?" Hart asked. "Are they going to have to cut education or senior health care? Those are some choices that are very real, should we get another recession."
DeFoor said the amendment had been carefully crafted to budget for hard times.
"It's short in duration, it's only 20 years, it's reasonable in the amount (and) it puts us kind of back where we were," he said. "It's fixed by percentage, so if things get better, we all get better. And if things were, God forbid, to deteriorate, we'd take the hit, too."
Despite their qualms about Amendment 1, Republican legislative leaders say they respect voters' support for it.
"If the amendment is passed, then we're certainly going to scrupulously follow it and put those revenues toward those purposes," said Senate Appropriations Chairman Joe Negron, R-Stuart.
–Margie Menzel, News Service of Florida